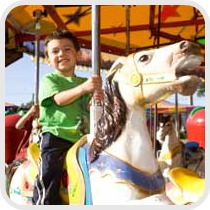 Both large and small amusement parks are listed below. Click on the links to reach the amusement parks' web pages where you'll find a summary of attractions, prices, hours, and directions.
The mega parks, such as Discovery Kingdom and Great America, feature the thrill rides and attractions that appeal to pre-teens and teens. However, these parks also have kiddie areas and family shows that are fun for younger children.
The ticket prices for the big amusement parks can be steep. Look for coupons and special promotions. Your employer, credit union, or grocery store may also sell discounted passes. Season passes are a good deal, if you think you'll go more than a couple times each season.
Bigger isn't always better when it comes to amusement parks. Younger children are usually quite happy with a few simple rides and a nice playground area. Smaller amusement parks have reasonable admission fees or pay-as-you-ride attractions and many allow you to bring picnic food. You can have a fun day without spending a fortune or feeling like you didn't get your money's worth when your child tires out after a few hours.
Local zoos also have rides for a nice balance of nature, education and fun. Many local parks have train rides, carousels, and nice play areas. Some entertainment centers have rides and games.
Amusement Parks
Pixieland Amusement Park ~ Concord
Fun for young children ages 1 to 10 with a miniature train, carousel, roller coaster, tea cups, airplanes, frog hopper, antique cars, games, a duck pond and great food! Always free admission and parking. Just buy tickets for the rides. A great place for a school field trip or to host your child's next birthday party at reasonable package rates.
Six Flags Discovery Kingdom ~ Vallejo
Seaside Junction and Looney Tunes Seaport are the focal points for younger children with small rides, performances, and character visits. The waterski shows are a fun and unusual theme park experience.
Great America ~ Santa Clara
KidZville is the focal point for younger children with small rides, a large climbing/sliding structure, cute shows and character visits. When your kids start getting tired take a break from the rides and see one of the fun shows.
Fairyland ~ Oakland
The exhibits and rides are charming and geared towards younger children. The puppet shows are high quality. And the price is right, you can take your entire family to Fairyland for less the price of a single ticket to one of the major amusement parks. If you still have some energy left, take a stroll around the lake before you leave.
Happy Hollow ~ San Jose
The rides are limited and geared towards younger children. Stay for the puppet show and play in the crooked house. Although the zoo is small and doesn't have many of the animals one typically associates with zoos (no elephants, zebras, or tigers), there are enough cute, furry animals to entertain most children. Check out the nearby Historical Park, especially the old fashioned ice cream and candy store.
Santa Cruz Beach Boardwalk ~ Santa Cruz
A fun atmosphere with enough rides to entertain most ages for a few hours. Plus carnival games, an extensive video arcade and indoor miniature golf course. Since the boardwalk is right on the beach, you may want to bring swimsuits and beach stuff and spend some time on the sand. The wharf is within walking distance of the Boardwalk and you can see, hear, and smell the sea lions begging under the pier. Plus there's a neat candy and ice cream store towards the end.
Check traffic and weather before you go. Be prepared for both blazing heat and chilly winds (often in the same day). Layered clothing works best! Bring lots of quarters for the parking meters or be prepared to pay a high price to park in the official parking lot.
Gilroy Gardens ~ Gilroy
The highlights are circus trees, beautiful gardens, and fun rides for young children. Be sure to tell your older children there are no super sonic roller coasters here, so they won't be disappointed. Tasty and relatively healthy food choices. Gilroy can be HOT in the summer, but as with most places in the Bay Area bring a sweatshirt if you plan to stay past dark.
Small World Park ~ Pittsburg
Harbor and Leland Road. Party castle, carousel, playgrounds and picnic areas.
San Francisco Zoo ~ San Francisco
A fun children's zoo, plus a carousel, safari tram, and steam train.
Oakland Zoo ~ Oakland
Usually un-crowded and just the right size. Lots of space for the animals, but easy to walk around. Relatively inexpensive admission fee. Rides are an additional fee, but reasonable.
Water Slide Parks
Water slide parks are great fun, but pick the warmest, least windy day possible to avoid shivering in line. Although water slide parks have beach and river play areas that are fine for younger children, the real fun begins when your child is a competent swimmer and not afraid of getting dunked under water. Tickets for the larger water slide parks can be pricey. Look for discount coupons or special promotions.
Prewett Family Waterpark – Antioch
Waterworld – Concord
Aqua Adventure – Fremont
Silliman Family Aquatic Center – Newark
Raging Waters – San Jose
Southern California Amusement Parks
It's a surprisingly easy trip to many Southern California theme parks and with inexpensive airfares and package deals a trip down south can be fairly reasonable.
Disneyland ~ Anaheim
The combination of 1st class rides and shows, clean facilities, and friendly, well-trained staff make visiting Disneyland a magical experience. Package deals and an abundance of reasonably priced hotels within walking distance are a good value. A great time to go is between Thanksgiving and Christmas. The park is decorated for the holidays, there are special holiday shows, and the crowds are minimal.
Legoland ~ Carlsbad
A refreshing break from the sensory-overload rides and long lines at many theme parks. This park is designed for younger children (4-10 years old) and the rides are just their level (very few height restrictions). The park can easily be done in one day leaving time for other San Diego area attractions, such as the San Diego Zoo, Wild Animal Park, or Sea World. Stay at a hotel near the beach for an added treat.