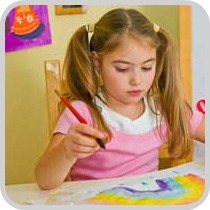 Many art studios offer fun classes for children in painting, ceramics, cartoon drawing, computer art, and more. Visit the sites below to find classes for your child's age, abilities, and interests.
Also check with your city's Parks & Recreation Department for classes in your community.
Green Forest Art Studio ~ Union City, Fremont
Kids Art Classes, Summer Camps, Birthday Parties for children ages 2-18.  East Bay near Fremont, Union City, Milpitas. Oil painting, watercolor, pastel, charcoal, drawing, sculpture, print art, Chinese art, & more. Highly experienced instructor with a strong background in Fine Art, Art Education, and Child Development. More details at www.greenforestartstudio.com.
JCCSF Art & Ceramics ~ San Francisco
Children learn from patient and professional instructors in the JCCSF's incredible art and ceramic studios, working with nontoxic materials and safe tools and developing fine motor skills. Nature art classes connect children to the environment. Themed classes for outer space and deep sea projects encourage inquisitive minds. Families can spend creative time together in classes for parent and child. Activities include painting, drawing, clay molding by hand and on the wheel and glazing.
The Sketch Collective ~ San Francisco
The Sketch Collective is a positive and nurturing San Francisco art studio. We specialize in fundamental drawing classes for ages 5 and up, and also offer weekend workshops and camps to learn specific techniques, create crafts and study the work of particular artists. Our teaching and supervision ratio is less than 5:1 and all of our teachers are working artists. Please visit our website at www.sketch-collective.com, email sfsketchcollective@gmail.com or call 415-762-0727. Have a beautiful day!
Art Bash Classes ~ San Jose
Art Bash Studios opened in 2013 with a commitment to helping our community experience art in a new way. Ages 4-Adult. In our classes, kids learn how to make 3-d art out of air dry clay, create interesting mosaics, make fused glass art, learn how to paint landscapes, do paper collage and much more! Private lessons are also available. Teaching art, It's what we love, and we want to share it with you.
Art With Jenny After School Art Classes – Mountain View, CA
Art With Jenny offers affordable, fun, different, creative after school art classes for kids ages 6 – 12. All classes focus on fun projects that kids will love. (No art history or boring stuff!) We draw, color, paint, get messy, sculpt and craft. We promote making art FUN, thinking outside of the box, mistakes are OK, complimenting other's art, confidence building & skills development! Kids LOVE our art classes, and go home each day with their artwork and a special treat! Visit our website today to sign up. Spaces limited!
Little Artistas ~ San Francisco
Little Artistas offers imaginative art and Spanish-immersion classes for children ages 1-10. Our studio is a safe space for kids to explore the art of creative play and the playfulness of creativity! As part of our nurturing approach, Little Artistas focuses on community, respect, tolerance and kindness. Our classes range from sensory exploration classes to technique classes such as drawing and painting for the older kids. Sign up today for our Summer and Fall classes!
Colores ~ San Francisco
Multi-disciplinary art studio and language lab for children ages 3 to 10. We use creativity to explore, learn and express. In our Art classes in Spanish, a passionate Spanish native speaker artist will guide children through their artistic discovery by stimulating their senses and curiosity. Classes are structured to be fun and interactive while exposing them to the Spanish language. Find more information at www.sfcolores.com
Community School of Music and Arts ~ Mountain View
CSMA offers art classes for all ages and all skill levels in drawing, painting, ceramics, sculpture and more, including digital arts. Our NEW Little Artists program for Preschoolers (ages 18 months-5 years) focuses on sequential learning in visual arts, with hands-on classes that continually build on concepts, skills and techniques. Preschoolers explore and experiment with new art mediums, materials and projects in a fun, creative environment!