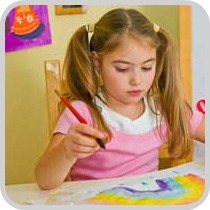 Many art studios offer fun classes for children in painting, ceramics, cartoon drawing, computer art, and more. Visit the sites below to find classes for your child's age, abilities, and interests.
Also check with your city's Parks & Recreation Department for classes in your community.
The Sketch Collective ~ San Francisco
The Sketch Collective is a positive and nurturing San Francisco art studio. We specialize in fundamental drawing classes for ages 5 and up, and also offer weekend workshops and camps to learn specific techniques, create crafts and study the work of particular artists. Our teaching and supervision ratio is less than 5:1 and all of our teachers are working artists. Please visit our website at www.sketch-collective.com, email sfsketchcollective@gmail.com or call 415-762-0727. Have a beautiful day!
CD's Kids Art Studio Classes ~ San Jose
Children's book illustrator CD Hullinger brings over 25 years of artistic talent to teach fun and innovative art classes, birthday parties, and camps. In our classes kids learn Creativity, Confidence, Problem Solving, Perseverance, Focus, and Collaboration. We love watching our students work through ideas, and get the vision in their mind to appear on their canvas. These skills help students in the classroom and beyond. In our classes, we create interesting mosaics, make fused glass art, paint landscapes, paper collage, air brush art and much more!
Little Artistas ~ San Francisco
Little Artistas offers imaginative art and Spanish-immersion classes for children ages 1-10. Our studio is a safe space for kids to explore the art of creative play and the playfulness of creativity! As part of our nurturing approach, Little Artistas focuses on community, respect, tolerance and kindness. Our classes range from sensory exploration classes to technique classes such as drawing and painting for the older kids. Sign up today for our Summer and Fall classes!
Community School of Music and Arts ~ Mountain View
CSMA offers art classes for all ages and all skill levels in drawing, painting, ceramics, sculpture and more, including digital arts. Our NEW Little Artists program for Preschoolers (ages 18 months-5 years) focuses on sequential learning in visual arts, with hands-on classes that continually build on concepts, skills and techniques. Preschoolers explore and experiment with new art mediums, materials and projects in a fun, creative environment!
Green Forest Art Studio ~ Union City, Fremont
Kids Art Classes, Summer Camps, Birthday Parties for children ages 2-18. East Bay near Fremont, Union City, Hayward, Castro Valley. Oil painting, watercolor, pastel, charcoal, drawing, sculpture, print art, Chinese art, & more. Highly experienced instructor with a strong background in Fine Art, Art Education, and Child Development. More details at www.greenforestartstudio.com.
Art School of SF Bay ~ San Francisco, Mountain View, San Carlos & San Jose
We teach classical art in a fun and innovative way, bringing up creativity in every child while also developing strong technical skills. We also offer Manga classes, Digital Painting workshops, art camps and art vendoring services for schools. We are located in San Francisco, Mountain View, San Carlos and San Jose. Details: www.artschoolsfbay.com/
Cyber Garage ~ San Anselmo
Join the Maker Movement, make friends and create something amazing with hands-on building projects at Cyber Garage! We are a Makerspace and Tech wonderland where kids K-12 get to design, create, build and have fun – while developing creative confidence, critical thinking, perseverance and collaboration skills. We have the tools and art supplies to spark imagination, 3D printers, advanced woodworking machines, laser cutting, digital arts, filmmaking, robotics, and the latest and greatest technology! Learn more and sign up at www.TheCyberGarage.com.
Rainbow Chefs Camps & Classes ~ Bay Area Wide
After working hard at school, your kids need creative, stress-free hobbies they can look forward to. Rainbow Chefs combines fun, kid-friendly recipes with health education to inspire a love for cooking and healthy eating! Kids can sharpen their culinary skills and learn quick-and-easy do-it-yourself recipes. Choose from many themed enrichment programs and camps, or have Rainbow Chefs throw a unique party for you.
Yes Creative Lab ~ Mountain View
Yes Creative Lab is an imaginative art school for kids. Located in Mountain View, our fun, unique art program fosters big ideas, imagination, and creativity. We offer ongoing classes, multi-week series, and workshops for kids ages Pre-K – 8th Grade, as well as fun and creative Mommy/Daddy & Me classes, and Open Studio time for kids of all ages. $30 off your first month with promo KIDFUN30. Details: yescreativelab.com