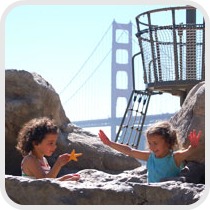 The Bay Area Discovery Museum in Sausalito is a must-see destination for families with young children. The museum consists of several inviting and inspiring permanent exhibits, art studios and play areas. A major highlight is the Lookout Cove outdoor exploration area with a stunning view of the Golden Gate Bridge.
Bay Area Discovery Museum offers engaging summer and school break camps, as well as super fun birthday party packages. The on-site Bean Sprouts Café provides healthy, kid-friendly foods in a playful environment.
The museum frequently hosts special events, including family concerts, cultural events and holiday celebrations. The ever popular Goblin Jamboree in October is a real treat.
The museum offers free admission on the first Wednesday of each month and has an open door policy that admits families on most days, except for a few special events, on a pay-what-you-can basis.