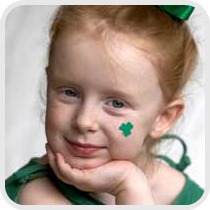 March is a great month for family fun in the Bay Area! Enjoy family concerts, children's theater, art workshops and nature adventures, plus St. Patrick's Day celebrations and the start of springtime fun.
Below are just some of the many fun events happening in the Bay Area this month. Find more activities and events on our Fun Events page.
Have a wonderful March in the Bay Area!
Featured Events
CMT Rising Stars Present School House Rock ~ San Jose, February 26 – March 1
"It's great to learn, 'cause knowledge is power!" From 1973 to 1985, Saturday mornings on ABC made learning fun again. Through now-iconic cartoons and songs, School House Rock educated eager television viewers on math, history, grammar, science, and more. Join CMT for this family-friendly production at the Montgomery Theater for a slice of learning, served with a heaping share of childhood fun.
The Great Baby Romp ~ Sausalito, March 1
Try out baby and toddler classes BEFORE you commit at The Great Baby Romp. At this fun family event you can try out classes from popular local providers like Peekadoodle Kids Club and Music Together, plus enjoy a jam packed resource hall featuring business and services that cater to families with young children. So before you commit to a class that your child may not like in a week, come try them all out at The Great Baby Romp! March 1st, 2015 at The Bay Area Discovery Museum in Sausalito, CA. 9:30 – 1:00 pm. Standard entrance fees for the Bay Area Discovery Museum apply + $12 per family class pass online or $15 at the door.
Lunar New Year at the San Francisco Zoo ~ San Francisco, March 1
To commemorate the Year of the Goat, the San Francisco Zoo is thrilled to host Lunar New Year entertainment for children of all ages. Come marvel at Chinese acrobatic performances, traditional Chinese lion and folk dancing, Chinese yo-yo tricks, and much more. Make a take-home goat craft. Complete the Zodiac Scavenger Hunt and receive a lucky red envelope with a special surprise inside. The celebration is free with paid admission to the Zoo. However, guests born in the Year of the Goat (2015, 2003, 1991, 1979, 1967 and 1955) will receive free Zoo admission on March 1.
The Miraculous Journey of Edward Tulane performed by Bay Area Children's Theatre ~ February 21 – April 12, Berkeley & San Francisco
When Edward, an elegant china rabbit, is snatched from the arms of the little girl who adores him, his easy existence becomes an epic, sometimes painful journey that touches the lives of everyone he meets, from an old fisherman to a hobo to a little boy protecting his sister. A moving stage adaptation by Dwayne Hartford of Kate DiCamillo's award-winning tale about being loved and learning to love. Directed by Doyle Ott.
Fujitsu Planetarium Shows ~ Cupertino, March 7, 14, 21
Learn about space and science on Saturday evenings at the Fujitsu Planetarium on the De Anza College campus. Family shows include Secret of the Cardboard Rocket (K-1st), Magic Treehouse: Space Mission (K-2nd), This is Our Sky (K-3rd), The Moon (1st-3rd) and ExoPlanet Adventure (3rd-6th).
Three Little Birds performed by Bay Area Children's Theatre ~ San Francisco, Mill Valley & San Ramon, January 24 – March 29
The reggae music of Bob Marley evokes the spirit of Jamaica in this modern-day fairytale about the unexpected adventures of timid, 11-year-old Ziggy. Watch out for evil Duppy, but "don't worry about a thing, 'cause every little thing gonna be all right!" Based on the story by Cedella Marley. Adapted for the stage by Michael J. Bobbitt. Additional music and lyrics by John L. Cornelius, II. Directed by Michael Mohammed. Recommended for 4 and up.
CMT Mainstage presents Jekyll & Hyde ~ San Jose, March 6-15
A CMT San Jose favorite! Based on The Strange Case of Dr. Jekyll and Mr. Hyde by Robert Louis Stevenson, this lush, powerful musical tells the tale of a London doctor who, in a quest to cure his father's illness, develops a potion that splits his personality in half. Two personalities, two women who love him, and one of the most dramatic showdowns in musical theater history; come see who survives in this thrilling Gothic tale.
Rockin' Ropes Adventure at SF Zoo ~ San Francisco, through June 14
Calling all kids! The Zoo invites all Bay Area youngsters (4-14 years old) to enjoy the Rockin' Ropes Adventure in the Pachyderm Building. To keep everyone active and healthy for the new year, this challenging ropes course will be open on weekends and school holidays. Young visitors can zip, swing, jump, step, and slide their way through all 30 feet of fun. This challenging elevated ropes obstacle course requires an additional fee of $7 for general admission guests. To check the Rockin' Ropes schedule each week, see our Calendar of Events.
St. Patrick's Day Celebrations
St. Patrick's Day Celebration (Free) – Dublin, March 14-15
St. Patrick's Day Celebration at Hiller – San Carlos, March 14
St. Patrick's Day Parade & Festival (Free) – San Francisco, March 14
Children's Theater
The Lion, the Witch and the Wardrobe by Civic Arts – Pleasanton, March 6-15
Pinocchio by Fantasy Forum – Walnut Creek, March 12-15
Sunday Sampler at Berkeley Rep (Free) – Berkeley, March 15
Pecos Bill by PYT – Mountain View, March 20-21
Hansel and Gretel by Palo Alto Children's Theater – Palo Alto, March 21-22
Peter Pan by Diablo Children's Musical Theater – Danville, March 27-April 4
Charlotte's Web by CTC – Sunnyvale, March 28
Family Concerts & Performances
The Intergalactic Nemesis – Berkeley, March 6
Music for Families by SF Symphony – San Francisco, March 14
Cowgirl Tricks with Karen Quest – San Rafael, March 15
SF Jazz Family Matinee – San Francisco, March 21
Baby Loves Disco – San Francisco, March 22
Banana Slug String Band – Saratoga, March 22
Arts & Crafts
Family Sundays at Cantor Arts Center (Free) – Stanford, March 1, 8, 15, 22, 29
Doing and Viewing Art at the de Young – San Francisco, March 7, 13, 21, 28
MOCHA Art Workshop (Free) – Alameda, March 15
Cartooning Class at the Cartoon Art Museum – San Francisco, March 21
Museum of Craft and Design MakeArt Workshop – San Francisco, March 21, 28
OMCA Family Drop-In Workshop – Oakland, March 22
Animals & Nature
Story Time and Family Walk at SF Botanical Garden – San Francisco, March 1 & 15
Families on Foot at MLK Jr. Shoreline (Free) – Oakland, March 7
Hummingbird Days at UC Santa Cruz Arboretum – Santa Cruz, March 7 & 8
Sienna Ranch Family Day – Lafayette, March 8
Working Dogs at Forest Home Farms (Free) – San Ramon, March 14
Family Hike & Campfire – Sausalito, March 14
Family Farm Day at Slide Ranch – Muir Beach, March 14, 21
Deer Hollow Farm Tour – Cupertino, March 21
History & Culture
Chinese New Year Parade and Festival (Free) – San Francisco, March 7
Johnny Appleseed Day at Ardenwood – Fremont, March 8
USS Hornet Family Live Aboard Experience – Alameda, March 13
There's Gold in Them Thar Hills – Fremont, March 14, 28
Living History Day at Casa Grande (Free) – San Jose, March 15
Jr. Engineer Day at GGMRC – San Francisco, March 21
Science & Technology
3-D Printing Techtorial – Berkeley, March 1
Astronomy Sunday at Lindsay Wildlife Museum (Free) – Walnut Creek, March 8
Marine Science Sunday (Free) – Sausalito, March 8 & 22
Community Day at Curiodyssey (Free) – San Mateo, March 10
Pi Day at the Computer History Museum – Mountain View, March 14
Free Admission Day at the Exploratorium (Free) – San Francisco, March 14