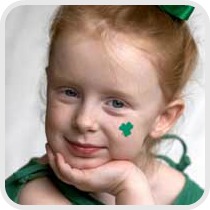 March is a great month for family fun in the Bay Area. Enjoy family concerts, children's theater, art workshops, outdoor activities and more!
Below are just some of the many fun events happening in the Bay Area this month. Find more activities and events on our Fun Events.
Have a wonderful March in the Bay Area!
Featured Event
Pippi Longstocking by Bay Area Children's Theatre ~ San Francisco, February 25 – March 19
Annika and Tommy's new neighbor Pippi Longstocking has crazy red pigtails, a pet monkey named Mr. Nilsson, and a tendency to get caught up in one outrageous adventure after another! Whether she's fending off burglars, wrestling a circus strongman, or sailing away on a pirate ship, Pippi wins over even the sternest of hearts in this rollicking musical adaptation of Astrid Lindgren's beloved book. Recommended for age 5 and up.
Aladdin and His Wonderful, Magical Lamp ~ San Francisco, February 25 and March 11
Children's Theatre Association's adaptation of Aladdin And His Wonderful, Magical Lamp tells the story of a poor street boy, Aladdin, who (with the help from 3 Genies, a dragon who can talk, his mischievous pet monkey, and his family) uses his wits to outsmart the evil and powerful magician, Jammal, and win the Princess Jasmine's hand in marriage. Aladdin And His Wonderful, Magical Lamp is full of fun characters, animals and music that will make for a lively, fun and heartwarming experience.
Saturday Night Astronomy Shows at Fujitsu Planetarium ~ Cupertino, most Saturdays through April 29
Learn about space and science on Saturday evenings at the Fujitsu Planetarium on the De Anza College campus. Family shows include Secret of the Cardboard Rocket, The Little Star that Could, Magic Treehouse: Space Mission, We Are Stars, This is Our Sky, and Extreme Planets.
Wheels on the Bus by Bay Area Children's Theatre ~ Oakland, January 27 – April 9
Bay Area Children's Theatre & Children's Fairyland present our newest Theatre for the Very Young production: WHEELS ON THE BUS! Climb aboard our imaginary bus for an exciting, interactive journey that examines all manner of things that go round and round. Look out the windows. What do you see? Pinwheels! Ferris wheels! Windmills! There's more to explore, as we go all around the town!
Dance With Me with April C. Taylor ~ Alameda, Feb 10 – Jun 23
Dance With Me, a class for toddlers through pre-schoolers with an adult dancing too. DWM is a fun-filled 45-minutes of creative movement, songs, stories, and basic dance movement to engage the body and mind. With games and exercises, props, songs and music (improv too!). April will lovingly lead the way as we play, dance and explore. Fridays at 10:30am.
St. Patrick's Day Fun
Playing in the Past: Irish Traditions – Redwood City, March 3
St. Patrick's Day Parade and Festival – San Francisco, March 11
Flying Leprechaun Skydive – San Carlos, March 18
Family Concerts & Performances
Preschool Performance Series: Cowgirl Karen Quest – Danville, March 3
Music for Families – San Francisco, March 11
SF Jazz Family Matinee – San Francisco, March 18
Frances England Concert at Freight & Salvage – Berkeley, March 18
Children's Theater
25th Annual Putnam County Spelling Bee by Children's Musical Theatre – San Jose, March 3-12
Jack and the Beanstalk by Fantasy Forum – Walnut Creek, March 9-12
The Ugly Duckling by California Theatre Center – Sunnyvale, March 11, 25
That's Our Snow White! by East Bay Children's Theatre – Orinda, March 19
Rumpelstiltskin by Palo Alto Children's Theatre – Palo Alto, March 25, 26
Arts & Crafts
Free First Friday at Santa Cruz Museum of Art and History – Santa Cruz, March 3
Family Fun Day at Peninsula Museum of Art – Burlingame, March 4
Afternoon Art at Mission Art – San Francisco, March 4, 11, 18, 25
Family Fun Day at the Asian Art Museum (Free) – San Francisco, March 5
Rainstick Making at Tilden – Berkeley, March 11
Animals & Nature
Community Free Day at Seymour Marine Discovery Center – Santa Cruz, March 3
Animal Movie Night at SF SPCA – San Francisco, March 3 & 17
You Have to Have a Habitat – Alameda, March 4
Family Night Hike & Campfire – Sausalito, March 4
Spring Farm Tours at Deer Hollow – Cupertino, March 11
Johnny Appleseed Day at Ardenwood – Fremont, March 12
Free Friday at Lindsay Wildlife Museum (Free) – Walnut Creek, March 17
History & Culture
Free Family Programs at Forest Home Farms Historic Park (Free) – San Ramon, March 4, 11, 18, 25
Chinese New Year Celebration – San Jose, March 5
Miners and Their Tools – Antioch, March 11
Purim Party at CJM – San Francisco, March 12
Model Railroad Show – Walnut Creek, March 18, 19
Science & Technology
$5 Friday at Chabot Space and Science Center – Oakland, March 3
STEM Superheroes at BADM – Sausalito, March 4
Community Day at Curiodyssey (Free) – San Mateo, March 7
Pi Day at the Exploratorium (Free) – San Francisco, March 14
Open Cockpit Day at Pacific Coast Air Museum – Santa Rosa, March 18
Marine Science Sunday at The Marine Mammal Center – Sausalito, March 12 & 26