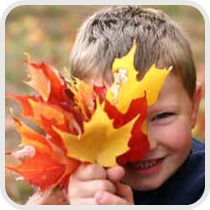 November is a great month for family fun in the Bay Area. The fall entertainment season is in full swing with concerts, theater performances and festivals. Plus, holiday fun kicks-off at the end of the month.
Below are just some of the many fun events happening in the Bay Area this month. Find more activities and events on our Fun Events page.
Have a wonderful November in the Bay Area!
Featured Events
Family Fun Day at the Asian Art Museum ~ San Francisco, November 1 & 15
Explore art and ideas immersive storytelling, fun gallery activities, creative art making and more during the Asian Art Museum's Family Fun Day. Discover and play as a family! Themes and projects change regularly so visit www.asianart.org/family for more details.
Chitty Chitty Bang Bang performed by Bay Area Children's Theatre ~ San Francisco & Berkeley, through December 13
The beloved story about the adventures of the Potts family and their miraculous flying car comes to the stage in a special, musical version for young audiences. Sing along as Jeremy and Jemima take on the Vulgarians, who want Chitty Chitty Bang Bang for the Baron's birthday. Recommended for ages 4 and up.
Saturday Night Astronomy Shows at Fujitsu Planetarium ~ Cupertino, most Saturdays
Learn about space and science on Saturday evenings at the Fujitsu Planetarium on the De Anza College campus. Family shows include Secret of the Cardboard Rocket (K-1st), Magic Treehouse: Space Mission (K-2nd), This is Our Sky (K-3rd), The Moon (1st-3rd) and ExoPlanet Adventure (3rd-6th).
Cartoon Jazz at Rhythmix Cultural Works ~ Alameda, November 8
Classic cartoons – from Bugs Bunny and Wile E. Coyote to Walt Disney and Tex Avery – have provoked laughter in audiences of all ages with their ridiculous antics for decades. Close your eyes, however, and you'll notice just how much the music adds to your enjoyment of these mini-masterpieces. Jeff Sanford and his Cartoon Jazz Septet bring new life to the big band sounds that accompanied the animation of the '30s, '40s and '50s. Join them for a concert featuring the music of Lenny Carlson, Raymond Scott, Jelly Roll Morton, Charlie Shavers & John Kirby, and others on Sunday, November 8.
Veteran's Day Break Camp at the Bay Area Discovery Museum ~ Sausalito, November 11
How will your child spend Veteran's Day on November 11? Spend the school break at the Water Wonders Discovery Camp at the Bay Area Discovery Museum. Campers will discover the wonders of water through scientific investigation, art activities and water play in this one-day camp full of experiments and adventures. Located in Sausalito, the camp runs from 9 a.m. – 2 p.m. (extended care available) for ages 4-8. Cost: $125. Scholarships available. Register at BayKidsMuseum.org/camps.
New South American Tropical Rainforest & Aviary ~ San Francisco, Ongoing
The new South American Tropical Rainforest and Aviary building at the San Francisco Zoo is now open. The renovated Aviary features a realistic rainforest ecosystem, full of colorful free-flight birds, exotic plants and trees, a charming two-toed sloth, and the Zoo's first significant herpetological collection—which will include a 15-foot long green anaconda as well as rare tree frogs, turtles, lizards, and snakes.
ClownSnotBombs at Rhythmix Cultural Works ~ Alameda, November 15
You'll be charmed and delighted by this multitalented band of merrymakers. Part circus act, part variety show and 100 percent pure silliness, ClownSnotBombs Circus is on a mission to spread the radical idea that joy and laughter are fundamental human rights. With their DIY costumes and props, this eclectic troupe offers a little bit of everything — from unicycling to juggling to balloons. Live music accompanies the show, highlighting a unique mixture of gypsy and klezmer sounds played on a wide variety of instruments.
Family Concerts & Performances
Your Song My Song at Berkeley Freight & Salvage – Berkeley, November 1
Preschool Performance Series: Octopretzel – Danville, November 6
SF Jazz Family Matinee – San Francisco, November 7
Berkeley Symphony Family Concert – Berkeley, November 14
Family Concerts by SF Chamber Orchestra (Free) – Oakland & San Mateo, November 22
Children's Theater
Tarzan by Bay Area Educational Theatre – San Mateo, November 5-15
Ghost Chasers by San Carlos Childrens Theater – San Carlos, November 13-22
Joseph and the Amazing Technicolor Dreamcoat by CMTSJ – San Jose, November 13-22
The Princess and the Frog by Palo Alto Children's Theater – Palo Alto, November 14-15
Annie by PYT – Mountain View, November 14-22
The Secret Garden by Contra Costa Civic Theatre – El Cerrito, November 20-December 20
Arts & Crafts
Free First Sunday at OMCA (Free) – Oakland, November 1
Family Sundays at Cantor Arts Center (Free) – Stanford, November 1, 8, 15, 22, 29
Triton Museum Free Friday (Free) – Santa Clara, November 6
MOCHA Art Workshop (Free) – Alameda, November 15
MakeArt Workshop (Free) – San Francisco, November 20
Family Fun Celebration at the Schulz Museum – Santa Rosa, November 27-28
Animals & Nature
Children's Program at Green Gulch – Muir Beach, November 1
Puppy Movie Night at the SPCA – San Francisco, November 6 & 20
Seaside Flow – Sausalito, November 7
Family Day at Sienna Ranch – Lafayette, November 8
Family Bird Walk – Fremont, November 21
Birds of the Bay – San Francisco, November 21
History & Culture
Day of the Dead Celebration – Berkeley, November 2
USS Hornet Family Live Aboard Experience – Alameda, November 6
Diwali Celebration at Children's Discovery Museum – San Jose, November 7 & 8
South Bay Historical Railroad Society Open House – Santa Clara, November 7 & 8
Sail the Bay on a Historic Schooner – San Francisco, November 7, 14, 21
Living History Day at Casa Grande – San Jose, November 15
Science & Technology
Community Day at Curiodyssey (Free) – San Mateo, November 5
Drop In Science at Mission Art – San Francisco, November 7, 14, 21, 28
Marine Science Sunday (Free) – Sausalito, November 8 & 22
Penguins & Pajamas Sleepover at Cal Academy – San Francisco, November 13
Perfect Paper Airplane Day – San Carlos, November 14
Climb Aboard Weekend at the Pacific Coast Air Museum – Santa Rosa, November 21-22