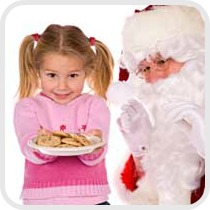 December is a great month for family fun in the Bay Area. The winter entertainment season is in full swing with family concerts, children's theater performances and plenty of holiday fun!
Below are just some of the many fun events happening in the Bay Area this month. Find more activities and events on our Fun Events and Holiday Fun pages.
Have a wonderful December in the Bay Area!
Featured Events
James and the Giant Peach performed by Bay Area Children's Theatre – Berkeley, San Ramon & San Francisco, November 29 – January 4
An exciting new musical, inspired by Roald Dahl's classic tale about the orphaned boy who escapes from his wicked aunts aboard an enormous enchanted peach inhabited by a bevy of very big bugs. Music and lyrics by the Tony Award-nominated team of Benj Pasek and Justin Paul. Adaptation by respected playwright and educator Timothy Allen McDonald. Directed by Nina Meehan. Recommended for 4 and up.
Nature Connects at the San Francisco Zoo – San Francisco, through January 4
Nature Connects at the San Francisco Zoo is the ideal blend of nature and wildlife. This remarkable art installation features artist Sean Kenney's giant nature-themed sculptures made entirely out of LEGO® bricks! From hummingbirds to snakes, flowers to farm equipment, there's something for everyone to see at Nature Connects. Nature Connects will run through January 4, 2015.
Fujitsu Planetarium Shows – Cupertino, December 6, 13, 20
Learn about space and science on Saturday evenings at the Fujitsu Planetarium on the De Anza College campus. Family shows include Secret of the Cardboard Rocket (K-1st), Magic Treehouse: Space Mission (K-2nd), This is Our Sky (K-3rd), The Moon (1st-3rd) and ExoPlanet Adventure (3rd-6th).
Mary Poppins performed by Children's Musical Theater – San Jose, December 5-14
Oh that Mary! She's quite contrary! Even with a spoon full of sugar! Take the little ones to the CMT Marquee presentation of Disney's Mary Poppins, live on stage December 5 to 14 at the Montgomery Theater in downtown in San Jose. For tickets, click www.cmtsj.org/tickets. You can sweep that chimney later!
San Francisco Youth Ballet Presents The Nutcracker – San Francisco, December 13 & 14
This magical, full-length version of The Nutcracker features Bernadette Torres and Carlo DiDio, former Principals California Ballet Company, performing with amazing guest talent and students of the San Francisco Youth Ballet. This 2-hour production is geared toward families and is a perfect opportunity to introduce young children to this holiday ballet tradition. The first 200 children go home with a Nutcracker gift bag and there will be photo opportunities after performances. For more information visit http://www.sanfranciscoyouthballet.org
The Amazing Bubble Show at Rhythmix – Alameda, December 14
The Amazing Bubble Man has been thrilling audiences around the world with the art, magic, science and fun of bubbles. From square bubbles to fog-filled bubbles or people inside bubbles, the Amazing Bubble Man conjures shrieks of laughter and gasps of amazement from all ages. Live bubbly accordion music will double your pleasure. Alameda, December 14th, 2 Shows @ 11am & 1pm. "Greatest bubble show on Earth." – SFGate.com
Zoo Lights at San Francisco Zoo – San Francisco, December 19-30
Come get a feeling for the San Francisco Zoo at night under magical holiday lights! Take a moonlight meander through the Zoo as it sparkles with cheer. Make your way from Entry Village to the Elinor Friend Playground for some magical playtime under the stars. Stop by to see Santa Claus to put in some last-minute requests. Grab some hot apple cider or cocoa and head over to the Playfield Lawn pay a visit to Santa's special reindeer Belle, Holly, Peppermint, and Velvet. And did we mention there will be snow? Yes, it will be snowing at Zoo Lights, so bundle up!
Children's Theater
The Elves and the Shoemaker by CTC – Sunnyvale, December 5, 6, 12
Madeline's Christmas by CTC – Sunnyvale, December 6-21
Peter Pan by Young Performers Theater – San Francisco, December 6-22
A Year with Frog and Toad by Palo Alto Children's Theater – Palo Alto, December 11-21
Cinderella by Diablo Youth Theatre – Walnut Creek, December 12-14
My Son Pinocchio – Pleasanton, December 12-21
Sunday Sampler at Berkeley Rep (Free) – Berkeley, December 14
Cinderella: A Family Holiday Panto – San Francisco, December 18-28
Family Concerts & Performances
Preschool Performance Series: Dante the Magician – Danville, December 5
The Bug Family Band at La Pena – Berkeley, December 6
Shadow Puppets Performance – San Francisco, December 6
SF Jazz Family Matinee – San Francisco, December 13
Frozen Sing Along – San Francisco, December 13 & 20
Arts & Crafts
DIY Art: Festive Family Fun – San Jose, December 6
Family Art Day at Triton Museum – Santa Clara, December 6
How to Build Holiday Stakes Kids Workshop at Home Depot (Free) – Several Locations, December 6
Creative Family Fun at the Presidio Officer's Club (Free) – San Francisco, December 6-21
Free First Sunday at OMCA – Oakland, December 7
CJM Community Free Day (Free) – San Francisco, December 25
Animals & Nature
Storytime at the Garden – San Francisco, December 7, 21
Family Fun Hour at Coyote Hills – Fremont, December 7, 20, 21, 28
Family Program at UC Botanical Garden – Berkeley, December 13
Free 3rd Fridays at East Bay Parks (Free)- Several Locations, December 19
History & Culture
Playing in the Past – Redwood City, December 5
Costumed Living History at SF Maritime Museum – San Francisco, December 13
History for Half Pints – San Francisco, December 13
USS Hornet Family Live Aboard Experience – Alameda, December 19
Science & Technology
Drop-In Science at Randall Museum – San Francisco, December 6, 20, 27
Science of Sharing Day at the Exploratorium (Free) – San Francisco, December 7
Marine Science Sunday (Free) – Sausalito, December 14, 28
Night Hike & Telescope Viewing at Chabot Space & Science – Oakland, December 26
Holiday Highlights
Holiday Out with Thomas – Santa Cruz, November 28-December 23
Fairy Winterland – Oakland, December 5-23
Lighted Yacht Parade (Free) – Alameda, December 6
Tree-Lighting, Sing-along, and Santa (Free) – Concord, December 6
Hometown Holidays (Free) – Redwood City, December 6
Christmas at Ardenwood – Fremont, December 6-7
Snow in Berkeley? (Free) – Berkeley, December 7
Holiday Crafts Day at Randall Museum – San Francisco, December 13
Children's Holiday Festival – San Jose, December 13
Handmade for the Holiday – Berkeley, December 14
Hannukah Party at CJM – San Francisco, December 14
Festival of Lights at Osher Marin JCC (Free) – San Rafael, December 14
Hanukkah Unplugged at SFJCC – San Francisco, December 20
Dream Circle Holiday Concert – Sausalito, December 20