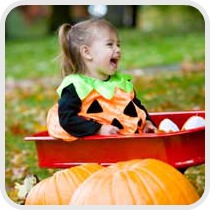 October is a great month for family fun in the Bay Area. The fall entertainment season is in full swing with festivals, concerts and theater performances. Plus, there's lots of Halloween Fun including costume parties, haunted houses and trick-or-treating.
Below are just some of the many fun events happening in the Bay Area this month. Find more activities and events on our Fun Events page.
Have a wonderful October in the Bay Area!
Featured Events
Fujitsu Planetarium Shows – Cupertino, most Saturdays
Learn about space and science on Saturday evenings at the Fujitsu Planetarium on the De Anza College campus. Family shows include Secret of the Cardboard Rocket (K-1st), Magic Treehouse: Space Mission (K-2nd), This is Our Sky (K-3rd), The Moon (1st-3rd) and ExoPlanet Adventure (3rd-6th).
Ivy + Bean performed by Bay Area Children's Theatre – Berkeley, September 28 – October 26
If you missed the fun on Pancake Court last year, the mischievous second-grade heroines of Annie Barrow's New York Times best-selling Ivy + Bean series are back again, with toe-tapping tunes and their special brand of witchcraft. Bay Area Children's Theatre created this original stage adaptation, with book, music and lyrics by Scott Elmegreen. Directed by Benjamin Hanna. Recommended for ages 4 and up.
Ohlone Day Festival – Cupertino, October 11
Kids will get the chance to step into the daily lives of the original Bay Area inhabitants, the Ohlone, who lived here before us for thousands of years. Taking place in a replica Ohlone village (normally closed to the public) demonstrations and activities include archery, tool crafting and face painting. Recommended for ages 5-12 but all kids and families are welcome.
Goblin Jamboree at Bay Area Discovery Museum – Sausalito, October 18 & 19
Bring the whole family in costume to explore all the fun at the Bay Area Discovery Museum's Goblin Jamboree Family Fundraiser. Experience the Museum as it's transformed into a spooktacular Halloween wonderland complete with Witches and Wizards school, pony rides, petting zoo, live entertainment and much more.
Boo at the Zoo ~ San Francisco, October 25-26
Bring your family to Boo at the Zoo for incredible thrills and chills! Roam the Zoo in search of candy, see special animal enrichment, create take-home crafts, take your picture with Casper the Friendly Ghost and much more. All activities are free with paid Zoo admission. Kids wearing costumes get $1 off admission.
Family Concerts & Performances
Preschool Performance Series: EarthCapades – Danville, October 3
Silly Sundays at Ashkenaz – Berkeley, October 5, 12, 19, 26
Philharmonia Family Concert (Free) – Berkeley, October 11
Concert for Kids – Sausalito, October 11
Amiguitos de La Pena – Berkeley, October 11, 25
JAMBand Family Festival (Free) – San Francisco, October 26
Fairs & Festivals
Plaza Palooza – Mountain View, October 3
Centennial Fireworks Spectacular – Santa Cruz, October 4
Richmond Fall Fest – Richmond, October 18
Harvest Celebration at Slide Ranch – Muir Beach, October 11
Sunday Streets (Free) – San Francisco, October 19
Wharf Fest (Free) – San Francisco, October 25
Children's Theater
Dr. Doolittle by Civic Arts Stage Company – Pleasanton, October 3-5
Aladdin by Playful People Productions – San Jose, October 3-12
Goldilocks and the Three Aliens – San Francisco, October 4-5
Harry the Dirty Dog by CTC – Sunnyvale, October 4, 11
Bunnicula by PYT – Mountain View, October 10-11
Sleepy Hollow by Los Altos Youth Theatre – Los Altos, October 17-November 2
Jack and the Beanstalk by Palo Alto Children's Theater – Palo Alto, October 18-19
The Witches by YPT – San Francisco, October 24-November 9
Arts & Crafts
Family Art Day at Triton Museum – Santa Clara, October 4
Home Depot Build a Truck Workshop (Free) – Bay Area Wide, October 4
Doing and Viewing Art at De Young Museum – San Francisco, October 4, 18, 25
Nurturing Creative Kids at San Jose Museum of Art – San Jose, October 5
Family Sundays at Cantor Arts Center (Free) – Stanford, October 5, 12, 19, 26
MakeArt Workshop: Magical Wizard Wands - San Francisco, October 25
Animals & Nature
Community Day at Gamble Garden – Palo Alto, October 5
Wildlife Festival at Alum Rock Park – San Jose, October 5
Environmental Volunteers Little Adventurers Series – Palo Alto, October 16, 23, 30
Wildlife Education Day – Cupertino, October 17
The Buzz About Honey – Fremont, October 18
Sienna Ranch Family Day – Lafayette, October 19
Get to Know WildCare – San Rafael, October 25
History & Culture
Playing in the Past – Redwood City, October 3
Family Fandango – San Jose, October 4
Family Program at UC Botanical Garden – Berkeley, October 5
Forest Home Farm Free Activities Day – San Ramon, October 11
Costumed Living History at SF Maritime Museum – San Francisco, October 18
Science & Technology
Astronomy Day at Chabot – Oakland, October 4 & 5
Founder's Day at the Exploratorium (Free) – San Francisco, October 12
Marine Science Sunday (Free) – Sausalito, October 12, 26
Chemistry Day at King Library – San Jose, October 18
East Bay Mini Maker Faire – Oakland, October 19
Halloween Fun – more Halloween events & activities
Goblyn's Glen – Los Gatos, October 3-31
Pumpkins in the Park – San Jose, October 11
Halloween Train at Ardenwood – Fremont, October 17-November 1
Slither and Squeak at Curiodyssey – San Mateo, October 24
Sulphur Creek Unhaunted House – Hayward, October 24-25
Halloween Family Fest at Randall Museum – San Francisco, October 25
Jackolantern Jamboree at Fairyland – Oakland, October 25-26
Halloween Spooktakular – Redwood City, October 25
Halloween Hoopla at Yerba Buena Gardens – San Francisco, October 26
Halloween Parade – Sausalito, October 31