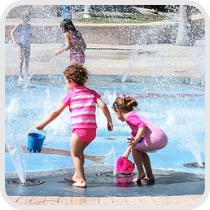 June is a great month for family fun in the Bay Area. Enjoy family concerts, children's theater, art workshops, outdoor activities and more!
Below are just some of the many fun events happening in the Bay Area this month. Find more activities and events on our Fun Events, Outdoor Movies, and Father's Day pages.
Have a wonderful June in the Bay Area!
Featured Events
Raptor Power: The Dinosaurs That Survived ~ San Mateo, June 3
A celebration of the dinosaurs that survived. See these magnificent birds in action. Learn the science of their survival. Watch them in flight and see them up close. Look up to the skies to see raptors soar with falconer Kenny Elvin. Learn the role raptors play in ecology from Raptors Are The Solution. Meet CuriOdyssey's raptors. Saturday, June 3, 10 AM – 3 PM. Free with admission.
Goodnight, Goodnight, Construction Site by Bay Area Children's Theatre – Berkeley, June 3-25
Bedtime is approaching, and this team of construction vehicles needs to get their rest. But Crane Truck is getting cranky, Cement Mixer takes too long with bath time, and Dump Truck just isn't sleepy! Excavator and Bulldozer find that preparing for bed is a job in itself! Will they ever get some shut-eye before tomorrow's day of work? An award-winning musical based upon the best-selling book! For ages 3 and up.
Daniel Tiger's Neighborhood: A Grr-ific Exhibit ~ Sausalito, May 20 – September 3
Daniel Tiger's coming to the Bay Area Discovery Museum! Based on the award-winning PBS Kids television series, this exhibit invites children to enter the world of Daniel Tiger and friends to explore the Neighborhood. The exhibit brings to life themes presented in the PBS series such as community, communication, and emotions, which enables young children to understand their feelings and those of their neighbors. Recommended for ages 2 to 6.
Fly Guy by Bay Area Children's Theatre ~ San Francisco, June 3-11
A fly for a pet? Flies are pests, not pets, right? Well, young Buzz and his new friend, Liz, know otherwise, and their adventures with their winged pets have the whole town, umm, buzzing! This rollicking musical will have you cheering for the bugs and delighting in their antics, as their caring friendships help them overcome all the challenges they face. A co-commission with Oregon Children's Theatre. Recommended for age 4 and up.
Family Concerts & Performances
Preschool Performance Series – Danville, June 2
Alphabet Rockers – San Francisco, June 2
Music for Families – San Francisco, June 3
Kidchella – Redwood City, June 11
Red Panda Acrobats – San Francisco, June 16
Music Fun Under the Sun – San Jose, June 22
Circus Bella – San Francisco, June 23 & 24
Arts & Crafts
Free Community Maker Day – San Jose, June 3
Afternoon Art at Mission Art – San Francisco, June 3, 10, 17, 24
First Sunday at OMCA – Oakland, June 4
Family Fun Day at the Asian Art Museum (Free) – San Francisco, June 4
Animals & Nature
Fun Day at the Farm – Half Moon Bay, June 3
Raptor Power Day at Curiodyssey – San Mateo, June 3
Family Program at Green Gulch – Muir Beach, June 4
Free Sprouts Family Day – Berkeley, June 11
Marine Science Sunday at The Marine Mammal Center – Sausalito, June 11, 28 & 25
History & Culture
Family Lunada – San Jose, June 10
Hungarian Festival – Walnut Creek, June 10
Train Day at Ardenwood – Fremont, June 17
Hands on History Day – San Jose, June 18
Science & Technology
$5 Friday at Chabot Space and Science Center – Oakland, June 2
STEM Superheroes at BADM – Sausalito, June 3
Design for Superheroes at MOAH – Palo Alto, June 4 & 11
Open Cockpit Day at Oakland Aviation Museum – Oakland, June 18
Free Community Night at the Exploratorium (Free) – San Francisco, June 23
Drone Fest – San Carlos, June 28