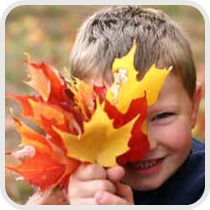 November is a great month for family fun in the Bay Area. The fall entertainment season is in full swing with family concerts and children's theater performances. Plus, holiday fun kicks-off at the end of the month.
Below are just some of the many fun events happening in the Bay Area this month. Find more activities and events on our Fun Events page.
Have a wonderful November in the Bay Area!
Featured Events
James and the Giant Peach performed by Bay Area Children's Theatre – Mill Valley, Berkeley, San Ramon & San Francisco, November 6 – January 4
An exciting new musical, inspired by Roald Dahl's classic tale about the orphaned boy who escapes from his wicked aunts aboard an enormous enchanted peach inhabited by a bevy of very big bugs. Music and lyrics by the Tony Award-nominated team of Benj Pasek and Justin Paul. Adaptation by respected playwright and educator Timothy Allen McDonald. Directed by Nina Meehan. Recommended for 4 and up.
Harvest Festival at Bay Area Discovery Museum – Sausalito, November 8
Celebrate the turn of the season with a harvest festival featuring a joyous outdoor performance and hands-on activities for the whole family. Story times, a farmer's market display, live music, and the science of seeds are all an opportunity for children to have fun and make new friends. Free with Museum admission. Saturday, November 8 from 9 a.m. to 5 p.m.
Fujitsu Planetarium Shows – Cupertino, most Saturdays
Learn about space and science on Saturday evenings at the Fujitsu Planetarium on the De Anza College campus. Family shows include Secret of the Cardboard Rocket (K-1st), Magic Treehouse: Space Mission (K-2nd), This is Our Sky (K-3rd), The Moon (1st-3rd) and ExoPlanet Adventure (3rd-6th).
Nature Connects at the San Francisco Zoo – San Francisco, through January 4
Nature Connects at the San Francisco Zoo is the ideal blend of nature and wildlife. This remarkable art installation features artist Sean Kenney's giant nature-themed sculptures made entirely out of LEGO® bricks! From hummingbirds to snakes, flowers to farm equipment, there's something for everyone to see at Nature Connects. Nature Connects will run through January 4, 2015.
Free Musical Theater Workshop for ages 5-25 – San Jose, November 5, 12, 19
South Bay Children's Musical Theater teaches the basics of musical theater in this fun and exciting free workshop! Through interactive group activities such as theater games, self-esteem exercises, and singing & dancing, attendees will take a hands on approach by exploring the basic concepts of musical theater. Ages 5-8: Wednesday, November 5th, 4:00-7:00pm. Ages 9-11: Wednesday, November 12th, 4:00-7:00pm. Ages 12-25: Wednesday, November 19th, 4:00-7:00pm. Sign up at www.southbaychildrensmusicaltheater.com
Spartans Sports Camp Touch Rugby Mini-Camp – Mountain View, November 8-9
Spartans Sports Camp is proud to announce our first annual Touch Rugby Mini-Camp which will be held November 8-9 from 9 am – 12 pm. This camp is for boys and girls in Grades 3-8. Coaches from AYRU (www.ayru.net) will be on hand to mentor players of all abilities in the sport of touch rugby which is a safer, non-contact version of 7 vs 7 rugby. This is a great opportunity to learn one of America's fastest growing sports – register today at our website or call 650.479.5906 for more info!
Veterans' Day Camp at Bay Area Discovery Museum – Sausalito, November 11
Join us for our first ever one-day Fort Building camp. Children will take initiative as they work together for one day to conceptualize, design and execute their very own creative structures. Using various materials, campers will tap into their imagination, innovation and ingenuity to transform the classroom into their very own hide-away, and build smaller-scale structures using wood, hammers and nails to create take home projects. For ages 4 – 8. Extended care available.
The Sound of Music performed by Children's Musical Theater – San Jose, November 14-23
Are your kids 16, going on 17? Does it seem like there's seven of them? Don't get " Von Trapped," head to the Montgomery Theater instead for CMT San Jose's The Sound of Music, November 14 to 23. Grab your tickets today by clicking www.cmtsj.org/tickets.
Family Concerts & Performances
One Act Opera for Children – San Francisco, November 1
Justin Roberts Concert – Los Altos Hills, November 2
Preschool Performance Series: Cowgirl Tricks – Danville, November 7
Charlotte Diamond Concert – Saratoga, November 8
The Pop-Ups Concert – Palo Alto, November 9
SF Jazz Family Matinee – San Francisco, November 15
Children's Concerts at La Pena – Berkeley, November 1, 14, 29
Children's Theater
Mary Poppins by Berkeley Playhouse – Berkeley, October 30-December 7
The Adventures of Robin Hood at Montalvo – Saratoga, November 1
Children's Musical Theater Workshop (Free) – San Jose, November 5, 12, 19
Lily's Purple Plastic Purse by Palo Alto Children's Theater – Palo Alto, November 6-16
Rumpelstiltskin's Daughter by PYT – Mountain View, November 7-8
Androcles and the Lion – Sunnyvale, November 8
The Legend of Sleepy Hollow by San Carlos Children's Theater – San Carlos, November 14-23
Willie Wonka by the Pied Piper Players – San Mateo, November 14-23
Arts & Crafts
Doing and Viewing Art at De Young Museum – San Francisco, November 1, 8, 15, 22
Family Sundays at Cantor Arts Center (Free) – Stanford, November 2, 9, 16, 23, 30
Family Gallery Day at CJM – San Francisco, November 9
Family Day at the Museum of Craft and Design – San Francisco, November 22
DIY Art: Festive Family Fun – San Jose, November 29
Animals & Nature
Fall Family Farm Day at Slide Ranch – Muir Beach, November 1, 15
Family Program at UC Botanical Garden – Berkeley, November 8
Sienna Ranch Family Day – Lafayette, November 16
History & Culture
Day of the Dead Community Day at San Jose Museum of Art (Free) – San Jose, November 1
Dia de los Muertos Community Festival – Santa Cruz, November 1
Model Train Show & Open House – Santa Clara, November 1 & 2
Playing in the Past – Redwood City, November 7
Costumed Living History at SF Maritime Museum – San Francisco, November 8
Forest Home Farm Free Activities Day – San Ramon, November 8
Cowboy Hootenanny Folk Festival – Sunol, November 15
Happy Birthday San Jose! – San Jose, November 23
Science & Technology
Bay Area Science Festival (Free) – San Francisco, November 1
North Bay Science Discovery Day (Free) – Santa Rosa, November 1
Marine Science Sunday (Free) – Sausalito, November 9, 23
Full Spectrum Science at the Exploratorium – San Francisco, November 23
Night Hike at Chabot Space & Science Center – Oakland, November 28
Holiday Fun – more Holiday Events & Activities