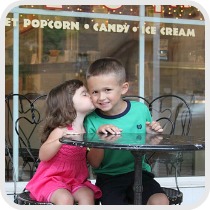 June is a great month for family fun in the Bay Area! Enjoy children's theater, family concerts, art workshops, science explorations, and nature adventures. Plus, have fun at Outdoor Movies, County Fairs and Father's Day events!
Below are just some of the many fun events happening in the Bay Area this month. Find more activities and events on our Fun Events page.
Have a fantastic June in the Bay Area!
Featured Events
Fancy Nancy, The Musical by Bay Area Children's Theatre – San Francisco, June 13-21
Does it glitter? She loves it! Does it sparkle? She's thrilled. In Nancy's play world, even words can be fancy as long as they are lonnnggg . . . or French! Nancy and her dance class friends will soon perform Deep Sea Dance, their first recital! She dreams of diving into the role of an elegant mythical ocean dweller, but will she get the part? Based on the New York Times bestselling Fancy Nancy series by Jane O'Connor.
Rockin' Ropes Adventure at SF Zoo ~ San Francisco, January 17 – June 14
Calling all kids! The Zoo invites all Bay Area youngsters (4-14 years old) to enjoy the Rockin' Ropes Adventure in the Pachyderm Building. To keep everyone active and healthy for the new year, this challenging ropes course will be open on weekends and school holidays. Young visitors can zip, swing, jump, step, and slide their way through all 30 feet of fun. This challenging elevated ropes obstacle course requires an additional fee of $7 for general admission guests. To check the Rockin' Ropes schedule each week, see our Calendar of Events.
The Day the Crayons Quit by Bay Area Children's Theatre ~ Oakland & San Francisco, June 20 – August 23
Duncan loves to color. So you can imagine his surprise when he discovers that his crayons, ahem, want to have a word with him. The situation is urgent, and Duncan clearly needs to think out of the box! A hilarious new musical for munchkins and their families, adapted from the award-winning, New York Times bestseller, The Day The Crayons Quit, by author Drew Daywalt and illustrator Oliver Jeffers.
Father's Day Celebrations (more Father's Day Fun)
Penguins & Pajamas Sleepover at Cal Academy – San Francisco, June 19-20
Father's Day Camp Night at Gilroy Gardens – Gilroy, June 20-21
Walnut Creek Model Railroad Show – Walnut Creek, June 20 & 21
Hats of to Dad at Roaring Camp – Felton, June 21
Father's Day at Aquarium of the Bay – San Francisco, June 21
Children's Theater
Shrek The Musical Jr – San Francisco, June 5-8
Peter Pan at Mountain Theater – Mill Valley, June 7, 13, 14, 21
Sleeping Beauty by Palo Alto Children's Theatre – Palo Alto, June 10-21
The Aristocats at Roberta Jones Junior Theatre – Santa Clara, June 12-14
The Sound of Music by Contra Costa Civic Theatre – El Cerrito, June 12 – July 19
Family Concerts & Performances
Unique Derique – Danville, June 5
Red Panda Acrobats (Free) – San Francisco, June 5 & 19
JAMBand Family Festival – San Francisco, June 7
Jose-Luis Orzoco at Freight & Salvage – Berkeley, June 13
Circus Bella (Free) – San Francisco, June 26 & 27
Arts & Crafts
Summer Picnic at Berkeley Art Center – Berkeley, June 6
Free First Sunday at OMCA – Oakland, June 7
Free First Sunday at the Asian Art Museum – San Francisco, June 7
Family Sundays at Cantor Arts Center (Free) – Stanford, June 7, 14, 21, 28
Super Family Sunday at Junior Museum and Zoo (Free) – Palo Alto, June 28
Animals & Nature
Seals & Slippers Sleepover at TMMC – Sausalito, June 5
Butterfly and Bird Festival – Fremont, June 7
Children's Program at Green Gulch – Muir Beach, June 7
Butterfly Bonanza – Berkeley, June 19
Friday Night at Lindsay Wildlife Experience – Walnut Creek, June 26
History & Culture
Dia de Portugal Festival – San Jose, June 13
Juneteenth Celebration – Santa Cruz, June 13
Hands On History Day: Trains, Planes & Automobiles – San Jose, June 21
USS Hornet Family Live Aboard Experience – Alameda, June 26
Family Lunada at Children's Discovery Museum – San Jose, June 27
Science & Technology
Mars Mini Mission at Chabot – Oakland, June 6
Simple Science of Toys – San Francisco, June 6
Marine Science Sunday (Free) – Sausalito, June 14, 21, 28
San Carlos Airport Day – San Carlos, June 27
The Science of Fireworks – San Francisco, June 28