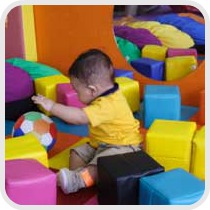 Click below for Fun Party Places, including play centers, children's museums, art studios, gyms, skating rinks, bowling alleys & more.
Need ideas for a party? Visit our sister site Kids Party Fun for over 100 party themes and party planning tips.
Pixieland Amusement Park ~ Concord
Fun for young children ages 1 to 10 with a miniature train, carousel, roller coaster, tea cups, airplanes, frog hopper, antique cars, games, a duck pond and great food!  Always free admission and parking.  Just buy tickets for the rides.  A great place for a school field trip or to host your childs' next birthday party at reasonable package rates.
California Sports Center ~ San Jose, Santa Clara, Sunnyvale & Morgan Hill
We run the best gymnastics, dance, and swim parties around! Fully trained, enthusiastic party instructors make sure your birthday kid and all party guests enjoy a safe, organized party while having FUN! Activities are followed by 30 minutes of party time. Extra features are available.
Karate Parties at Zanshin Martial Arts ~ San Francisco
Our parties include full set up of party decorations, bounce houses, video game stations (optional), a karate class, karate medals, board breaking for all kids. An area for cake and food, plenty of other fun games, plus we do all the clean up. Just show up and enjoy your party. We even make booking your party easy with our online party booking website. Please feel free to check us out www.karateparties.net.
Little Artistas ~ San Francisco
Are you looking for a sunny space to host an art party for your creative child? Little Artistas offers super fun custom-designed art parties at our magical and imaginative studio in Glen Park, San Francisco. The kids have a blast making art and get to take home a creation of their own!
Jewelry Making Birthday Parties With Dragonfly Designs ~ South San Francisco
Our Jewelry Making Birthday Parties add new flavor to the cake and ice cream scene with a jewelry making birthday party for children ages 5 and up, tweens & teens. Best of all, we deliver the party to you! Our Parties include: Whimsical party invitations, top quality beads and crystals, clasps, accents and charms, precious party favor pouches to contain their handmade treasures and expertly trained party hosts to instruct and assist during the 1, 1.5, or 2 hour party. Deluxe parties with extra flare also available. Book your party HERE.
CD's Kids Art Studio Parties ~ San Jose
Children's book illustrator CD Hullinger brings over 25 years of artistic talent to birthday parties, classes and camps. Our art classes are known for their creative art projects and party fun! Choose from glass mosaic, mystery paintings, paper collage, fused glass art and more! We have 3 fun filled packages to choose from. Every art project includes balloons and a special gift for the birthday girl or boy.
BrainVyne – LEGO Birthday Parties ~ Palo Alto
Our LEGO® birthday parties offer your child and other party guests a chance to "convert a birthday event into lasting memories", by building a fun LEGO® model. We start the party with free play with thousands of loose LEGO®. Once all the guests have arrived we transition to the building activity, where each child receives their own BrainVyne Kit, so every guest is able to build and play with their own LEGO® model. We also play games, sing birthday songs and enjoy a birthday cake ceremony. Parties start at $500 for 20 kids. http://www.brainvyne.com/legobirthdayparties Questions? legobirthdays@brainvyne.com
Play Haven ~ San Francisco
Play Haven is the perfect party venue for children and grown-ups alike. Children will be engaged with all types of creative play activities while grown-ups relax and socialize, or join in on the fun. Play Haven was created by a preschool teacher of 12 years. Here you'll find everything from art projects, to imaginative games, an outdoor play area, and even a rock climbing wall. There's also huge private party room and a FREE parking lot. Let us help you have a wonderful, stress-free party!
Peek-a-Boo Factory ~ San Francisco
Let us help you throw a stress & hassle-free birthday party for your child. We offer basic as well as private party packages. Our party packages include party hosts to help you every step of the way, so you can enjoy your little one's special day. We have an array of current themes to choose from or we can customize one for you, the choices are endless when it comes to creating the best memories for your child's birthday at Peek-a-Boo Factory. Don't miss out on having your child's birthday celebration at one of San Francisco's favorite party destination!
Fuze Fit For a Kid! ~ Los Gatos and San Jose
Since 2008 Fuze Fit For a Kid! has offered classes, private parties and camps that mix fitness and fun! There is a lot of laughter between the facility's walls, some of which are studded with stones that welcome the grip of aspiring rock climbers! FUZE offers the perfect birthday party for kids who are gamers, climbers, jumpers and dancers to get their game on and break a sweat. Coordinated by our certified instructors.
Birthdays @ Bladium ~ Alameda
Let the Bladium Party Hosts lead your guests through a fun, high-energy event while you relax! We will set up and clean up so you can just enjoy the day. Choose your activity–Rock Climbing, Soccer, Basketball, Lil' Kickers, Lil' Sluggers, Laser Tag, Flag Football, Volleyball, and more–plus, an inflatable and exclusive party area. Pizza and drinks included for up to 15 children; outside food is welcome, ask for details.
Bricks 4 Kidz ~ San Francisco
Bricks 4 Kidz specializes in hosting parties that keep the kids engage kids on science, technology, engineering and mathematics (STEM) themes. With a 1000 square feet of private party room and kitchen, your party will be a hit!
Cyber Garage ~ San Anselmo
Host a Robot Party with Battle Bots, laser cut party favors, plus awesome Virtual Reality and games! Cyber Garage is a Makerspace Tech wonderland where kids K-12 get to invent, build, play and have fun with friends! We will customize the perfect party based on your child's interests. We have 3D printers, advanced woodworking machines, laser cutting, electronics, VR, science challenges, digital arts, filmmaking, robotics, video arcade with Xboxes and more! Kids LOVE our "toys"… Come party with us! Learn more at www.TheCyberGarage.com.
Bay Area Discovery Museum ~ Sausalito
Throw the best birthday party for your child without all the stress! The Bay Area Discovery Museum handles set up, clean up, decorations, party favors, activity facilitation and more! Birthday parties include free museum entry for all of your guests, a private room, and a customizable party package with everything from bounce houses and face painting to photo booths. Party spaces can accommodate 25 people to 100 people.
Bricks and Minifigs – Your One Stop Lego Shop ~ Concord
Birthday parties for kids who love Legos! Your child's party will be fun and imaginative with race car building and racing followed by the chance to create your own Minifig. Each guest gets a minifigure and the birthday child gets two! We have a large, colorful birthday room where kids can celebrate with food & presents (customer supplied). Also great for youth or scout parties!
Rainbow Chefs Cooking Party ~ San Mateo and Livermore
Have a birthday or event coming up? Sit back, relax and let Rainbow Chefs do all the work for you with an all-inclusive party, including a custom menu of your choice with themes like cupcake wars, iron chef, and many more to choose from! Either at your place or ours, guests will leave with great memories of a fun and special culinary experience!
Planting Parties at Sloat Garden Center ~ San Francisco, Mill Valley, Kentfield, Danville, Pleasant Hill and Concord
Choose from a variety of individualized planting parties where participants create beautiful plant projects to take home (terrariums, wreaths, planters or centerpieces). Planting parties are a delight for birthdays, showers, or garden group meetings. Currently available at our San Francisco (Sloat Blvd), Mill Valley (Miller Ave), Kentfield, Danville (Diablo Rd), Pleasant Hill, and Concord locations. Classes last approx. one hour and are led by our excellent designers. Contact our Events Manager for details: Jen Strobel 415-367-5200 • jenstrobel@sloatgardens.com
Art Parties at MOCHA ~ Oakland
Named Best Place To Have A Kid's Birthday Party by San Francisco Magazine, MOCHA provides enthusiastic Teaching Artists and project materials for two hours in our beautiful space. Art parties are for artists of all ages – just choose a date, time, and theme – and MOCHA staff will work with you to make your event memorable!
Birthdays at the Dancing Cat ~ San Jose
The Dancing Cat is available for birthday parties for kids 8 years and older. During your visit, you and your guests will enjoy exclusive access to The Dancing Cat café and a cat-themed craft project. Guests will learn how to interact with cats and support the worthwhile cause of finding forever homes for adoptable cats.
Santa Cruz Children's Museum of Discovery ~ Capitola
The nonprofit Santa Cruz Children's Museum of Discovery showcases the wonders of Santa Cruz County. Float a boat. Take a look at a bug. Make it rain. Build something with your imagination! Choose from one of our three party packages which include admission to the museum for your guests plus use of our party room! Add goodie bags, custom invitations, or a special guided activity to make that special day extra special! www.sccmod.org
Peekadoodle Kidsclub ~ San Francisco
Peekadoodle Kidsclub offers a fun, kid-friendly indoor playspace and private party room for you to celebrate your little one's special day! Located in Ghiradelli Square, we offer several themes and packages to choose from that can be customized to your every need. Each party comes complete with an event planner to handle pre-party planning, dedicated staff on site to ensure that all goes off without a hitch, and amazing party favors for each child guest.