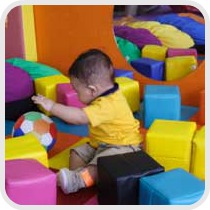 Click below for Fun Party Places, including play centers, children's museums, art studios, gyms, skating rinks, bowling alleys & more.
Need ideas for a party? Visit our sister site Kids Party Fun for over 100 party themes and party planning tips.
Bay Area Discovery Museum ~ Sausalito
See why we've been voted Best Kid's Party in Marin seven years in a row – our parties are in Pacific Sun's Hall of Fame – and why the North Bay Bohemian voted us Best Awesome-Sauce Disco Ball Party! Enjoy stunning views of the Golden Gate Bridge, a private party room, personal party assistants and all-day Museum admission for each guest. Add on face-painting, a themed party like "Superheroes" or "Princesses," and even a bounce house! Cater delicious treats from your favorite venue or bring your own. Book your party today!
LOL Parties at Silver Creek Sportsplex ~ San Jose
The party place that has it all!  Giant custom-designed inflatables, field activities, private event rooms, party coaches, and superb food!
Pixieland Amusement Park ~ Concord
Fun for young children ages 1 to 10 with a miniature train, carousel, roller coaster, tea cups, airplanes, frog hopper, antique cars, games, a duck pond and great food!  Always free admission and parking.  Just buy tickets for the rides.  A great place for a school field trip or to host your childs' next birthday party at reasonable package rates.
Great Jump ~ Milpitas
A whole new experience and a unique birthday party at our giant and amazing trampoline arena. 2 hours of fun playing in our trampoline courts plus awesome pizza! You bring the cake and we take care of the rest. Fun for kids, teens and people of all ages and yes the parents too!
California Sports Center ~ San Jose, Santa Clara, Sunnyvale
We run the best gymnastics parties around!  Fully trained, enthusiastic coaches make sure your birthday kid and all party guests enjoy a safe, organized & active hour of FUN instruction. Activities are followed by 30 minutes of party time. Our standard party consists of 2 coaches for groups of up to 15 kids. Extra features available.
Fujitsu Planetarium ~ Cupertino
A unique place for a party that is truly "out of this world", come and celebrate your birthday with us and experience the night sky and Universe like never before.
Peekadoodle Kidsclub ~ San Francisco
With our large, well-appointed venue and white glove service, Peekadoodle tops the list for party options when both adult and child are in mind.  During the party, you can eat, drink, and be merry while our attentive staff takes care of every need.  All the while, the children will be blissfully entertained in our large, diverse play areas and instructor-led activities.
Karate Parties at Zanshin Martial Arts ~ San Francisco
Our parties include full set up of party decorations, bounce house's,  video game stations (optional), a karate class, karate medals, board breaking for all kids. An area for cake and food, plently of other fun games, plus we do all the clean up. Just show up and enjoy your party. We even make booking your party easy with our online party booking website. Please feel free to check us out www.karateparties.net.
Parties at UMe ~ Menlo Park
Parties at UMe just got even better! Introducing new party packages, themes, and activities. With themes like, Frozen, Super Heroes, and more, there is something for everyone! You can add one of our great new activities, including Art Adventures, Music, and We Grow Fit for extra special fun. Every family has a different wish, which is why our parties are uniquely planned. Come plan a party with us today!
San Jose Batting Cages-Baseball Birthday Parties from $149 ~ San Jose
Are you looking to have a unique and memorable Birthday Party for your child or a AWESOME TEAM PARTY? Look no further than San Jose Jose Batting Cages!  We'll provide an experience which your child and his/her friends will remember for the rest of their lives!  MLB Baseball themed parties such as SF Giants, Oakland A's, Yankees, Dodgers, etc… Packages start at only $149!
Small Talk Family Cafe ~ Walnut Creek
Both kids AND parents will be in for a great time when you celebrate at Small Talk Family Cafe! Grown-ups can relax and enjoy social time while the little ones tear up the play space. Private and semi-private packages include the basics or full service planning.
Modern Recess ~ San Ramon
Modern Recess is happy to celebrate your birthday and make it a memorable occasion. Available only on weekend afternoons, we open up our studio to host your birthday celebration with over a dozen themes to choose from. We will provide fun fitness-based games for all guests to enjoy. All you need to do is choose your theme and options for food and beverages and we will take care of the rest.
Little Artistas ~ San Francisco
Are you looking for a sunny space to host an art party for your creative child? Little Artistas offers super fun custom-designed art parties at our magical and imaginative studio in Glen Park, San Francisco. The kids have a blast making art and get to take home a creation of their own!
Rainbow Chefs ~ San Mateo or your Bay Area location
Have a birthday or event coming up? Sit back, relax and let Rainbow Chefs do all the work for you with an all-inclusive party, including a custom menu of your choice with themes like cupcake wars, iron chef, and many more to choose from! Either at your place or ours, guests will leave with great memories of a fun and special culinary experience!
Jewelry Making Birthday Parties With Dragonfly Designs ~ South San Francisco or your Bay Area location
Our Jewelry Making Birthday Parties add new flavor to the cake and ice cream scene for children ages 5 and up, tweens & teens. Our Parties include: Whimsical party invitations, top quality beads and crystals, clasps, accents and charms, precious party favor pouches and 2 expertly trained party hosts. Best of all, you can host your event in our So. San Francisco studio or we can deliver the party to you! Dragonfly Designs also offers: Jewelry Making Summer Camps + Mandarin or Spanish Immersion Camps & Classes.
Art Bash Birthday Parties ~ San Jose
Art Bash Birthday parties are known for their creative art projects and party fun! Choose from glass mosaic, mystery paintings, paper collage, fused glass art and more! Depending on which package you choose, your art project includes pizza and drinks, balloons and free private art lessons as a gift for the birthday girl or boy.
BrainVyne – LEGO Birthday Parties ~ Palo Alto or your Bay Area Location
Our LEGO® birthday parties offer your child and other party guests a chance to "convert a birthday event into lasting memories", by building a fun LEGO® model. We start the party with free play with thousands of loose LEGO®. Once all the guests have arrived we transition to the building activity, where each child receives their own BrainVyne Kit, so every guest is able to build and play with their own LEGO® model. We also play games, sing birthday songs and enjoy a birthday cake ceremony. Parties can be hosted at your home, our party space in Palo Alto or any other location of your choice. Parties start at $400 for 20 kids.
Santa Cruz Children's Museum of Discovery ~ Capitola
The nonprofit Santa Cruz Children's Museum of Discovery showcases the wonders of Santa Cruz County. Float a boat. Take a look at a bug. Make it rain. Build something with your imagination! Choose from one of our three party packages which include admission to the museum for your guests plus use of our party room! Add goodie bags, custom invitations, or a special guided activity to make that special day extra special! www.sccmod.org
We Rock the Spectrum Kid's Gym ~ Berkeley
If you are looking for a great way to celebrate a birthday, a special event or plan a private playdate, We Rock the Spectrum Berkeley is just the place for you! Our environment is a place where ALL kids have a place to play, create, and use their imagination. Our expert staff will guide you through your party planning experience. We can help with themed parties, face painting, arts and crafts, cupcake decorating and more to make your little one's birthday a day to remember!
Colores ~ San Francisco
Come and celebrate your child's birthday at our 2 room + backyard Art and Spanish studio. The most original parties with creative projects and lots of space to celebrate with friends and family. Rent the space or choose from one of our packages and let us take care of the fun! We also offer art and Spanish classes, workshops, school programs and other activities. Find more information at www.sfcolores.com
Play Haven ~ San Francisco
Play Haven is the perfect place for a fun & creative party for kids, and a beautiful open venue for adults. Play Haven was created by a preschool teacher of 12 years and offers many engaging activities that promote childhood development while having fun! Here you'll find everything from art and sensory activities, to imaginative games and dramatic play areas, and even a rock climbing wall. We also offer a FREE parking lot and WiFi.