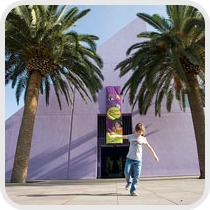 The Children's Discovery Museum in San Jose is a great place to explore and conveniently located near the Tech Museum.
The museum consists of several inviting and inspiring permanent exhibits, an art loft and a children's garden. Grab a bite at the on-site café or bring a picnic lunch to enjoy on the lawn.
The museum frequently hosts special events, including family nights, cultural events, birthday parties and holiday celebrations.