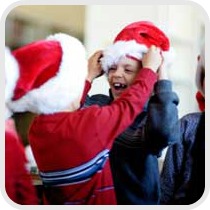 Celebrate the holiday season with a festive parade or light display. Enjoy a holiday concert or a performance of A Christmas Carol or The Nutcracker. Learn how to make cards, presents and other fun holiday crafts. Enjoy an invigorating skate at an outdoor ice rink.
Plan more holiday fun with creative ideas for decorations, crafts, parties and more at Kids Christmas Fun!
Featured Events
Celebrate the Holidays – December at Bay Area Discovery Museum ~ Sausalito, December 1-31
Visit live reindeer, meet Santa, explore winter-themed projects, like building ice castles, all at the Bay Area Discovery Museum this winter. Each week in December, BADM has something new for kids and families to explore. Buy general admission tickets online for our holiday events or purchase a membership and visit each weekend in December – 3 visits pay for a Family Membership!
IlluminOdyssey – A Winter Light Experience for Kids ~ San Mateo, November 10 – January 7
Electrify your child's imagination at CuriOdyssey's spectacular light exhibition. Be amazed and thrilled by fascinating works of interactive luminosity and kid-friendly, glowing art. Explore our radiant sculpted forest, alive with roaming beams of brilliance. Move and stack gleaming objects, play with projections, make filtered light and shadow art. Admission to IlluminOdyssey is free for members and included with admission to CuriOdyssey.
Great America's WinterFest ~ Santa Clara, November 24-December 30
During WinterFest, Great America is magically transformed into a winter wonderland. Skate in front of the iconic carousel, admire magnificent displays of lights and décor, view spectacular live holiday shows and experience 25 rides and attractions.
Holiday Light Displays
Christmas in the Park – San Jose, November 24-January 1
Holiday Circle of Lights – Oakland, December 1-January 1
ZooLights at Oakland Zoo – Oakland, December 1-January 1
Union Street Fantasy of Lights – San Francisco, December 2-29
Fantasy of Lights – Los Gatos, December 2-30
Christmas at Winchester Mystery House – San Jose, December 9-25
Zoo Lights at San Francisco Zoo – San Francisco, December 15-30
Amusement Parks
Winterfest at Great America – Santa Clara, November 24-December 30
Holiday in the Park at Discovery Kingdom – Vallejo, November 24-December 31
Holiday at Night at Gilroy Gardens – Gilroy, December 1-31
Other Holiday Events & Activities
'Tis the Season for Science at Cal Academy – San Francisco, November 22-January 7
Annual Holiday LEGO® Show at MOAH – Palo Alto, December 8 – January 14
Performances: The Nutcracker
San Francisco Ballet – San Francisco, December 13-30
New Years Celebrations
New Years at Lawrence Hall of Science – Berkeley, December 31
Family New Years Eve Party at Playland – El Cerrito, December 31
Ring in the New Year Balloon Drop at Chabot Space and Science – Oakland, December 31
Noon Years Eve Party at Hiller Aviation – San Carlos, December 31
Noon Years Eve at Children's Discovery Museum – San Jose, December 31
Noon Years Eve at Bay Area Discovery Museum – Sausalito, December 31
Happy New Year Charlie Brown at Schulz Museum – Santa Rosa, December 31
Holiday Ice Rinks
The Little Ice Rink – Alameda, November 3-January 15
iSkate Capitola – Capitola, December 15-January 7
Downtown Holiday Ice – Martinez, November 18-January 7
Napa On Ice – Napa, November 17-January 7
Holiday Ice Rink at Embarcadero Center – San Francisco, November 3-January 7
Holiday Ice Rink in Union Square – San Francisco, November 1-January 15
Downtown Ice – San Jose, November 17-January 15
San Mateo on Ice – San Mateo, November 10-January 15
Main on Ice – San Rafael, November 8-January 7
Snowflake Lake at Great America – Santa Clara, November 24-December 30
Santa Clara on Ice – Santa Clara, November 20-January 15
Boardwalk Holiday Ice – Santa Cruz, November 11-January 7
Walnut Creek on Ice – Walnut Creek, November 10-January 15