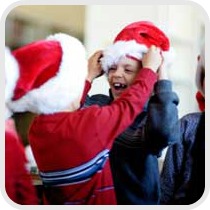 Celebrate the holiday season with a festive parade or light display. Enjoy a holiday concert or a performance of A Christmas Carol or The Nutcracker. Learn how to make cards, presents and other fun holiday crafts. Enjoy an invigorating skate at an outdoor ice rink.
Plan more holiday fun with creative ideas for decorations, crafts, parties and more at Kids Christmas Fun!
Featured Events
San Francisco Youth Ballet Presents The Nutcracker ~ San Francisco, December 2 & 3
Join us as SFYBT celebrate its 17th annual performance of "The Nutcracker". This magical, full-length version features Bay Area guest artists and the wonderful talents from the San Francisco Youth Ballet Academy. The dance tells the story of young Clara, who dreams that her gift of a toy nutcracker soldier comes to life. This 2-hour production is geared toward families and is a perfect opportunity to introduce young children to this holiday ballet tradition. As always, there will be photo opportunities with different characters after all performances. Four shows ONLY!
Holiday Light Displays
Christmas in the Park – San Jose, November 24-January 1
Santa Cruz Holiday Lights Train – Santa Cruz, November 24-December 23
Holiday Circle of Lights – Oakland, December 1-January 1
Zoo Lights at San Francisco Zoo – San Francisco, December 15-31
ZooLights at Oakland Zoo – Oakland, December 1-January 1
Union Street Fantasy of Lights – San Francisco, December 2-29
Fantasy of Lights – Los Gatos, December 2-30
Christmas at Winchester Mystery House – San Jose, December 9-25
Other Holiday Events & Activities
'Tis the Season for Science at Cal Academy – San Francisco, November 23-January 8
Winterfest at Great America – Santa Clara, November 25-December 30
Holiday in the Park at Discovery Kingdom – Vallejo, November 25-January 1
Children's Holiday Festival – San Jose, December 2
Santa Visit and Craft Shop – San Francisco, December 2, 3, 9 & 10
Fairy Winterland – Oakland, December 16-23
Bethlehem A.D. (Free) – Redwood City, December 21-23
A Charlie Brown Christmas with San Francisco Symphony – San Francisco, December 21-24
Performances: A Christmas Carol
American Conservatory Theatre – San Francisco, November 25-December 24
Northside Theatre Company – San Jose, December 7-24
Performances: The Nutcracker
San Francisco Ballet – San Francisco, December 10-29
Moscow Ballet – Cupertino, December 20
New Years Celebrations
New Years at Lawrence Hall of Science – Berkeley, December 31
Family New Years Eve Party at Playland – El Cerrito, December 31
Ring in the New Year Balloon Drop at Chabot Space and Science – Oakland, December 31
Noon Years Eve Party at Hiller Aviation – San Carlos, December 31
Noon Years Eve at Children's Discovery Museum – San Jose, December 31
Noon Years Eve at Bay Area Discovery Museum – Sausalito, December 31
Happy New Year Charlie Brown at Schulz Museum – Santa Rosa, December 31
Holiday Ice Rinks
The Little Ice Rink – Alameda, October 28-January 8
Downtown Holiday Ice – Martinez, November 19-January 8
Napa On Ice – November 19 – January 8
Holiday Ice Rink at Embarcadero Center – San Francisco, November 2-January 8
Holiday Ice Rink in Union Square – San Francisco, November 2-January 16
Downtown Ice – San Jose, November 18-January 16
San Mateo on Ice – San Mateo, November 11-January 16
Main on Ice – San Rafael, November 9-January 8
Santa Clara on Ice – Santa Clara, November 21-January 16
Walnut Creek on Ice – Walnut Creek, November 11-January 16