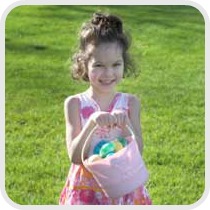 Celebrate Easter at an egg hunt, holiday parade, bunny brunch, spring festival or one of the other fun events below!
Create your own Easter Fun with special games, crafts and treats. Make bunny masks or Easter bonnets. Decorate Easter eggs and baskets and then celebrate with an egg hunt in your yard or nearby park. Enjoy a fun meal of bunny shaped mac & cheese, baby carrots with dip, fruit salad and cupcakes decorated with jelly beans.
Pixieland's Easter Speggtacular ~ Concord, March 31
Easter egg hunt and Easter bunny visit. Rides, games, facepainting and food also available.
Eggster Egg Hunt and Learning Festival – Berkeley, March 17
Splash Into Spring at Crab Cove – Alameda, March 24
Easter Egg Hunt – Atherton, March 31
Egg Adventure Hunt – Belmont, March 31
Naturally Dyed Spring Eggs – Berkeley, March 31
Bunnies and Bonnets Parade (Free) – Campbell, March 31
Big Bunny Fun Run – Cupertino, March 31
Eggstravaganza – Danville, March 31
Spring Eggstravaganza – Dublin, March 31
Spring Youth Carnival and Egg Hunt – Emeryville, March 31
Brunch with the Easter Bunny – Fairfield, March 31
Egg Hunt and Pancake Breakfast – Livermore, March 31
Spring Egg Hunt – Los Altos, March 31
Egg Hunts (Free) – Menlo Park, March 31
Spring Faire and Candy Hunt – Mill Valley, March 31
Easter Bunny & Egg Extravaganza at Shoreline (Free) – Mountain View, March 31
Eggciting Egg Hunt – Pleasant Hill, March 31
Easter Bunny Arrives by Helicopter – San Carlos, March 31
Eggstravaganza – San Francisco, March 31
Egg Hunt at the Casa (Free) – San Leandro, March 31
Eggstravaganza (Free) – San Mateo, March 31
Egg Hunt and Breakfast with Bunny – San Rafael, March 31
Easter Egg Hunt (Free) – Sausalito, March 31
Children's Wonderland Easter Egg Hunt – Vallejo, March 31
Easter Weekend at Playland-Not-at-the-Beach – El Cerrito, March 31-April 1
Eggstraordinary Egg Hunt at Roaring Camp – Felton, March 31-April 1
Bunny Weekend at Children's Fairyland – Oakland, March 31-April 1
Union Street Spring Celebration & Easter Parade (Free) – San Francisco, April 1
St. Mark's Easter Egg Hunt – San Francisco, April 1
Easter at Sunol – Sunol, April 1