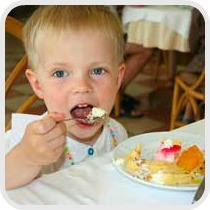 The best kid-friendly restaurants have good food and a welcoming atmosphere. Just about any pizza or burger place is going to be kid-friendly, but fortunately many other restaurants are great for families.
Good signs that a restaurant is kid-friendly include:
children's menu with favorite kid foods
crayons, coloring menus, books, etc.
high chairs and booster seats
fun atmosphere with interesting decorations
and last, but not least, other families with children dining there
If your child is an adventurous eater, ethnic restaurants can be great options. Asian, Mexican, and Mediterranean are often good choices.
Fortunately, most kid-friendly restaurants are pretty easy on the budget. In fact, there's a pretty strong correlation between cost and kid-friendliness. Expensive restaurants and their customers often aren't very welcoming of children.
Timing is also part of the equation. A restaurant can be kid-friendly for breakfast and weekend lunches, but be the power lunch scene on weekdays or a dating hotspot during Friday night happy hour.
Kids Eat Free
These restaurants not only welcome children, but offer free kids meals on at least some days of the week. Visit their web sites or give them a call to confirm free meal details.
Blue Jay Cafe – San Francisco
Carrows – Several Locations
Chevy's – Several Locations
Coco's Bakery and Restaurant – Hayward
Easy Street Café – San Anselmo
El Torito – Several Locations
Fillipo's – Berkeley, Oakland
Hobee's – Several Locations
Marie Callenders – Several Locations
Pedro's Restaurant – Los Gatos, Santa Clara
Pizza Party – Santa Clara
Schooners Grille & Brewery – Antioch
Squat & Gobble – San Francisco
More Kid Friendly Restaurants
Baby Blues BBQ – San Francisco
Bistro Maxine – Palo Alto
Buca di Beppo – Campbell , Palo Alto, San Francisco
Benihana – Burlingame, Concord, San Francisco
Black Bear Diner– Gilroy, Napa, Oakley, Rohnert Park, Sonoma, Walnut Creek
Boston Market – Several Locations
California Pizza Kitchen – Corte Madera, Palo Alto, Monterey, San Francisco, San Jose, San Mateo, Walnut Creek
Chili's – Bay Area wide
Chuck E Cheese – Bay Area wide
The Elephant Bar – Burlingame, Campbell, Concord, Cupertino, Daly City, Fremont
Emery Public Market – Emeryville
Fresh Choice – Bay Area wide
Julie's Coffee & Tea Garden – Alameda
Max's Diner and Cafes – Bay Area wide
Mel's Drive-in – San Francisco
Old Spaghetti Factory – Concord, Oakland, San Jose
Pasta Pomodoro – Several Locations
Peggy Sues – San Jose
Phil's Sliders – Berkeley (monthly Family night entertainment)
Rigolo Cafe – San Francisco
Roundtable Pizza – Bay Area wide
Red Tractor Cafe – Dublin
Rudy's Can't Fail Cafe – Emeryville
Rainforest Cafe – San Francisco
Red Robin – Newark, Pleasanton, San Bruno, Santa Clara, San Mateo, San Jose
Small Talk Family Cafe – Walnut Creek
Southwest Grill – San Mateo
Straw Hat Pizza – Bay Area wide
Sweet Tomatoes – Fremont, Pleasant Hill, Pleasanton, Sunnyvale, Walnut Creek
Tomatina – Alameda, Berkeley, Dublin, Santa Clara, Walnut Creek
Zocalo Coffee House – San Leandro
Ice Cream Parlors
Ben & Jerry's – Berkeley Napa, San Francisco, San Jose, Santa Clara
Cold Stone Ice Cream – Bay Area wide
Dairy Queen – Bay Area wide
Double Rainbow – Bay Area wide
Fenton's Creamery and Restaurant – Oakland
Ghiradelli Chocolate Manufactory and Soda Shop – San Francisco
Joe's Ice Cream – San Francisco
Mitchell's Ice Cream – San Francisco
Smitten Ice Cream – San Francisco, Lafayette
San Francisco Creamery – Walnut Creek
Screamin' Mimi's – Sebastapol
Sweet Connections – San Bruno
Cooking Schools
Rainbow Chefs ~ San Mateo
After working hard at school, your kids need creative, stress-free hobbies they can look forward to. Rainbow Chefs combines fun, kid-friendly recipes with health education to inspire a love for cooking and healthy eating! Kids can sharpen their culinary skills and learn quick-and-easy do-it-yourself recipes. Choose from many themed enrichment programs and camps, or have Rainbow Chefs throw a unique party for you.
Apron Strings – San Francisco
Cake Works – San Jose
Cucina Bambini – San Jose
Kids Culinary Adventures – San Mateo
What's Cooking – Marin, San Francisco, East Bay
Young Chef's Academy – Sunnyvale