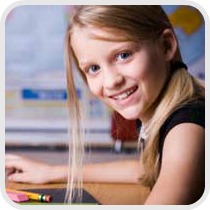 Language Camps are designed to provide children with language instruction and experiences beyond what they typically receive during the school year.
Language camps are often held at international school campuses and utilize fun learning activities, including cultural games, arts & crafts and music.
Camp Jano India ~ Silicon Valley Locations
Celebrate Indian culture, languages, arts, festivals, literature, cuisine, and leaders. Weekly themes are brought to life through related arts, games, projects, stories and theatre in a very unique, exciting, creative, interactive and structured style. A very unique and memorable experience that kids will want to repeat! Mornings are spent with the Hindi language at the child's level while incorporating the weekly theme. Afternoons provide the cultural elements taught in an interactive and engaging style with special emphasis on drama. Online Registration at www.JanoIndia.org or call (650) 493-1566. Sponsored by US Hindi Foundation(USHF), an educational 501c(3) non profit.
Escuela Bilingue International Spanish Immersion Camps ~ Oakland and Emeryville
Join us at Escuela Bilingüe Internacional (EBI), the Bay Area's first Spanish-English dual-immersion independent school, for a summer of Spanish language and culture. EBI partners with specialists like "Cooking Round the World" and other professionals to guide each camper's exploration of cooking, art, music, science, movement, and dozens of other enriching and dynamic themes in Spanish! EBI's camp staff will make learning Spanish an engaging and gratifying adventure. Visit www.ebinternacional.org. Contact (510) 653-3324 or programs@ebinternacional.org. Ages 3-13
Petits Confettis ~ Menlo Park
Bonjour! Want to experience a French camp for your 2 to 5 years old kid(s)? Come and join us for 1 week (or more!) of French camps! Kids will be totally comfortable to learn French while they will make team project. Weekly themes will keep them busy with cooking, arts & craft, drama, outdoor activities, board games, music, yoga, rhymes and story time, ALL IN FRENCH! More info: http://www.petitsconfettis.com
Mandarin Immersion Summer Camp ~ San Mateo
This is our 11th Chinese language and culture summer camp.  We take children from K-6th grade. This year we continue the weekly fun theme like art/science/cooking/sports in the morning.  In the afternoon, we have abacus/reading and Chinese culture lessons taught in Mandarin. Our teachers are all native speakers with lots of experiences and credentials. Our weekly field trips go to difference places like SF zoo, tech museums, fire stations etc. Come join us in our brand new facility in San Mateo.
Jewelry Making & Design With Dragonfly Designs ~ We are Mobile + locations in San Francisco and the Peninsula
Winter * Spring * Summer Camps + Creative Explorers Art Camp + Mandarin Immersion Art + Spanish Immersion Art Camps. Programs for Ages 5-17. Our camps teach real jewelry making techniques such as beading, wire work, resin, enameling, wool felting, polymer clay, stamping & dapping, copper etching & more. Plus daily Yoga & Outdoor Hikes. Camps in English, Spanish- or Mandarin-Immersion. We Bring our Camp To You! Call 650-303-1900.
Spanish Language and Creative Arts (Ages 5-7) ~ San Francisco (Marina)
Educators will use the universal language of visual art to bridge language barriers, and as a creative catalyst to enhance language skills, develop new vocabulary and expose your child to Spanish language and culture. No prior Spanish knowledge is required. Each session is 2 weeks, from June 15 – Jul 10. Hours: 9-3PM, aftercare from 3-6PM available. Visit info.altschool.com/summer
Pacific Rim International School ~ San Mateo & Emeryville
Learning Chinese/Japanese through a wide variety of hands-on sensory activities including art, music, crafts, cooking and fieldtrips, students will develop a deeper connection with what they encounter through their senses and they will learn to express their experience and feelings in the secondary language. The activities will help refine both their sense perceptions and ability to describe what they experience. Learning vocabulary pertaining to sense perception will help children express their sensory experiences by using precise words and idioms.
Au P'Tit Monde French Immersion Summer Camps ~ East Palo Alto
Does your little one love to talk and picks up languages easily (all kids do!)? Au P'tit Monde offers 2-day, 3-day or 5-day/week Summer Camp for children ages 2-6. The school provides homemade, organic and wholesome meals. Children ages 2 to 3 do not need to be potty trained to attend. The sessions don't repeat, so you can join the fun for 1, 2, 3, 4 or all-5 sessions. By the end of summer, you'll have a French speaking pre-schooler! More info: www.auptitmonde.com
German-American School of Palo Alto ~ Menlo Park
Ready to be immersed in German? Then join us! We, the German-American School of Palo Alto are excited to once again offer a full-immersion 4-week day camp summer camp program for children between the ages 3-12 from June 22nd to July 17th in Menlo Park. No prior German language knowledge is required. Program details and registration information are available at www.gaspa-ca.org
Little Artistas ~ San Francisco
Embark on an arts-filled adventure with Little Artistas! We offer camps in the Winter, Summer, Spring and over school breaks for children ages 3-11, including some Spanish-immersion camps. Camp sizes are capped at 15 children. We have outdoor art/play time both on our patio and at the playground at Glen Park every day. Our camp themes are fun and exploratory, such as Explore Egypt and Graffiti!