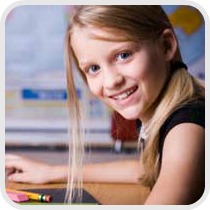 Language Camps are designed to provide children with language instruction and experiences beyond what they typically receive during the school year.
Language camps are often held at international school campuses and utilize fun learning activities, including cultural games, arts & crafts and music.
Camp Jano India ~ Fremont, San Ramon
Celebrate Indian culture, languages, arts, festivals, literature, cuisine, and leaders. Weekly themes are brought to life through related arts, games, projects, stories and theatre in a very unique, exciting, creative, interactive and structured style. A very unique and memorable experience that kids will want to repeat! Mornings are spent with the Hindi language at the child's level while incorporating the weekly theme. Afternoons provide the cultural elements taught in an interactive and engaging style with special emphasis on drama. Online Registration at www.JanoIndia.org or call (650) 493-1566. Sponsored by US Hindi Foundation(USHF), an educational 501c(3) non profit.
Bay Language Academy ~ Alameda
We invite our students to travel as we open up doors to explore past and recent civilizations. Cultures will be revealed through customs and cooking demo. Special projects around language learning including mind games, skill building, interactive games and music will be used to immerse our students in a culturally rich-environment. Our curriculum is infused with cultural activities and taught by a team of bilingual instructors. In addition to our summer camp sessions (6/16-8/22), intensive classes are available during the summer for 3 hours per day for middle-school, high school and college level students. For more information and to register, visit http://www.baylanguages.com/signup
German-American School of Palo Alto ~ Menlo Park
Sprechen Sie Deutsch? Do you speak German? We do, and we would love for you to join us! We, the German-American School of Palo Alto are excited to once again offer a full-immersion 4-week day camp summer camp program for children between the ages 3-12 from June 23rd to July 18th in Menlo Park. No prior German language knowledge is required. Program details and registration information is available at www.gaspa-ca.org
Escuela Bilingue International Spanish Immersion Camps ~ Oakland
Spanish Immersion Camps, and After School classes! Escuela Bilingüe Internacional (EBI) is the Bay Area's first Spanish-English dual-immersion, independent school. This summer your child can explore dozens of enriching and dynamic themes in Spanish! We have partnered with SOCCERSHOTS, PEAK ATHLETES, ANTS & COOKING ROUND THE WORLD to also offer fun camps for 3rd-7th grades!. EBI's experienced teachers will make learning Spanish an engaging and gratifying adventure! Visit www.ebinternacional.org. Contact (510) 653.3324 or programs@ebinternacional.org. Ages 3-13
Petits Confettis ~ Menlo Park
Bonjour! Want to experience a French camp for your 3 to 5 years old kid(s)? Come and join us for 1 to 6 week(s) of French camps! Kids will be totally comfortable to learn French while they will make team project like building a tipi or making French bread. Weekly themes with cooking, arts & craft, drama, outdoor activities, board games, music, yoga, rhymes and story time, ALL IN FRENCH! More info: http://www.petitsconfettis.com
Mandarin Immersion Summer Camp ~ San Mateo
This is our 11th Chinese language and culture summer camp. We take children from K-6th grade. This year we continue the weekly fun theme like art/science/cooking/sports in the morning. In the afternoon, we have abacus/reading and Chinese culture lessons taught in Mandarin. Our teachers are all native speakers with lots of experiences and credentials. Our weekly field trips go to difference places like SF zoo, tech museums, fire stations etc. Come join us in our brand new facility in San Mateo.
French Summer Camp ~ San Mateo
Take your child to Paris without leaving the Bay area! Experienced French Teacher guides your child in the exploration of French language and culture. Activities are designed for children 3-8 years old: arts & craft, dance & movement, outdoor play, story time, science experiments and of course cooking! Small groups of children, no prior French required. Check out our Facebook page www.facebook.com/FrenchSummerFun for more info. A bientôt!
Shu Ren Internationl School Chinese (Mandarin) Immersion Summer Camp ~ Berkeley
Students will use inquiry-based learning to explore each session's theme, develop their Mandarin skills and engage in exciting, hands-on activities. Each session will incorporate at least one field trip. Please visit our web site for more details.