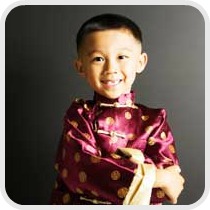 February 16, 2018 marks the beginning of the Year of the Dog on the Chinese Lunar Calendar. Below are Lunar New Year celebrations for kids and families in the San Francisco Bay Area or create your own fun!
Learn the Chinese zodiac and set off party poppers to ward off evil spirits. Make paper Chinese lanterns and good luck signs (small paper signs with words, such as health, peace, happiness, prosperity), decorate zodiac animal masks and make modeling clay dragons. Enjoy Chinese take-out food and fortune cookies.
Lunar New Year Celebration at Children's Discovery Museum ~ San Jose, February 17 & 18
Lunar New Year Celebration on February 17 and 18. Celebrate the year of the dog with lively music, colorful dances, culturally-rich art activities, and furry friends.
Celebrate Chinese New Year at the Bay Area Discovery Museum ~ Sausalito, February 19
Celebrate the vibrant traditions of the Chinese New Year with a full schedule of family-friendly programming and performances at the Bay Area Discovery Museum. Children can experience the magic of lion dancers, witness a martial arts demonstration, make their own lantern in BADM's high-tech Fab Lab, and much more! This annual event is presented in partnership with the Marin Chinese Cultural Association. For the full schedule of events, visit BayAreaDiscoveryMuseum.org/cny.
Lunar New Year Activities at San Jose Libraries – San Jose, February 10-16
New Year Celebration and Parade – Albany and Berkeley, February 11
Chinese New Year Celebration at the Community Center – Albany, February 15
Lunar New Year Fair on Main Street – Cupertino, February 16 & 17
Chinese New Year Celebration at Aquarium of the Bay – San Francisco, February 16-18
Year of the Dog Celebration at Habitot – Berkeley, February 17
4th Street Lunar New Year Celebration – Berkeley, February 17
San Jose Museum of Art Lunar New Year Community Day – San Jose, February 17
Lunar New Year Celebration at the Asian Art Museum – San Francisco, February 18
Chinese New Year Festival and Parade – San Francisco, February 24
Celebrate the Year of the Dog with the Chinese Historical Society – San Francisco, February 24
Chinese New Year Concert with the San Francisco Symphony – San Francisco, February 24
Chinese New Year Celebration at Xian Yun – San Francisco, February 24
Lunar New Year Celebration at the San Mateo County History Museum – San Mateo, February 24
Lunar New Year Celebration at SF Zoo – San Francisco, February 24 & 25
Lunar New Year Celebration at OMCA – Oakland, February 25
Lunar New Year Festival at Hakone – Saratoga, March 4