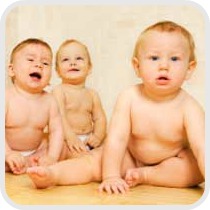 Mothers' Clubs and other local parenting organizations are a great source of information and support for parents.
Many clubs also coordinate play groups, outings, parties and other fun activites for the entire family. View the list below to find the club nearest you.
Featured Mothers' Clubs
MOMS Club of Santa Clara
The MOMS Club of Santa Clara offers daytime fun, friendship, and service opportunities for moms and their children who live in the 95050, 95051 & 95054 zip codes, or within the boundaries of the Santa Clara Unified School District.  Some of our activities include playgroups, field trips, lunches at family restaurants, holiday parties, and Mom's Nights Out.
Pleasant Hill/Walnut Creek Mothers Club
The Pleasant Hill/Walnut Creek Mothers' Club, is a volunteer organization of parents and parents-to-be run by and for its members in Contra Costa County. Our goal is to provide members with friendship, support and information on parenting young children through meetings, activities, playgroups and monthly newsletters. The Club's mission is "To Nurture the Nurturer."
East Bay Moms
East Bay Moms' mission is to provide support, companionship and networking for our members.  We provide an avenue for parents to meet, exercise and enjoy the outdoors.  All interested parents (moms as well as dads) of infants and toddlers are welcome to join.  We meet Friday mornings for a hike or stroller walk, have a monthly moms' night out and enjoy other fun activities.  Prospective members are encouraged to attend one activity prior to joining.  Join East Bay Moms and meet new friends to last a lifetime!
Southern Marin Mothers Club
The Southern Marin Mothers' Club is one of the largest mothers' clubs in the bay area, serving more than 1400 families. The majority of our members live south of San Rafael to Sausalito. Our membership community is connected via our secure member only Big Tent discussion forum, our website, Facebook page and monthly newsletter. SMMC offers it's members a wide range of activities, including regular member social events, educational events, playgroups and our online discussion forum.
Santa Rosa Mothers' Club
Santa Rosa Mothers' Club offers a variety of events, activities, and programs for its members. Through the work of our member volunteers our club provides the following: playgroups, shared interest groups, outings, monthly speaker events, social events, monthly newsletter, community service opportunites, an online forum and discounts to local businesses.
Mid-Peninsula Parents of Multiples
MPPOM is a non-profit organization that provides support and encourages the exchange of information, ideas and experiences relating to the birth and care of multiples on the San Francisco Peninsula. The purpose of this organization is to build parenting skills for expectant and current parents of multiples through educational programs and peer support; and to assist financially disadvantaged families of multiples through our philanthropic services. Our membership community is connected via our secure members only Big Tent discussion forum, our website, Facebook page and bi-monthly newsletter.
More Mothers' Clubs – San Francisco
Golden Gate Mothers Group
San Francisco Parents of Multiples Club
Mommies of the Richmond
More Mothers' Clubs – North Bay
Corte Madera/Larkspur Mothers Club
Marin Dads
Marin Parents of Multiples Club
Marinwood Moms
Novato Mothers Club
Petaluma Mother's Club
Ross Valley Mothers Club
San Rafael Mothers' Club
Santa Rosa Mother's Club
Sonoma County Mothers of Multiples
Southern Marin Mothers' Club
More Mothers' Clubs – Peninsula
Burlingame Mothers' Club
Coastside Mothers Club (Pescadero to Pacifica, including Half Moon Bay)
Foster City Mothers' Club
Mid-Peninsula Mothers of Multiples
Pacifica Mothers' Club
The Parents' Club of Palo Alto Menlo Park
Redwood City Mothers Club
San Bruno Mother's Club
San Carlos/Belmont Mother's Club
San Mateo Mother's Club
South San Francisco Mother's Club
More Mothers' Clubs – South Bay
Gemini Crickets Parents of Multiples (Silicon Valley)
Holistic Moms Network (San Jose)
Las Madres (Santa Clara County)
MOMS Club of San Jose – Santana Row
MOMS Club of Santa Clara
MOMS Club of Sunnyvale
Santa Clara County Mothers of Twins Club
More Mothers' Clubs – East Bay
Amador Mothers Club (Pleasanton Area)
Castro Valley Mothers Club
Contra Costa Parents of Multiples
East Bay Moms
F.U.N Mothers Club (Fremont, Union City, Newark)
Holistic Moms Network (East Bay Chapter)
Iron Horse Mothers Club – Dublin, San Ramon, Danville, Alamo
Lamorinda Moms
Livermore Mom's Club
Mocha Moms (Diablo Valley, Gilroy, Oakland/East Bay, Solano County, and West Contra Costa)
MOMS Club of Antioch
MOMS Club of Clayton/Concord
MOMS Club of Oakley
MOMS Club of San Lorenzo
Mt. Diablo Mothers' Club
Parents Resources & More PRAM (Richmond)
Pleasant Hill/Walnut Creek Mothers Club
Pleasanton Mothers Club
Other Parenting Organizations and Resources
Alameda Parents & Kids Meet-up and Baby Sitting Co-op
Baby Boot Camp Stroller Fitness Exercise Classes (several locations)
Then Comes Baby (Oakland)
Blossom Birth (Palo Alto)
Contra Costa Child Care Council
Holistic Moms Network (East Bay, Napa, San Jose, Tri Valley chapters)
MOPS Mothers of Preschoolers (Bay Area)
Our Family (Bay Area Gay and Lesbian Family Group)
Natural Resources (San Francisco)
New Mom's Village (San Jose)
Parents Network (Berkeley)
Parents Place (Palo Alto, San Francisco, San Rafael, Santa Rosa)
Play Dates for Kids Meet-Up (Martinez & Pleasant Hill)
Stroller Hikes (Bay Area)