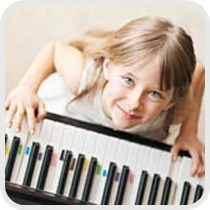 Listed below are music schools and teachers that offer music instruction ranging from music play for very young children to private lessons for budding musicians.
Visit their websites to find the perfect fit for your child.
Music Lessons at the Myriad Music School ~ San Mateo
The most Established & Diverse Music School on the Peninsula! Featuring Piano, Guitar, Voice, String, and Band Instrument Lessons. Highest quality music instruction. Fun, inspiring, professional teachers. Children love our multi-sensory approach.
Toddler and Preschool Music Classes at the Myriad Music School ~ San Mateo
Toddlers, Preschoolers & their Parents love our music and movement program! Our Kindermusik graduates sing, play instruments, read music and are inspired to learn more!
Glee Club Singers & Children's Chorus at the Myriad Music School ~ San Mateo
Our singers are excited about singing and love rehearsals, learning to read music through fun theory games and developing stage presence and performance poise.
Music Lessons for Kids at the New Mozart School of Music ~ Palo Alto
Voted Best of Silicon Valley 2011 by the Metro Newspaper! Over 550 students & growing! Come, see & experience The New Mozart Difference. Lessons & classes are available on piano, violin, viola, cello, voice, and guitar.
Piano Based Music Classes for Ages 2-7 at the New Mozart School of Music ~ Palo Alto
Come & experience children's classes like no other! Internationally recognized, age specific, researched based, and above all FUN!  Even our youngest children learn the basics of piano, solfege (do-re-mi), singing, rhythm activities and creative movements. Taught by certified Harmony Road teachers with music degrees.
Happy Mozart Music School ~ San Mateo
Learning music can be fun and exciting! Happy Mozart offers music lessons for ages 4 and up. Highly qualified instructors teach piano, string instruments, flute and guitar in a professional environment. Regular recitals provide a safe environment for a positive performance experience for students of all ages.
Kindermusik Classes with Miss Lindsay & Friends ~ Walnut Creek, Lafayette, Danville, Dublin, Pleasanton, San Ramon
Trusted. Proven. Educational, and FUN! Kindermusik is the world's leading provider of kids music classes for young children ages newborn to seven, enjoyed by over 1.5 million families in schools and studios in 70+ countries. Here in the East Bay, our program has been the #1 Kindermusik program in California for the past three years.
Preparatory Music Program at Holy Names University ~ Oakland
Established in 1968, Preparatory Music provides private and group music instruction to over 200 children and youth in Oakland and neighboring cities. Twice voted "Best Place for Children's Music Education" by Oakland Magazine (2011 and 2013), we offer instruction on piano, violin, cello, harp, guitar, flute, oboe, recorder, voice, and drums. Youth orchestras, piano ensemble classes, and numerous annual events make our program unique: Concerto Competition, Concerto Festival, Solo & Ensemble Festival, and Pops Concert.
Community School of Music and Arts ~ Mountain View
CSMA offers music classes and private lessons for all ages and skill levels. Instruction is available on over 20 instruments, including voice, plus music theory, musical composition and digital music. Our Little Musicians program for Preschoolers (18 months – 5 years) focuses on sequential learning in music, with hands-on classes that continually build on concepts, skills and techniques. Preschoolers have fun and experiment with new musical instruments, sounds, rhythms and tempos!