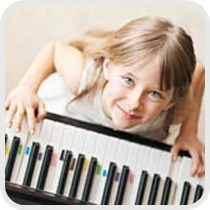 Music Camps are a fun and creative summer activity. Music camps are available for all ages and abilities.
Your child can learn new musical skills or refine those he already has. Most camps are held at music schools or studios and taught by their experienced instructors.
Summer Performing Arts Camps at Myriad Music School & Dance Academy ~ San Mateo
Our specially created Performing Arts Summer Camps provide 6 different unique themes, one for each week. Students rotate daily through Music, Dance, Art & Theatre classes with a performance for loved ones on Fridays! Small class sizes. BENEFITS for you! All of your child's performing arts summer activities in one place! Summer is busy ~ that's why our summer camps are full of benefits. We allow the flexibility of weekly enrollment and incentives for camp families who choose to sign up for 2 weeks or more.
Rock the Sunset ~ San Francisco
Rock the Sunset is a fun, exciting summer performance camp in San Francisco designed to give students the experience of playing in a rock band. Our camp accommodates all the standard rock instruments; guitar, bass, drums, keyboard, vocals. Have fun playing your favorite rock songs, from the Beatles to Led Zeppelin to Maroon 5, and learning how to play in a rock band. For more information or to register, please contact us at 415-504-7921, or www.inspiremusiccenter.com
Musical Theater Summer Camps at Musically Minded Academy ~ Oakland
Join us this summer to act, sing and make art! Campers will work as a team to create skits, props and costumes, then choose songs to accompany their story. At the end of the week, they stage a short performance for family and friends! Discounts are available for siblings and multi-week enrollees. To get more information or register, please call 510.601.5700, or click here.
More Music Camps ~ San Francisco
Blue Bear School of Music – San Francisco
Camp CMC – San Francisco
Los Cenzontles – San Francisco
Inspire Music Center – San Francisco
Jambooda's Music and Dance Camp – San Francisco
San Francisco Girls Chorus – San Francisco
Young Women's Choral Projects – San Francisco
VIBO Music – San Francisco
More Music Camps ~ North Bay
Cazadero Performing Arts – Cazadero
Singers Marin – Mill Valley
Bandworks – San Rafael
More Music Camps ~ Peninsula
La Honda Music Camp – La Honda
Jam Camp West – Loma Mar
Sora Classic Arts – Los Altos
Day Jams – Menlo Park
El Camino Youth Symphony Summer Workshops – Palo Alto
New Mozart School – Palo Alto
Summer Rock Camp – Palo Alto
J Ace J Music – Redwood City
Peninsula Youth Orchestra Music Camp – Redwood City
School of Rock – Palo Alto, San Mateo
Bandworks – San Carlos
Stanford Jazz Camp – Stanford
Summer Taiko at Stanford – Stanford
More Music Camps ~ South Bay
The Music Place – Campbell, Cupertino, San Jose
Bandworks – Los Altos
Community School of Music and Arts – Mountain View
Gorin School of Music – Mountain View
Areon Summer Flute Institute – San Jose
Summer Jazz Camp – San Jose
Groove Academy – Santa Clara
Celtic Music Camps for Kids and Teens – Santa Cruz Mountains
More Music Camps ~ East Bay
Rhythmix Creative Kids Camps – Alameda
Creative Strings Camp – Berkeley
Fiddle Kids – Berkeley
SFEMS's Music Discovery and Youth Collegium – Berkeley
Castro Valley School of Music – Castro Valley
Bandworks – Oakland
Bobcat Music Camp – Oakland
Mr. D's Music Camp – Oakland
Musically Minded Academy – Oakland
Pacific Boychoir Summer Day Camp – Oakland
Pop Singing for Girls – Piedmont