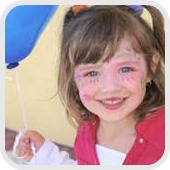 Click below for Fun Party Entertainment, including clowns, magicians, costume characters, and more.
Need ideas for a party? Visit our sister site Kids Party Fun for over 100 party themes and planning tips.
California Puppets ~ San Francisco Bay Area
Jungle Joe is a professional Puppeteer and Ventriloquist residing in the San Francisco Bay Area. His unique style makes his shows both educational and tremendously entertaining. His passion for puppetry and love of animals are combined to bring you hilariously funny and educational shows.
Pranks for the Memories ~ San Francisco Bay Area
Sparky the Clown, Pirate, Wizard, Cowboy, Safari Guy, Kids Comedian, Karate Master, Holiday Characters & more! I provide magic, comedy, music, balloon twisting, face painting, games, prizes & mini clown bike riding. Quality Entertainment since 1984!
Happily Ever Laughter Parties ~ San Francisco Bay Area
Our unique Characters (Fairies! Mermaids! Centaurs! Circus Clowns!) visit Birthdays, Festivals, even Schools. Our Performers wear beautiful, handmade costumes, and show their incredible acting skills with Magic Shows, Balloon Twisting, and more! Video Previews on our Web Page!
Princesses, Fairies and Pirates too! ~ San Francisco Bay Area
Theaterfun offers wide array of stunning parties hosted by Princesses, Ballerinas, Mermaids and Winged Fairies and more! Along with a Fashion show party and Tea party we also offer the Pirate King, GI Joe or Warrior Prince party. Your child's special day will be unforgettable!
Kids' Posh Parties ~ San Francisco Bay Area
A birthday bash from Kids' Posh Parties is the perfect answer for your busy life.  We provide stylish parties for boys and girls featuring fun and creative table settings, dress up, crafts, and imaginative activities. Just pick your child's favorite theme and we'll bring the party to you!
Phil Ackerly Magic, Comedy and Fun ~ San Francisco Bay Area
When Phil Ackerly performs at your party you will see why he was voted BAY AREA's #1 ENTERTAINER.  Phil's show is unique, creative and memorable for kids and adults. See your child float in air and a bunny rabbit appear.  Learn a magic trick.  Visit Phil's website for details.
Fun Factory Parties ~ All of California
Parties for Kids! Over 100 Characters, Clowns, Magicians, Ponies, Bouncers, Party Supplies and More!  All your party needs in one place. Serving all of CA since 1992. Professional, Reliable, and Friendly!
Birthday Party Characters ~ San Francisco Bay Area
Over 100 different characters, Jumpers & Water Slides for every occasion. Specializing in Princess Parties & Clowns that do face painting and balloon twisting. We also supply concession machines & matching party supplies.
Happy Birds Performing Parrot Show ~ San Francisco Bay Area
Since 1989, the Happy Birds have been presenting unique and memorable entertainment for the entire family! Our award winning people friendly parrots will perform over 25 tricks, talk and sing. Birthday children get special attention. Guests will enjoy personal interaction with the feathered stars after the show.
Birthday Party Entertainment for Kids ~ San Francisco Bay Area
Make your child's Birthday Party a memorable one! Costume Characters, a Friendly Clown, Magician or Princess will thrill your child and guests. Our entertainers provide great activities like face painting, a magic show, balloon shaping, interactive dance games, Bollywood music, and active games. Hablamos Espanol.
Wizbots ~ Peninsula
Experience building robots with your friends!  We bring a 90-minute fun and unforgettable experience to you. With everyone working hands-on with laptops, LEGO® Robotics, LEGO®, arts & crafts supplies and more, kids create their own real moving robots.  Appropriate for children turning 8 years and up.
Jewelry Making Birthday Parties With Dragonfly Designs ~ San Francisco Bay Area
Our Jewelry Making Birthday Parties add new flavor to the cake and ice cream scene with a jewelry making birthday party for children ages 5 and up, tweens & teens. Best of all, we deliver the party to you! Our Parties include: Whimsical party invitations, top quality beads and crystals, clasps, accents and charms, precious party favor pouches to contain their handmade treasures and 2 expertly trained party hosts to instruct and assist during the 2-hour party. 1, 1.5, or 2 hour party. Deluxe parties with extra flare also available.
She's Crafty Events ~ San Francisco Bay Area
Short on time, ideas or patience?  Let She's Crafty Events plan, organize and deliver a super fun and decorative party for your child.  We have some fantastic packages and are always happy to customize them to fit your needs!  Visit our website and let us know what you need.  We'll take it from there.
Babee Party Company ~ San Francisco Bay Area
Our soft mat baby play yards provide a unique and wonderful way of celebrating your baby's party. we offer a fun-filled environment where your baby and friends will be delighted to crawl, climb, and explore their own playground. we bring all that fun to your location. our play yards are sure to make your baby's party a memorable one!
Rainbow Chefs ~ San Mateo or your Bay Area location
Have a birthday or event coming up? Sit back, relax and let Rainbow Chefs do all the work for you with an all-inclusive party, including a custom menu of your choice with themes like cupcake wars, iron chef, and many more to choose from! Either at your place or ours, guests will leave with great memories of a fun and special culinary experience!