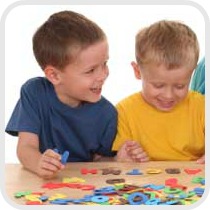 Most preschools accept children between the ages of 2 and 5 years. Some require that a child be potty trained, while others offer potty training assistance. Those providing infant care generally accept infants who are at least 6 weeks old. Some preschools offer Junior Kindergarten programs designed to prepare children for a successful kindergarten experience.
Preschool philosophies, services, hours, and costs vary widely. Please visit the web sites below to help you identify preschools that may be a good fit for your child and your family. Then contact the preschools of most interest to schedule a visit to their facilities.
Featured Preschools
Bright Horizons ~ Dublin
A child care and preschool where children can learn, discover and grow. Infants to Kindergarten Prep. Located at 7035 Dublin Boulevard, Dublin. Phone 925-479-9573.
Bright Horizons at Kansas Street ~ San Francisco
At Bright Horizons at Kansas Street, we recognize how important beginnings are in each child's development, and to each family. We provide a safe, nurturing and engaging environment where your child can learn and develop to their full potential. Infants to Kindergarten Prep. Located at 200 Kansas Street, San Francisco. Phone 415-863-2533
Bright Horizons ~ San Jose
Bright Horizons at San Jose is a NAEYC accredited community-based child care and early education center located in the Oak Grove School District. Our highly skilled teachers are professionally trained and committed to providing children with quality, consistent care and education to prepare your child for success in school and life. Infants to Kindergarten. Located at 6120 Liska Lane, San Jose. Phone 408-225-3276.
Action Day Primary Plus Preschools ~ 10 Locations in San Jose, Saratoga, Mountain View & Santa Clara
Since 1968, our 10 South Bay infant care/preschool programs have offered enriching environments for your child, from birth to 5 years old. We provide infant care, preschool/daycare & extended care at our various locations, with nurturing caregivers and teachers, a semi-structured curriculum, on-site activities and sports. We also offer by-arrangement care, holiday/summer care and nearby elementary and middle school campuses. Open from 6:30am – 6pm.
The Discovery School at Bay Area Discovery Museum ~ Sausalito
The Discovery School is a Reggio-inspired licensed preschool onsite at the Bay Area Discovery Museum in which children's curiosity and interests shape a flexible, project-based curriculum. Regular documentation and reflection with children and their parents allow all to see learning progress through the year. The unique program aims to spark a lifelong passion for exploration and creative problem-solving. Offerings range from Toddler & Parent Exploration to full preschool sessions.
San Francisco Preschools
General
Bright Horizons at Kansas Street – San Francisco
Angelina's Daycare and Preschool – San Francisco
Children's Day School – San Francisco
C5 Children's School – San Francisco
Golden Gate Guppies Preschool – San Francisco
Katherine Michiels School – San Francisco
Little Urbanites Preschool – San Francisco
Marin Day School – San Francisco
The Room to Grow – San Francisco
The San Francisco School – San Francisco
Stella Piccolo Preschool – San Francisco
YMCA Preschool – San Francisco
International and Language Immersion
Au P'tit Monde – San Francisco
Centro Las Olas – San Francisco
Chinese American International School – San Francisco
The French American International School – San Francisco
Lycee Francais – San Francisco
Petit Peton French Preschool – San Francisco
Presidio Knolls School (Mandarin) – San Francisco
Montessori
Big City Montessori School – San Francisco
Maria Montessori School of the Golden Gate – San Francisco
Montessori Children's Center – San Francisco
San Francisco Montessori Academy – San Francisco
Parent Participation
Haight Ashbury Cooperative Nursery School – San Francisco
Playmates Cooperative Nursery School – San Francisco
Slippery Fish Initiative – San Francisco
Religious
The Jewish Community Center of San Francisco – San Francisco
The Jewish Family Preschool – San Francisco
North Bay Preschools
General
The Mountain School – Corte Madera
Stretch the Imagination – Corte Madera
Old Firehouse School – Mill Valley
Marin Horizon School – Mill Valley
Marin Day Schools – Mill Valley, San Rafael
Angels in Training Daycare – Novato
Novato Youth Center – Novato
North Bay Children's Center – Novato
Community Preschool of Petaluma – Petaluma
Papermill Creek Children's Center – Pt. Reyes Station
La Petite Academy – Rohnert Park, Santa Rosa, Vallejo, Vacaville
ABC Academy Preschool – San Anselmo
San Geronimo Preschool – San Geronimo
Merry Times Kinderhaus – San Rafael
Hidden Valley Community Preschool – Santa Rosa
Discovery School at Bay Area Discovery Museum – Sausalito
Belvedere Tiburon Child Care Center – Tiburon
International
Girotondo School (Italian) – San Rafael
Montessori
Napa Valley Montessori Learning Center (PS-6th) – American Canyon
Marin Montessori (PS-8th) – Corte Madera
Redwood Montessori (PS-K) – Penngrove
Abbey Montessori School – San Rafael
Montessori de Terra Linda – San Rafael
Parent Participation
Twin Cities Cooperative Preschool – Corte Madera
Petaluma Parent Nursery School – Petaluma
Religious
Kids on the Hill Preschool – Corte Madera
St. Francis Preschool – Novato
Saint Rafael School – San Rafael
Peninsula Preschools
General
Champions at Las Lomitas Elementary – Atherton
Creative Learning Gazelle School – Burlingame
Learning Links Preschool – Burlingame
Palcare – Burlingame
Early Learning Academy – Colma
Hildale School – Daly City
Hoover Children's Centers – Daly City, Redwood City, San Bruno
Foster City Preschool & Daycare Center – Foster City
Kids Connection – Foster City
Sea Breeze School – Foster City
Los Ninos Nursery School – Half Moon Bay
The Nueva School – Hillsborough
Nurture and Nature – Millbrae
Kids Konnect – Pacifica, San Mateo
Building Kidz School – Pacifica, San Mateo, South San Francisco
Temporary Tot Tending – Pacifica, South San Francisco
Windmill Preschool – Portola Valley
Kiddie Garden Preschool – Redwood City
Marin Day School – Redwood City
Sequoia Children's Center – Redwood City
Sequoia Preschool and Kindergarten – Redwood City
Thistlegarten – Redwood City
Happy Hall School – San Bruno, Millbrae
Children's Place Preschool & Daycare – San Carlos
The Wonder Years Preschool – San Carlos, Palo Alto
Kindercourt Preschool – San Carlos, San Mateo
Petite Sorbonne Preschool – San Mateo
Serendipity School – San Mateo
Stella Piccolo – San Mateo
Transfiguration Nursery School & Kindergarten – San Mateo
The Early Years Preschool – South San Francisco
Gateway Child Care Center – South San Francisco
Phillips Brooks School – Menlo Park
Playschool – Atherton, Redwood City
The Roberts School – Menlo Park
International
Au P'tit Monde – East Palo Alto
Petits Confettis (French) – Menlo Park
Alto International School – Menlo Park
Mi Escuelita – Menlo Park
ACME Children's Center – Palo Alto
International School of the Peninsula – Palo Alto
Pacific Rim International School – San Mateo
Universe of Colors – San Mateo
Welcome Amigos – San Mateo
Montessori
Burlingame Montessori – Burlingame
Morning Glory Montessori – Burlingame
Creative Montessori Learning Center – East Palo Alto
All Are Friends Montessori – Foster City
Lakeview Montessori – Foster City
Glen Oaks Montessori – Millbrae
Millbrae Montessori – Millbrae
Casa dei Bambini – Palo Alto
HeadsUp! Child Development Center – Palo Alto
Beresford Montessori – Redwood City, San Mateo
Bright Beginnings Montessori Preschool – San Carlos
Bayview Montessori – San Mateo
Centennial Montessori School – San Mateo
Highland Montessori – San Mateo
Kinder Academy Montessori – San Mateo
Mills Montessori School – South San Francisco
Parent Participation
Carlmont Parents – Belmont
Little Hands – Belmont
Silverspot Cooperative Nursery School – Brisbane
Village Nursery – Daly City
Family Connections – East Palo Alto, Menlo Park
Yikes Tikes – Los Altos, Redwood City
Menlo-Atherton Cooperative Nursery School – Menlo Park
Millbrae Nursery School – Millbrae
Pacifica Co-op Nursery School – Pacifica
Friends Nursery School – Palo Alto
Parents Nursery School – Palo Alto
Redwood Parents' Nursery School – Redwood City
Sequoia Parents Nursery School – San Carlos
Bunker Hill – San Mateo
Little Wonders – San Mateo
San Mateo Parents Nursery School – San Mateo
Woodside Parents' Nursery School – Woodside
Religious Affiliation
Sacred Heart Schools – Atherton
Gloria Dei Lutheran School – Belmont
Holy Cross Preschool – Belmont
First Presbyterian Church Nursery School – Burlingame
Our Lady of Angels – Burlingame
Peninsula Temple Shalom Preschool – Burlingame
Hope Lutheran School – Daly City
Chai Jewish Preschool – Foster City
Peninsula JCC Preschool – Foster City
Calvary Lutheran Preschool – Millbrae
Kirk House Preschool – Menlo Park
Littlest Angels Preschool – Menlo Park
Trinity School – Menlo Park
T'enna Preschool at the Oshman Family JCC – Palo Alto
Peninsula Covenant Preschool – Redwood City
Saint Matthias Preschool – Redwood City
Highlands Christian Schools – San Bruno
Trinity Presbyterian Nursery School – San Carlos
Alpha Beacon Christian School – San Mateo
Hillside Christian Academy – South San Francisco
Special Needs
The Bridge School – Hillsborough
Stepping Stones – San Mateo
Waldorf
Urban Sprouts Day School – South San Francisco
South Bay Preschools
General
Summer Adventures with CCLC – Atherton, Burlingame, Los Altos, Palo Alto, Redwood Shores, Sunnyvale
Campbell Child Development Center – Campbell
Handprints Preschool – Campbell
Champion School – Cupertino
Stepping Stones (Infant-Preschool) – Los Altos
Ventana School – Los Altos
Childrens' Creative Learning Centers – Los Altos, Sunnyvale
Los Gatos Preschool and Childcare – Los Gatos
Los Gatos-Saratoga Observation Nursery School – Los Gatos
Stratford School – Los Gatos, Palo Alto, San Jose, and Sunnyvale
Kindergarten Prep and Beyond – Milpitas
Elan Esprit Preschool – Milpitas, San Jose
Merryhill School – Milpitas & San Jose
Children's Learning Cottage – Mountain View
Jeena's Preschool – Mountain View
Building Kidz School – Mountain View, Morgan Hill, Scotts Valley
Milestones Preschool – Palo Alto
Palo Alto Community Child Care – Palo Alto
Whistle Stop Child Development Center – Palo Alto
The Wonder Years (Infant-Preschool) – Palo Alto, Mountain View
Bright Horizons – San Jose
Almaden Country School – San Jose
Cornerstone Preschool – San Jose
Downtown Scholars – San Jose
The Learning Company & Academy – San Jose
Learning Springs Preschool – San Jose
Moreland Area Community Center Preschool – San Jose
Scholar's Academy – San Jose
So-Well Daycare – San Jose
Starbright School – San Jose
Hearts and Hands Preschool – San Jose, Watsonville
Choo Choo Train Preschool – Santa Clara
Monticello Academy – Santa Clara
Stepping Stone World – Santa Clara
Early Horizons – Sunnyvale
My Dream Academy (Infant-Jr.K) – Sunnyvale
Action Day/Primary Plus – South Bay
Genius Kids – South Bay
Challenger School – South Bay
International & Language
Centro Armonia Preschool (Spanish) – Campbell
New World CDC (Mandarin) – Cupertino, Sunnyvale
Petits Confettis (French) – Los Altos
Yew Chung International School – Mountain View
German International School – Mountain View
Happy Childhood Preschool (English & Chinese) – San Jose
Pasitos Spanish Immersion Preschool – San Jose
Sunshine School (Mandarin) – San Jose
Saratoga French Cultural Preschool – Saratoga
New Concept Chinese School – Sunnyvale
French-American School of Silicon Valley – Sunnyvale
Montessori
Appleseed Montessori School – Sunnyvale
Casa di Mir Montessori – Campbell
Canyon Heights – Campbell
Montessori Academy of Campbell – Campbell
Mariposa Montessori – Los Gatos
Day Star Montessori – Milpitas
Global Village Montessori – Milpitas
Casa Dei Bambini – Palo Alto
HeadsUp! Child Development Center – Palo Alto, San Jose
Mandala Children's House – San Jose
Pioneer Montessori – San Jose
One World Montessori School – San Jose & Santa Clara
Waha Montessori – Santa Clara
Growing Tree Bilingual Montessori Preschool – Saratoga
Parent Participation
Campbell Parents' Participation Preschool – Campbell
Sunnymont Co-op Nursery School – Campbell
Cupertino Co-op Nursery School – Cupertino
Los Gatos Parent Nursery School – Los Gatos
Los Gatos-Saratoga Observation Nursery School – Los Gatos
Mulberry School – Los Gatos
Shannon Nursery School – Los Gatos
Morgan Hill Parent Child Nursery School – Morgan Hill
Mountain View Parent Nursery School – Mountain View
Friends Nursery School – Palo Alto
Heffalump Cooperative Preschool – Palo Alto
Parents Nursery School – Palo Alto
Almaden Parents' Preschool – San Jose
Discovery Parent-Child Preschool – San Jose
Explorer Preschool – San Jose
Moreland Area Community Center Preschool – San Jose
San Jose Parents Nursery School – San Jose
Yikes Tikes – San Jose
Laurelwood Preschool – Santa Clara
Santa Clara Parents Nursery School – Santa Clara
Bright Beginnings Parent Participation Preschool – Sunnyvale
Sunnyvale Parent Preschool – Sunnvyale
Religious Affiliation
Bright Days Preschool – Campbell
Campbell Christian Schools (Infant-Preschool) – Campbell
Canyon Heights Academy (Catholic) – Campbell
Bethel Lutheran School – Cupertino
Monarch Christian Schools – Fremont, Los Altos, Milpitas
Children's Center Preschool – Los Altos
Los Altos Christian School – Los Altos
Miramonte School – Los Altos
Addison-Penzak Jewish Community Center Preschool – Los Gatos
Grace Methodist Preschool – Los Gatos
Growing FootPrints Preschool – Los Gatos
Milpitas Discoveryland Preschool – Milpitas
St. Paul Lutheran Child Development Center – Mountain View
Hope Technology School (PS-8th) – Palo Alto
T'enna Preschool at the Oshman Family JCC – Palo Alto
Achiever Christian School – San Jose
Calvary Chapel Christian Academy – San Jose
First Discoveries Christian Preschool – San Jose
Sinai Nursery School – San Jose
St. Stephens in the Field Parish Preschool – San Jose
Willow Vale Christian School – San Jose
Yeshiva Preschool of Silicon Valley – San Jose
Santa Clara Christian Schools – Santa Clara
Sacred Heart Elementary School & Montessori – Saratoga
St. Andrew's School – Saratoga
Presbyterian Early Learning Center – Sunnyvale
South Peninsula Hebrew Day School – Sunnyvale
Sunnyvale Christian School – Sunnyvale
Special Needs
Abilities United – Palo Alto
Waldorf
Waldorf School of the Peninsula – Los Altos
Njeri's Morning Glory School and Art Center – San Jose
East Bay Preschools
General
Alamo Country School – Alamo
Creative Learning Center – Alamo
La Petite Academy – Antioch, Concord, Pleasanton, Richmond, San Ramon
The Child Day Schools – Antioch, Lafayette, Moraga, Pleasanton, San Ramon
Tender Hearts Preschool – Benicia
Gay Austin School – Berkeley
Sunshine Preschool and Child Care – Berkeley
Duck's Nest Preschool – Berkeley, Piedmont
Black Diamond Kids Center – Brentwood
STEM Sprouts Preschool – Castro Valley
Building Kidz School – Concord
Kidz Planet – Concord, Pleasant Hill
Sycamore Valley Day School – Danville
Tassajara Learning Center – Danville
Autumn Creek Learning Center – Danville
Stratford School – Danville, Fremont
Acorn Learning Center – Danville, San Ramon
Bright Horizons – Dublin
School of Imagination – Dublin
Quarry Lane School – Dublin, Pleasanton
Hearts and Hands Preschool – Fremont
Kid Krossings – Fremont
Appleseed Little School – Lafayette
Lafayette Nursery School – Lafayette
Merriewood Children's Center – Lafayette
Old Firehouse School – Lafayette, Walnut Creek
The Ark School – Livermore
Livermore Playschool– Livermore
Forest Hills Preschool – Martinez
Saklan Valley School – Moraga
Beacon Day School – Oakland
Growing Circles Preschool – Oakland
Kids Konnect – Oakland
Play and Learn School – Pleasant Hill
Stay and Play Family Daycare – Pleasanton
Crestmont School – Richmond
Pacific Academy Nomura Preschool – Richmond
Gracie's Place Preschool – San Ramon
Stepping Stones Learning Center – San Ramon
Sunol Glen Preschool – Sunol
Kidde Academy – Vacaville
Dorris-Eaton School – Walnut Creek
Seven Hills School – Walnut Creek
Genius Kids – East Bay
International & Language
Shu Ren International School – Berkeley
Ecole Bilingue de Berkeley – Berkeley
Pacific Rim International School – Emeryville
Viva el Espanol – Lafayette
Les Petits Francophones – Oakland
Kids Into Speaking Spanish – Oakland, Walnut Creek
New World CDC – Walnut Creek
Montessori
Alice's Montesorri – Antioch
Montessori Family School – Berkeley
Beginnings and Beyond Montessori Christian School – Concord
Concordia School – Concord
Montessori School of Concord – Concord
Step By Step Montessori – Concord
Danville Montessorie School – Danville
Fountainhead Montessori School – Danville
Garden Montessori School – Danville
Tassjara Montessori – Danville
Starlight School – Danville
Little Genius Montessori – Dublin
Little Flowers Montessori – Fremont
Valley Montessori – Livermore
Grand Lake Montessori – Oakland
Mountain Boulevard Preschool Learning Center – Oakland
The Renaissance International School – Oakland
Rockridge Montessori Preschool – Oakland
Choice in Learning Montessori – Pleasant Hill
HeadsUp Child Development Center – Pleasanton
Little World Montessori – Richmond
A Little World Montessori – Rodeo
Montessori School of San Ramon – San Ramon
Garden Gate Montessori – Walnut Creek
Pied Piper Preschool – Walnut Creek
Parent Participation
So Big Co-op Preschool – Antioch
Clayton Valley Parent Preschool – Concord
Pixie Playschool – Concord
Walnut Country Preschool – Concord
Valley Parent Preschool – Danville
John Knox Cooperative Preschool – Dublin
Fremont Parents' Nursery School – Fremont
Yikes Tikes – Fremont
Montclair Community Play Center – Oakland
Creative Play Center – Pleasant Hill
Grace Cooperative Preschool – Walnut Creek
Religious Affiliation
Methodist Preschool – Alamo
Hilltop Christian School – Antioch
Beginnings and Beyond Montessori Christian School – Concord
Concord Christian School – Concord
Ygnacio Valley Christian School – Concord
Community Presbyterian Preschool – Danville
Tree of Life Learning Center – Danville
St. Philip Lutheran School – Dublin
Prince of Peace Lutheran School – Fremont
Monarch Christian Schools – Fremont, Milpitas
Michael Lane Preschool – Lafayette
Holy Cross Lutheran School – Livermore
Smart Start Preschool – Livermore
Our Savior Lutheran Preschool – Livermore
St. Catherine of Sienna School – Martinez
Smart Start Preschool – Newark
Gan Avraham – Oakland
St. Marks Nursery School – Orinda
Beth Emek Preschool – Pleasanton
Love & Care Christian Preschool – Pleasanton
St. Claires Christian Preschool – Pleasanton
San Lorenzo Community Church Preschool and Kindergarten – San Lorenzo
Contra Costa Christian Schools – Walnut Creek
NorthCreek Academy and Preschool – Walnut Creek
St. Mary School – Walnut Creek
Trinity Lutheran Preschool – Walnut Creek
Walnut Creek Presbyterian Preschool – Walnut Creek
Waldorf
Berkeley Rose School – Berkeley
East Bay Waldorf School – El Sobrante