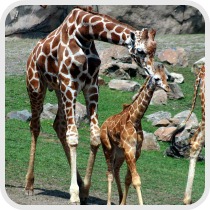 The San Francisco Zoo is home to over 1,000 exotic, endangered and rescued animals representing over 250 species. Highlights include the African Savanna, Grizzy Gulch, Penguin Island, Lemur Forest and Gorilla Preserve.
Visit The Children's Zoo to pet and feed farm animals. Romp at the Elinor Friend playground. Ride a historic 1921 carousel and the 1904 miniature Little Puffer Steam Train.
The zoo offers camps, classes, overnights and birthday parties. Special events are held through out the year, including Boo at the Zoo and Holiday Lights.
San Francisco residents can visit the zoo free of charge on one select day each month.