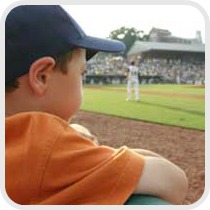 The Bay Area has numerous opportunities to attend high quality sporting events.
Professional sporting events can be great fun, but the difficulty and expense of obtaining tickets can be a drawback. Check out the sports schedule at a local University or Junior College for events that are often easy and inexpensive to attend.
Visit our Sports Lessons page for information about sports lessons for children.
Automobile Racing
Laguna Seca – Monterey
Sonoma Raceway – Sonoma
Baseball Games
Oakland A's – Oakland
San Francisco Giants – San Francisco
San Jose Giants (minor league) – San Jose
San Jose State Men's (college) – San Jose
San Jose State Women's Softball (college) – San Jose
Stanford Men's (college) – Stanford
Stanford Women's Softball (college) – Stanford
UC Berkeley Men's (college) – Berkeley
UC Berkeley Women's Softball (college) – Berkeley
Basketball
Golden State Warriors (NBA) – Oakland
San Jose State Men's (College) – San Jose
San Jose State Women's (College) – San Jose
Stanford Men's (College) – Stanford
Stanford Women's (College) – Stanford
UC Berkeley Men's (College) – Berkeley
UC Berkeley Women's (College) – Berkeley
Football
Oakland Raiders (NFL) – Oakland
San Francisco 49'ers (NFL) – San Francisco
San Jose State (college) – San Jose
Stanford (college) – Stanford
UC Berkeley (college) – Berkeley
Ultimate Frisbee
San Jose Spiders Ultimate Frisbee – Los Altos Hills
Hockey
San Jose Sharks – San Jose
Soccer
San Jose Earthquakes (mens) – San Jose
San Jose State Men's (college) – San Jose
San Jose State Women's (college) – San Jose
Santa Clara Men's (college) – Santa Clara
Santa Clara Women's (college) – Santa Clara
Stanford Men's (college) – Stanford
Stanford Women's (college) – Stanford
UC Berkeley Men's (college) – Berkeley
UC Berkeley Women's (college) – Berkeley
University of San Francisco (college) – San Francisco