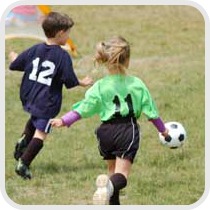 The Bay Area has numerous opportunities for children to participate in sports and learn new athletic skills.
Visit your city's Parks and Recreation page for current information about facilities, classes, and leagues in your area.
Visit our Sports Fun page for information about professional and college sports events in the Bay Area.
Lil' Kickers Soccer for Kids ~ San Jose
Soccer for kids age 18 months – 9 years. Our balanced and creative approach will have a positive impact on your child far beyond the soccer field.  More than 400,000 children nationwide love Lil' Kickers. Find out why!
Silver Creek Sportsplex ~ San Jose
Roller hockey, indoor soccer, martial arts, badminton, box lacrosse. Excellent programs for all ages, from toddler through adult–all under one roof!
California Sports Center ~ San Jose, Santa Clara, Sunnyvale
Gymnastics is the BEST FOUNDATION for all sports! Girls & boys from preschool to teens, and beginners to advanced, enjoy challenging skills taught by our fantastic staff. Swim Lessons, Dance Classes, and Tumbling & Trampoline also!
JCCSF Sports Classes, Clinics, Teams & Leagues ~ San Francisco
The JCCSF Youth Sport Program creates incredible kids who learn the importance of teamwork, respect, and are resilient and confident. Athletes learn sports skills and life skills from coaches trained at the JCCSF Coaching Academy. The JCCSF handles all your needs: league registrations and administrative functions, uniforms, equipment and practice facilities. All families are invited to an end of season closing ceremonies dinner. Sports include soccer, basketball and baseball.
JCCSF Swim School ~ San Francisco
The Aquatics Center at the JCCSF is where San Francisco learns to swim! Certified instructors teach the Aquatic Concepts® method, voted "Best on Peninsula." Children at all levels learn progressive skills in small classes, with special attention given to individual development. Children advance at their own pace and parents receive detailed reports. The newly expanded family changing area with "under the sea" child-friendly design makes getting in and out of class fun for the child and easy for the parent. Underground parking available.
Euro School of Tennis: Classes and Leagues ~ Castro Valley, Fremont, Hayward, Los Altos, Menlo Park, Palo Alto, Milpitas, San Mateo, San Jose
Euro School of Tennis offers a variety of tennis programs In Fremont, Castro Valley, Hayward, Menlo Park, San Mateo, San Jose and Milpitas. We create a positive environment for learning, playing, and most importantly having fun! Our program promotes an active healthy lifestyle. Weekend and Weekday Clinics for Ages 3 to 103 offered monthly.
Zanshin Martial Arts Dojo ~ San Francisco
Kids karate, ages 3 and up. We offer a enviroment centering on the fundamentals of martial arts skills. Our program teaches core values and life skills, we focus on helping children develop confidence, respect, focus and concentration. We also help children develop a positive attitude to fitness and exercise that builds on awareness and self defense skills. We are a traditional dojo with roots in Japan, check us out on the web www.sfgoju.com.
Little Bears Baseball ~ San Jose
This is the perfect introduction to baseball, and a great way to nurture a love of sports and physical activity.  For boys and girls age 3-7.
Niru's Tennis Academy ~ Campbell, San Jose, Santa Clara, Saratoga
Learn tennis from professional coaches who have played in Wimbledon and Olympics!! Niru's Tennis Academy offers after-school classes, full day and half day summer camps by finger-printed coaches for kids ages 5 and over. With 4 convenient locations around the South Bay, Niru's Tennis also offers adult classes and easy online registration at www.nirustennis.com. Niru's Tennis Academy is celebrating 10 years of coaching with many exciting events planned for the rest of the year.
San Jose Batting Cages-Baseball & Softball Lessons from $15 ~ San Jose
At San Jose Batting Cages you'll receive an experience unlike any other.  Our emphasis is to help develop the skills and confidence of the player while developing a love for the game.  Every lesson is catered to the skill level of the player and through positive encouragement help hone their skills through drills to maximize success. All coaches are former current/ former high school coaches, collegiate, or minor league baseball players to ensure you have the best training possible.
International Fencing Academy ~ Sunnyvale
IFA offers epee, foil and sabre fencing programs for children aged 7+ years for the beginner, intermediate and advanced levels. Trial / introductory classes available. Our specially designed programs offer unique and fun training techniques in the modern sport of fencing in a safe and friendly environment. "Raising the Champion Within" is IFA's goal for you!
Super Soccer Stars ~ San Francisco, Marin, East Bay, Peninsula
Super Soccer Stars is now in the Bay Area! For over 15 years we have provided child development soccer classes for children ages 12 months – 18 years. We are committed to spreading the love of the beautiful game of soccer through player development, community building, and most importantly having fun. Our emphasis is to provide youth with opportunities for success and the tools to develop their soccer skills and social relationships! Try a class for FREE!
Cricket Zeal Academy's "Introduction to Cricket" Lessons ~ Fremont
Register today! Learn the world's second most watched sport! Learn a brand new sport today – Cricket, for ages 5 – 12. Children are welcome to learn from the best bay area Cricket coach with the highest credentials through our "Introduction to Cricket" program. Classes are offered at Gomes Elementary on a convenient Sunday 10:00 AM to 11:30 AM timing for active kids. Please visit www.cricketzeal.org for details on the session and coaches.