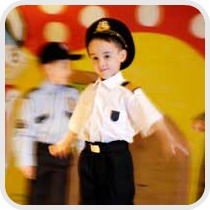 Theatre Camps are a fun and creative summer activity. Most theater camps are held at theaters, schools or community centers.
Check out the theater, performing arts and circus arts camps below.


Featured Theatre & Performing Arts Camps
Children's Musical Theater ~ San Jose
CMT, Silicon Valley's most acclaimed theater camp, offers four two-week musical theater camps for ages pre-k through high school. Dates are June 15-June 26, June 29-July 10, July 20-July 31 and August 3-August 14. Learn with the Bay Area's premiere acting, dance and voice instructors while having FUN! Camp is a great way for beginners to learn the basics and for all levels to grow as a performer. Each session ends with a performance for family and friends. As needed, we offer before- and after-camp child care in a creatively active environment. Discover your story at CMT this summer! Register today at www.cmtsj.org/camp
Stage Door Conservatory ~ Berkeley
Summer 2015 will take you Into The Woods, as well as join Beauty & the Beast. Musical youth program designed especially for 3rd through 8th grade. Stage Door brings out your theater geek! Kids on Stage Grades 3rd-8th. Two 3 week sessions and 1 intersession week: June 29-July 17 Into the Woods, Jr., July 19-24 Improv, Video, Skits & Preparing for an Audition, July 26-August 14 Beauty & the Beast, Jr. High School Internships for grades 9-12. 209-213-2103 or stagedoorconservatory@yahoo.com
Summer Performing Arts Camps at Myriad Music School & Dance Academy ~ San Mateo
Our specially created Performing Arts Summer Camps provide 6 different unique themes, one for each week. Students rotate daily through Music, Dance, Art & Theatre classes with a performance for loved ones on Fridays! Small class sizes. BENEFITS for you! All of your child's performing arts summer activities in one place! Summer is busy ~ that's why our summer camps are full of benefits. We allow the flexibility of weekly enrollment and incentives for camp families who choose to sign up for 2 weeks or more.
More Theater Camps ~ San Francisco
ACT Young Conservatory – San Francisco
BAT Improv Summer Camps – San Francisco
Bay Area Shakespeare Camps – San Francisco
Fei Tian Academy of the Arts – San Francisco
JCCSF Theater Camps – San Francisco
Linda Bulgo's Musical Theater Camp – San Francisco
The Marsh – San Francisco
Musical Theatre Works – San Francisco
The Rabbit Hole – San Francisco
Ray of Light Theatre – San Francisco
San Francisco Opera Guild – San Francisco
Summer Circus Camp – San Francisco
Walt Disney Family Museum Discovery Summer Camps – San Francisco
More Theater Camps ~ North Bay
San Domenico Summer Camps – San Anselmo
Camp Winnarainbow – Laytonville
Marin Theatre Company – Mill Valley
Novato Theater Company – Novato
Marin Shakespeare Company – San Rafael
Rhoten Productions Summer Camps – Sonoma
More Theater Camps ~ Peninsula
Bay Area Shakespeare Camps – Burlingame, Pacifica, Los Altos, Palo Alto, San Mateo
Hillbarn Theatre Conservatory – Foster City
Dragon Productions Theatre Summer Acting Camp for Kids – Palo Alto
Hope Musical Theatre – Palo Alto
TheatreWorks – Palo Alto
Portola Valley Theatre Conservatory – Portola Valley
San Carlos Children's Theater – San Carlos
Bay Area Educational Theater Company – San Mateo
Pied Piper Players – San Mateo
Pirate Camp – Stanford
More Theater Camps ~ South Bay
Theater in the Summer – Campbell
California Theatre Center Summer Conservatory – Cupertino
Bay Area Shakespeare Camps – Cupertino, San Jose
Addison-Penzak Jewish Community Center – Los Gatos
Camp Shakespear – Los Gatos
Los Gatos Youth Theater – Los Gatos
India Community Center – Milpitas, Sunnyvale
Oakwood Summer Performing Arts Camp – Morgan Hill
Peninsula Youth Theatre – Mountain View
888 Monkeys Summer Arts Program – San Jose
Children's Musical Theater of San Jose – San Jose
City Lights Theater Company – San Jose
Conservatory of Arts at Presentation – San Jose
Presentation Repertory Summer Theatre Program – San Jose
Tabard Youth Summer Musical Theatre Workshops – San Jose
Willow Glen Children's Theatre – San Jose
Upper Floor Studio Musical Theatre Summer Program – Santa Clara
Young Actors Theatre Camp – Santa Cruz
More Theater Camps ~ East Bay
Alameda Children's Musical Theatre – Alameda
Bay Area Children's Theatre – Alameda, Piedmont, San Ramon
Bay Area Shakespeare Camps – Alameda, Berkeley, Fremont, Piedmont, Pleasanton
Berkeley Playhouse – Berkeley
Berkeley Repertory Theatre – Berkeley
Ha Ha This A Way – Berkeley
Contra Costa Civic Theater Drama Camp – El Cerrito
Roy's Magic Camp – Lafayette, Livermore
California Shakespeare Theater – Lafayette, Oakland
ActSmart Children's Theater – Livermore
Valley Dance Theatre – Livermore
Aurora School – Oakland
Children's Fairyland – Oakland
Grand Lake Montessori Opera Camp – Oakland
Piedmont Performing Arts Summer Camp – Oakland
Fireshouse Arts Center – Pleasanton
Standing Ovations Summer Theater Arts Camp – Walnut Creek
Circus Camps
Camp Winnarainbow ~ Laytonville
Northern California's premiere sleepaway circus and performing arts camp. Founded by cultural icon Wavy Gravy in 1975, Camp Winnarainbow is located 3 hours north of the Bay Area in beautiful Mendocino County. We offer one and two week sessions for children ages 7-14. Classes include trapeze and aerials, juggling, clowning, gymnastics, stilt-walking, drama, multi-cultural dance, martial arts, tightrope, magic, music, art, and environmental awareness. All sessions end with a fabulous show for families & friends.
Rhythmix Creative Kids Camps – Alameda
Addison-Penzak Jewish Community Center – Los Gatos
Kinetic Arts Center – Oakland
Trapeze Arts – Oakland
Summer Circus Camp – San Francisco
888 Monkeys Summer Arts Program – San Jose