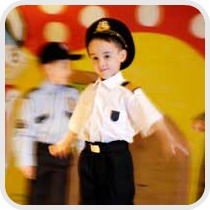 Theatre Camps are a fun and creative summer activity. Most theater camps are held at theaters, schools or community centers.
Check out the theater, performing arts and circus arts camps below.


Featured Theatre & Performing Arts Camps
Children's Musical Theater ~ San Jose
CMT, Silicon Valley's most acclaimed theater camp, offers four two-week musical theater camps for ages pre-k through high school. Dates are June 15-June 26, June 29-July 10, July 20-July 31 and August 3-August 14. Learn with the Bay Area's premiere acting, dance and voice instructors while having FUN! Camp is a great way for beginners to learn the basics and for all levels to grow as a performer. Each session ends with a performance for family and friends. As needed, we offer before- and after-camp child care in a creatively active environment. Discover your story at CMT this summer! Register today at www.cmtsj.org/camp
Stage Door Conservatory ~ Berkeley
Summer 2015 will take you Into The Woods, as well as join Beauty & the Beast. Musical youth program designed especially for 3rd through 8th grade. Stage Door brings out your theater geek! Kids on Stage Grades 3rd-8th. Two 3 week sessions and 1 intersession week: June 29-July 17 Into the Woods, Jr., July 19-24 Improv, Video, Skits & Preparing for an Audition, July 26-August 14 Beauty & the Beast, Jr. High School Internships for grades 9-12. 209-213-2103 or stagedoorconservatory@yahoo.com
Summer Performing Arts Camps at Myriad Music School & Dance Academy ~ San Mateo
Our specially created Performing Arts Summer Camps provide 6 different unique themes, one for each week. Students rotate daily through Music, Dance, Art & Theatre classes with a performance for loved ones on Fridays! Small class sizes. BENEFITS for you! All of your child's performing arts summer activities in one place! Summer is busy ~ that's why our summer camps are full of benefits. We allow the flexibility of weekly enrollment and incentives for camp families who choose to sign up for 2 weeks or more.
Camp Winnarainbow ~ Laytonville
Northern California's premiere sleepaway circus and performing arts camp. Founded by cultural icon Wavy Gravy in 1975, Camp Winnarainbow is located 3 hours north of the Bay Area in beautiful Mendocino County. We offer one and two week sessions for children ages 7-14. Classes include trapeze and aerials, juggling, clowning, gymnastics, stilt-walking, drama, multi-cultural dance, martial arts, tightrope, magic, music, art, and environmental awareness. All sessions end with a fabulous show for families & friends.
Principal Creative & Performing Arts Summer Camps & Intensives ~ San Mateo
This July, PCPA will launch it's summer camp and intensive program with 5 weeks of awesomeness! Three weeks will be themed dance camps for kids 5-12 years of age. Themes will include Musical Theatre, Music Video Camp, and a Bboy/Bgirl Hip Hop Camp. These camps will be fun for beginners and experienced dancers a like. The remaining two weeks we will offer intensive programs for two age groups, 5-10 years, and Teens. All camps are day long camps from 9am to 3pm, M-F. For more details please visit us at www.principalarts.com/summer-dance-camps or call 650-393-5593.
Circus on Stage at Peninsula Gymnastics ~ San Carlos & San Mateo
We offer a program for children with or without gymnastics experience. Camp includes gymnastics, tumbling, and dance. Children work on rings, trapeze, balance beam, bars, padded floor, foam pit, and in-ground trampolines. Parents and families are invited to our show every Friday. Our young actors will perform the acts and skills they've learned in camp. Early drop off at 8am and late pick up at 6pm are available. Join us for a fun filled summer!
More Theater Camps ~ San Francisco
ACT Young Conservatory – San Francisco
BAT Improv Summer Camps – San Francisco
Bay Area Shakespeare Camps – San Francisco
Fei Tian Academy of the Arts – San Francisco
JCCSF Theater Camps – San Francisco
Linda Bulgo's Musical Theater Camp – San Francisco
The Marsh – San Francisco
Musical Theatre Works – San Francisco
The Rabbit Hole – San Francisco
Ray of Light Theatre – San Francisco
San Francisco Opera Guild – San Francisco
Summer Circus Camp – San Francisco
Walt Disney Family Museum Discovery Summer Camps – San Francisco
More Theater Camps ~ North Bay
San Domenico Summer Camps – San Anselmo
Camp Winnarainbow – Laytonville
Marin Theatre Company – Mill Valley
Novato Theater Company – Novato
Marin Shakespeare Company – San Rafael
Rhoten Productions Summer Camps – Sonoma
More Theater Camps ~ Peninsula
Bay Area Shakespeare Camps – Burlingame, Pacifica, Los Altos, Palo Alto, San Mateo
Hillbarn Theatre Conservatory – Foster City
Dragon Productions Theatre Summer Acting Camp for Kids – Palo Alto
Hope Musical Theatre – Palo Alto
TheatreWorks – Palo Alto
Portola Valley Theatre Conservatory – Portola Valley
San Carlos Children's Theater – San Carlos
Bay Area Educational Theater Company – San Mateo
Pied Piper Players – San Mateo
Pirate Camp – Stanford
More Theater Camps ~ South Bay
Theater in the Summer – Campbell
Bay Area Shakespeare Camps – Cupertino, San Jose
California Theatre Center Summer Conservatory – Los Altos, Saratoga, Sunnyvale
Addison-Penzak Jewish Community Center – Los Gatos
Camp Shakespear – Los Gatos
Addison-Penzak Jewish Community Center – Los Gatos
Los Gatos Youth Theater – Los Gatos
India Community Center – Milpitas, Sunnyvale
Oakwood Summer Performing Arts Camp – Morgan Hill
Peninsula Youth Theatre – Mountain View
888 Monkeys Summer Arts Program – San Jose
Children's Musical Theater of San Jose – San Jose
City Lights Theater Company – San Jose
Conservatory of Arts at Presentation – San Jose
Presentation Repertory Summer Theatre Program – San Jose
Tabard Youth Summer Musical Theatre Workshops – San Jose
Willow Glen Children's Theatre – San Jose
888 Monkeys Summer Arts Program – San Jose
Upper Floor Studio Musical Theatre Summer Program – Santa Clara
Young Actors Theatre Camp – Santa Cruz
More Theater Camps ~ East Bay
Rhythmix Creative Kids Camps – Alameda
Alameda Children's Musical Theatre – Alameda
Bay Area Children's Theatre – Alameda, Piedmont, San Ramon
Bay Area Shakespeare Camps – Alameda, Berkeley, Fremont, Piedmont, Pleasanton
Berkeley Playhouse – Berkeley
Berkeley Repertory Theatre – Berkeley
Ha Ha This A Way – Berkeley
Contra Costa Civic Theater Drama Camp – El Cerrito
Roy's Magic Camp – Lafayette, Livermore
ActSmart Children's Theater – Livermore
Valley Dance Theatre – Livermore
Aurora School – Oakland
Children's Fairyland – Oakland
Kinetic Arts Center – Oakland
Trapeze Arts – Oakland
Grand Lake Montessori Opera Camp – Oakland
Piedmont Performing Arts Summer Camp – Oakland
Fireshouse Arts Center – Pleasanton
Standing Ovations Summer Theater Arts Camp – Walnut Creek