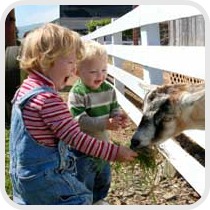 Zoos, farms, and wildlife centers with live animal exhibits are listed below. Click on the link to reach the organization's web page where you'll find a summary of attractions, prices, hours, and directions.
Some zoos have fun rides and play areas. Many farms and wildlife centers have areas where you can enjoy a picnic lunch.
Zoos
San Francisco Zoo – San Francisco
The San Francisco Zoo has several impressive animal habitat areas, a fun petting zoo, a steam train and carousel. Special events include family bike-abouts and sleepovers. During the summer, zoo camp teens display small animals for viewing and petting.
Oakland Zoo – Oakland
Easy to get to, usually uncrowded, and just the right size. Lots of space for the animals, but easy to walk around. Relatively inexpensive admission fee. Rides are an additional fee, but reasonable. Standard park food. Zoo Lights holiday light show from Thanksgiving to New Year's is very neat.
Happy Hollow – San Jose
Although this zoo is small and doesn't have many of the animals one typically associates with zoos (no elephants, zebras, or tigers), there are enough cute, furry animals to entertain most children. Plus, there are several rides, a puppet show, and fun play areas. The nearby Historical Park has interesting refurbished buildings and an old-fashioned icecream shop and candy store.
Kennedy Park – Hayward
A petting zoo, plus a merry-go-round and train ride.

Palo Alto Junior Museum & Zoo – Palo Alto
A small zoo with snakes, birds, bats, bunnies, and fish. No fee, but a donation is accepted near the entrance to the adjoining children's museum. Bring a picnic lunch and dine at nearby Rinconada park where you'll find two nice children's play areas. If it's a warm summer day, bring your swimsuits and enjoy a swim at Rinconada Pool.
Aquariums
Steinhart Aquarium at Cal Academy – San Francisco
Aquarium of the Bay – San Francisco
Seymour Marine Discovery – Santa Cruz
Monterey Bay Aquarium – Monterey
Farms & Ranches
Little Farm, Tilden Park – Berkeley
Ardenwood Historic Farm – Fremont
Lemos Farm – Half Moon Bay
Sienna Ranch – Lafayette
Deer Hollow Farm – Los Altos
Hidden Villa – Los Altos Hills
Slide Ranch – Muir Beach
Evergreen Acres Petting Farm – San Jose
Prusch Park – San Jose
Hollyhill Hummingbird Farm – Santa Rosa
Horseback Riding
Mar Vista Stable – Daly City
Sugarloaf Farm – Gilroy
Friendly Pony Parties – Half Moon Bay
Horizons East Equestrian Center – Livermore
Rancho Saguaro – Martinez
Kismet Farms – Martinez
California Riding Academy – Menlo Park
Miwok Livery Stables – Mill Valley
Moss Beach Ranch – Moss Beach
Kenilworth Stables – Oakland
Seven Oaks Farm – Portola Valley
Webb Ranch – Portola Valley
Spring Down Equestrian Center – Portola Valley
Monterey Bay Equestrian Center – Salinas
Cevalo Riding Academy – San Jose
North Gait Equestrian Center – Walnut Creek
BOK Ranch Horseback Programs for Special Needs – Woodside
JP Training – Woodside
Nature & Wildlife Centers
Most nature and wildlife centers showcase local plants and animals (seals, falcons, bobcats, etc.). In some cases the animals have been injured or malnourished and are being rehabilitated.
Crab Cove Visitor Center – Alameda
Shorebird Nature Center – Berkeley
Tilden Nature Area and Little Farm – Berkeley
Terwilliger Nature Education Center – Corte Madre
Coyote Hills Regional Park – Fremont
Don Edwards San Francisco Bay National Wildlife Refuge – Fremont
Hayward Shoreline Interpretive Center – Hayward
Sulphur Creek Nature Center – Hayward
Youth Science Institute – Los Gatos, San Jose
James Fitzgerald Marine Reserve – Moss Beach
Rotary Nature Center & Wildlife Bird Sanctuary – Oakland
Big Break Regional Shoreline – Oakley
EcoCenter – Palo Alto
Palo Alto Baylands Nature Center and Duck Pond – Palo Alto
Ano Nuevo – Pescadero
Petaluma Wildlife Museum – Petaluma
Crissy Field Center – San Francisco
Randall Museum – San Francisco
Wildlife Center of Silicon Valley – San Jose
CuriOdyssey at Coyote Point – San Mateo
WildCare Wildlife Rehabilitation Center – San Rafael
Marine Sanctuary Exploration Center – Santa Cruz
Environmental Discovery Center – Santa Rosa
Safari West – Santa Rosa
Nature Bridge – Sausalito
The Marine Mammal Center – Sausalito
Lindsay Wildlife Museum – Walnut Creek
Elkhorn Slough National Estuary Research Preserve – Watsonville