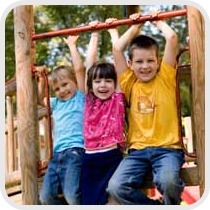 Camp provides experiences that will benefit your child into adulthood and let's not forget – camp is really fun!
Look forward to seeing your children become more confident, independent and responsible as they make new friends and learn important skills.
A huge variety of summer camps are offered in the Bay Area. Click on the categories below to find fun and enriching camps for children of all ages and interests.
Zero-in on the camps closest to you with our San Francisco, North Bay, Peninsula, South Bay and East Bay summer camp directories.
Check out Winter Holiday, February, and Spring camps offered during school breaks.
Finding the right camp starts with identifying goals for your child's camp experience and evaluating your child's needs, personality and interests. There are an amazing variety of camps to meet the needs and interests of most children including day camps, overnight camps, general camps, specialty camps and more. Once you've identified potential camps for your children, you'll want to evaluate each camp to verify that it's a quality camp that will provide a positive experience for your child.
Your child's age is just one factor in determining his readiness for camp. His maturity, comfort level with new situations, ability to get along with others in a group environment, and willingness to follow instructions are also important factors. Teens generally have more options for summer than younger children, including college classes, internships, and jobs. However, summer camp can still be an important part of your teen's summer.
Camp costs can add up quickly, especially if you have more than one child or need to fill most of the summer with camps and after camp care to accommodate your work schedule. Learn how to find camps on a budget.
The registration process varies by camp and popular camps fill up quickly. As stressful as this sounds, with a little advance planning you can successfully register your children for the camps they want to attend with minimal fuss.
Packing for day camp is usually pretty simple and similar to packing for school. Your child will probably need lunch and a water bottle most days. Most overnight camps will provide a detailed packing list upon registration.
A large part of ensuring your child's safety at camp is achieved by selecting a quality camp that is appropriate for you child's age and maturity. Plus, most of what your child has already learned about being safe at school and in the community also applies to summer camp safety.