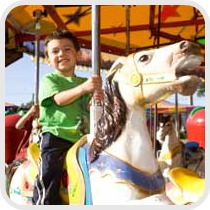 There are hundreds of fun things to do with kids in the Bay Area. Find fun near home or plan a day trip adventure. Use the pages below to find favorite destinations for your family.
Also, check our events page for upcoming family-oriented events and activities.
Amusement Parks – Both large and small.
Animals – Zoos, farms, and wildlife centers.
The Arts – Visual arts, music, dance, and theatre.
Beaches – Fun and easy beach getaways.
Cultural Fun – Fun and educational cultural centers and festivals.
Entertainment Centers – Arcades, Bowling, Movies, Play Places,
Miniature Golf, Skating, Train Rides and more!
Historical Fun – Fun and educational historical museums and parks
Museums – Children's Museums, Art, Science & Technology, Natural History, and More!
Outdoor Fun – Boat Rides, Farms, Nature Centers, Playgrounds, and Swimming.
Parks – City, County, Regional, State and National Parks.
Restaurants – Kid-Friendly restaurants and ice cream parlors.
Science & Technology – Science Museums, Planetariums, and Aviation Museums.
Spectator Sports – Professional and college sports.