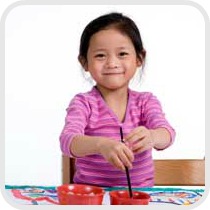 The Bay Area is blessed with world class visual arts, music, and theatre. Fortunately, many art institutions see the value of appealing to families and engaging children in the arts.
Exhibits, performances, and activities appear below. Click on the links to reach the organization's web page where you'll find a summary of exhibits, activities, prices, hours, and directions.
Visit our Art, Dance and Music Lesson pages for additional resources.
Art Museums
Many art museums offer exhibits and activities that appeal to children and families. Modern art museums are often a particulary good fit for children given the interesting shapes and colors. More traditional art museums provide a great opportunity to discuss history and culture with your children. A word of caution – not all art is G rated (or even PG rated). Be prepared to steer clear of exhibits that aren't appropriate for your children. Art is not the focus of most Children's Museums, but many have a hands-on art project area.
Peninsula Museum of Art – Belmont
Berkeley Art Museum Pacific Film Archive – Berkeley
Euphrat Museum of Art – Cupertino
Center for African & African American Art and Culture – Oakland
Museum of Children's Art (MOCHA) – Oakland
Oakland Museum of California – Oakland
Academy of Art University Galleries – San Francisco
Asian Art Museum – San Francisco
Cartoon Art Museum – San Francisco
de Young Museum – San Francisco
Museum of Craft and Design – San Francisco
Palace of the Legion of Honor – San Francisco
San Francisco Center for the Book – San Francisco
San Francisco Museum of Modern Art – San Francisco
Yerba Buena Center for the Arts – San Francisco
Quilt Museum – San Jose
San Jose Museum of Art – San Jose
De Saisset Museum – Santa Clara
Triton Museum of Art – Santa Clara
Santa Cruz Museum of Art and History – Santa Cruz
Cantor Arts Center at Stanford University – Stanford
Lesher Center for the Arts– Walnut Creek
Art Centers
Rhythmix Cultural Works – Alameda
Calistoga Art Center – Calistoga
Junior Center of Art and Science – Oakland
Palo Alto Art Center – Palo Alto
East Bay Center for the Performing Arts
Richmond Art Center – Richmond
San Francisco Children's Art Center – San Francisco
Los Cenzontles Mexican Arts Center – San Pablo
Montalvo Arts Center – Saratoga
Walnut Creek Civic Arts Education – Walnut Creek
Art Studios/Classes (see Art Lessons)
Also, check with your local Parks & Recreation Department. Many offer fun classes for children, such as ceramics, cartoon drawing, computer art, and more.
Dance Performances
Berkeley Ballet Theatre – Berkeley
Cal Performances – Berkeley
Valley Dance Theatre – Livermore
Presidio Dance Theatre – San Francisco
San Francisco Ballet – San Francisco
Silicon Valley Ballet – San Jose
Peninsula Ballet Theatre – San Mateo
Peninsula Youth Ballet – San Mateo
Marin Dance Theatre – San Rafael
Contra Costa Ballet – Walnut Creek
Dances Classes/Schools (see Dance Lessons)
Music Performances
Ashkenaz Music and Dance Community Center – Berkeley
Cal Perfomances – Berkeley
Crowden Center for Music in the Community – Berkeley
La Pena – Berkeley
Music at Menlo – Menlo Park
Community School of Music and Arts – Mountain View
San Francisco Chamber Orchestra – performs throughout the Bay Area
San Francisco Symphony Music for Families – San Francisco
Montalvo Arts Center – Saratoga
Music Classes/Schools (see Music Lessons)
Youth Symphonies/Orchestras
California Youth Symphony – Cupertino, Los Altos, Palo Alto, San Mateo
Community School of Music and Arts – Mountain View
El Camino Youth Symphony – Palo Alto
Palo Alto Chamber Orchestra – Palo Alto
Peninsula Youth Orchestra – Redwood City
Community Music Center – San Francisco
Santa Cruz County Youth Symphony – Santa Cruz
Theater
Berkeley Playhouse – Berkeley
Berkeley Repertory Theatre – Berkeley
Cal Perfomances – Berkeley
Free Shakespeare in the Park – Cupertino, Oakland, Pleasanton, San Francisco
Danville Children's Musical Theater – Danville
Hillbarn Theatre Conservatory – Foster City
Gilroy Children's Musical Theater – Gilroy and Morgan Hill
Kids 'N Dance Musical Theater – Lafayette
Los Altos Youth Theatre – Los Altos
Mountain View Center for the Performing Arts – Mountain View
Bay Area Children's Theatre – Oakland
Palo Alto Children's Theatre – Palo Alto
Peninsula Youth Theater – Palo Alto, Mountain View
Cinnabar Theatre – Petaluma
San Carlos Children's Theater – San Carlos
Bay Area Shakespeare Camp – San Francisco
Beach Blanket Babylon – San Francisco (children allowed on Sunday)
Circus Center – San Francisco
Musical Theatre Works – San Francisco
New Conservatory Theatre Center – San Francisco
Presidio Dance Theatre – San Francisco
San Francisco Children's Musical Theater – San Francisco
Young Performer's Theatre – San Francisco
San Jose Children's Musical Theatre – San Jose
South Bay Children's Musical Theater – San Jose
Willow Glen Children's Theatre – San Jose
Bay Area Educational Theater Company – San Mateo
Pied Piper Players – San Mateo
Kids on Broadway – Santa Cruz
Actors Theater for Children – Santa Rosa
Montalvo Arts Center – Saratoga
South Bay Musical Theatre – Saratoga
West Valley Light Opera – Saratoga
Stanford Savoyards – Stanford
California Theatre Center – Sunnyvale