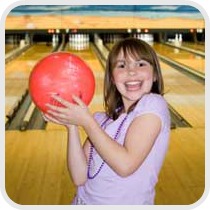 The entertainment centers below provide activities and entertainment geared especially for families and children. At some entertainment centers it makes sense for adults to play along. At others (those with small climbing tubes and ball jumps) bring a magazine to read while your child plays.
A word of caution – some entertainment centers are more expensive than you might expect. Check their web sites for current rates and discount coupons.
Visit our Amusement Parks page for more Bay Area fun.
Featured Entertainment Centers
Peek-a-Boo Factory ~ San Francisco
Peek-a-Boo Factory is San Francisco's premier indoor playground and birthday party destination. We offer 3 different play areas for children age 0 – 10 with a separate toddler area for kids age 0 – 3. We even offer a toy library with the best children books, a train table, legos station, and a play kitchen if your child just wants some quiet time. We are equipped with cafe seating and a snack bar in case you forget to pack a snack. We also offer parents a workspace to catch up on emails with our free Wi-Fi or just socialize and relax while the kids have fun!
K1 Speed Indoor Kart Racing ~ Santa Clara & South San Francisco
K1 Speed is the ultimate indoor kart racing experience. With 3 Locations in Northern California, K1 Speed is open 7 days a week. K1 features the most advanced European designed electric karts, reaching 45 miles per hour. You can let your inner race car driver out against friends or the clock. K1 Speed offers racing experiences for all skill levels through the Arrive and Drive option. However, if you feel more competitive, K1 Speed offers a racing league every month. Visit www.k1speed.com for more information.
Birthdays @ Bladium ~ Alameda
Let the Bladium Party Hosts lead your guests through a fun, high-energy event while you relax! We will set up and clean up so you can just enjoy the day. Choose your activity–Rock Climbing, Soccer, Basketball, Lil' Kickers, Lil' Sluggers, Laser Tag, Flag Football, Volleyball, and more–plus, an inflatable and exclusive party area. Pizza and drinks included for up to 15 children; outside food is welcome, ask for details.
Play Haven ~ San Francisco
Play with Purpose! Play Haven is a teacher-created indoor play space and party venue for infants, toddlers, and preschoolers – where children and families come together to explore, create, and have fun! We offer activities that promote early childhood learning, social and emotional development, and fine motor skills. Here you will find everything from art and sensory activities, to imaginative games and dramatic play areas, and even a rock climbing wall. We also offer special children's enrichment classes, FREE parking and WiFi. Drop-in to play anytime!
Santa Cruz Children's Museum of Discovery ~ Capitola
Float a boat. Take a look at a bug. Make it rain. Build something with your imagination! The nonprofit Santa Cruz Children's Museum of Discovery has 8,000-plus square feet of exhibits, classrooms and store space. Its hands-on exhibits showcase the wonders of Santa Cruz County. Located at 1855 41st Avenue in Capitola, the Museum is open 7 days a week. Admission is $7 adults, $5 ages 2-17, and free for younger than 2. www.sccmod.org
Entertainment Centers
GAMA Ride Arcade & Family Fun Center – Belmont
GoKart Racer – Burlingame
Q-Zar Laser Tag – Concord
The Jungle – Concord & San Jose
Playland Not-at-the-Beach – El Cerrito
Scandia Family Fun Center – Fairfield
Lemans Karting – Fremont
Boomers – Livermore
Bouncefarm – Martinez
Great Jump Sports – Milpitas
Laser Quest – Mountain View
Kids' Castle Indoor Fun Center – Newark
Creative Learning Loft – Redwood City
House of Air – San Francisco
Pier 39 – San Francisco
Yerba Buena Carousel – San Francisco
San Jose Batting Cages – San Jose
Golf Land – San Jose, Sunnyvale, Castro Valley, Milpitas
Winchester Mystery House – San Jose
Safari Run – San Mateo, Sunnyvale
Sky High Sports – Santa Clara
Mystery Spot – Santa Cruz
Santa Cruz Beach Boardwalk – Santa Cruz
Chuck E Cheese – Several locations
Bowling
Southshore Lanes – Alameda
Albany Bowl – Albany
Castro Village Bowl – Castro Valley
Clayton Valley Bowl – Concord
Diablo Valley Bowl – Concord
Homestead Lanes – Cupertino
Strike – Cupertino
Classic Bowling Center – Daly City
Danville Bowl – Danville
Earl Anthony's Dublin Bowl – Dublin
Cloverleaf Bowl – Fremont
Bowlero – Milpitas
Sea Bowl – Pacifica
Boulevard Lanes – Petaluma
Pinole Valley Lanes – Pinole
Yerba Buena – San Francisco
300 San Jose Lanes – San Jose
Manor Bowl – San Leandro
Bel Mateo Bowl – San Mateo
County Club Bowl – San Rafael
Moonlight Lanes – Santa Clara
Factory Tours
Jelly Belly Factory Tour – Fairfield
Mrs. Grossman's Stickers – Petaluma
Ice Skating
Belmont Iceland – Belmont
Berkeley Iceland – Berkeley
Ice Center – Cupertino
Dublin Iceland – Dublin
Sharks Ice – Fremont
Ice Center – Oakland
Winter Lodge – Palo Alto
Ice Oasis – Redwood City
Yerba Buena Ice Skating Center – San Francisco
Sharks Ice – San Jose
Snoopy's Home Ice – Santa Rosa
Vacaville Skating Center – Vacaville
Laser Tag
Santa Cruz Beach Boardwalk – Santa Cruz
Miniature Golf
Sub Par Miniature Golf – Alameda
Ghost Golf – Concord
Scandia Family Fun Center – Fairfield
Urban Putt – San Francisco
Golf Land – San Jose, Sunnyvale, Castro Valley, Milpitas
Neptune's Kingdom – Santa Cruz
Movies
New Parkway Family Classic Movies & Monday Night Baby Brigade – Oakland
AMC Theaters – Bay Area Wide
Century Theaters – Bay Area Wide
Regal Cinemas – East Bay, Santa Cruz
Drive-In Movies
Solano Drive-in – Concord
Capitol Drive-in – San Jose
Paintball
Antioch Paintball Park – Antioch
Paintball Jungle – American Canyon
Santa Clara Paintball – Santa Clara
Midway Paintball – Vacaville
Play Places
Studio Grow – Berkeley, Concord
SensationALL Kids Gym – Concord
The Jungle – Concord, San Jose
Rockin' Jump – Dublin, San Carlos, San Jose
Play! – Los Altos
U-Me Playspace – Menlo Park
Bounce-a-Rama – Milpitas
Great Jump Sports – Milpitas
Kindergym at Temple Beth Abraham – Oakland
BounceU – Pleasanton
Hop-n-Play – San Bruno
Diddalidoo – San Bruno
Peakadoodle Kidsclub – San Francisco
Peek-a-boo Factory – San Francisco
Play Haven – San Francisco
Recess Urban Recreation – San Francisco
SeeSaw Cafe and Play Studio – San Francisco
Silver Creek Sportsplex – San Jose
Little Wonders – San Mateo
Modern Recess – San Ramon
KangaZoom – Tracy
Little Imaginarium – Vallejo
Gymboree Play Centers – Several Locations
Little Gym – Several Locations
Pump It Up – Several Locations
Roller Skating
Paradise Skate – Antioch
Redwood Roller Rink – Redwood City
Silver Creek Sportsplex – San Jose
Golden Skate – San Ramon
Train Rides
Steam Train at Tilden Park – Berkeley
Pixieland – Concord
Roaring Camp and Big Trees Narrow Gauge Railroad – Felton
Kennedy Park – Hayward
Billy Jones Wildcat Railroad – Los Gatos
Wine Train Family Nights – Napa
Little Puffer at San Francisco Zoo – San Francisco
Market Street Railway – San Francisco
MUNI Cable Cars – San Francisco
San Francisco Cable Cars – San Francisco
CalTrain – San Francisco to Gilroy
Santa Clara County Light Rail – San Jose
Bianchi Railway at Central Park – San Mateo
Train Town – Sonoma
Niles Canyon Railway – Sunol
BART – Bay Area
Capitol Corridor – Bay Area to Sacramento
Amtrak California – California