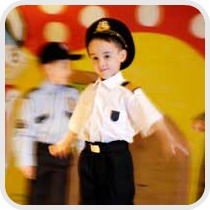 Below are fun upcoming events for kids and families in the San Francisco Bay Area. This list is updated daily so check back often.
Follow Bay Area Kid Fun on Facebook for additional Bay Area highlights.
If you'd like to receive the Bay Area Kid Fun free Monthly Newsletter and Weekend Highlights, just enter your email address in the box to the left or send your request to jamie@bayareakidfun.com.
Pippi Longstocking by Bay Area Children's Theatre ~ Berkeley, San Ramon & San Francisco, January 21 – March 19
Annika and Tommy's new neighbor Pippi Longstocking has crazy red pigtails, a pet monkey named Mr. Nilsson, and a tendency to get caught up in one outrageous adventure after another! Whether she's fending off burglars, wrestling a circus strongman, or sailing away on a pirate ship, Pippi wins over even the sternest of hearts in this rollicking musical adaptation of Astrid Lindgren's beloved book. Recommended for age 5 and up.
Aladdin and His Wonderful, Magical Lamp ~ San Francisco, January 28, February 25 and March 11
Children's Theatre Association's adaptation of Aladdin And His Wonderful, Magical Lamp tells the story of a poor street boy, Aladdin, who (with the help from 3 Genies, a dragon who can talk, his mischievous pet monkey, and his family) uses his wits to outsmart the evil and powerful magician, Jammal, and win the Princess Jasmine's hand in marriage. Aladdin And His Wonderful, Magical Lamp is full of fun characters, animals and music that will make for a lively, fun and heartwarming experience.
Super Soccer Stars Free Demo Classes ~ San Francisco, January 26 & February 9, San Mateo, February 4, and Palo Alto, February 12
For over 16 years Super Soccer Stars has been offering classes to improve soccer skills, develop self-confidence, improve gross motor skills, and hone socialization skills in a fun, non-competitive, educational environment. Come see what 16 years of experience and the lowest child-to-coach ratios in CA can provide for you child's development! Find the closest FREE Class for Winter 2016: Recess Urban Center (SF) on Thursday, January 26th, Laurie Meadows Park (San Mateo) on Saturday, February 4th, Noe Valley Ministry (SF) on Thursday, February 9th, Mitchell Park (Palo Alto) on Sunday, February 12th
Saturday Night Astronomy Shows at Fujitsu Planetarium ~ Cupertino, most Saturdays through April 29
Learn about space and science on Saturday evenings at the Fujitsu Planetarium on the De Anza College campus. Family shows include Secret of the Cardboard Rocket, The Little Star that Could, Magic Treehouse: Space Mission, We Are Stars, This is Our Sky, and Extreme Planets.
The Amazing Bubble Show at Rhythmix ~ Alameda, February 19
The Amazing Bubble Man has been thrilling audiences around the world with the art, magic, science and fun of bubbles. From square bubbles to fog-filled bubbles or people inside bubbles, the Amazing Bubble Man conjures shrieks of laughter and gasps of amazement from all ages. Live bubbly accordion music will double your pleasure. Sunday, February 19th 2 Shows @ 11am & 1pm. "Greatest bubble show on Earth." – SFGate.com
Wheels on the Bus by Bay Area Children's Theatre ~ Oakland, January 22 – April 9
Bay Area Children's Theatre & Children's Fairyland present our newest Theatre for the Very Young production: WHEELS ON THE BUS! Climb aboard our imaginary bus for an exciting, interactive journey that examines all manner of things that go round and round. Look out the windows. What do you see? Pinwheels! Ferris wheels! Windmills! There's more to explore, as we go all around the town!
January
Aladdin Jr. by Linda Bulgo's Musical Productions – San Francisco, January 13-23
Zoovie Night at Oakland Zoo – Oakland, January 20
Free Friday at Lindsay Wildlife Museum – Walnut Creek, January 20
The Monkey King by Peninsula Youth Theatre – Mountain View, January 20, 21
Bird Count for Kids – Fremont, January 21
Nature Games & Crafts at Hidden Villa – Los Altos Hills, January 21
Zoo Kids at Oakland Zoo – Oakland, January 21
Peter and the Wolf – Palo Alto, January 21
Family Concert with SF Chamber Orchestra – San Francisco, January 21
Family Nature Crafts at Cal Academy – San Francisco, January 21
Guide Dogs for the Blind Graduation – San Rafael, January 21
Family Night Hike and Campfire – Sausalito, January 21
The Physics Show – Los Altos, January 21 & 22
Cinderella by Palo Alto Children's Theatre – Palo Alto, January 21 & 22
Farm Tours at Hidden Villa – Los Altos Hills, January 21 & 22
Free Family Programs at Forest Home Farms Historic Park (Free) – San Ramon, January 21 & 28
Just So Stories by California Theatre Center – Sunnyvale, January 21, 28
Holiday Barn Stomp at Ashkenaz – Berkeley, January 22
Ohlone Village Site Tour – Fremont, January 22
Family Concert with SF Chamber Orchestra – Oakland & San Mateo, January 22
Free Community Day at the Exploratorium (Free) – San Francisco, January 22
Kanbar Kids Abadá Capoeira Marin – San Rafael, January 22
Marine Science Sunday at The Marine Mammal Center – Sausalito, January 22
The Three Little Pigs by Palo Alto Children's Theater – Palo Alto, January 26-February 12
Penguins & Pajamas Sleepover at Cal Academy – San Francisco, January 28
Music for Families – San Francisco, January 28
Lunar New Year Community Day (Free) – San Jose, January 28
Lunar New Year Celebration at SF Zoo – San Francisco, January 28 – February 5
Amphibian Encounter – Hayward, January 29
Lunar New Year Celebration at the Asian Art Museum – San Francisco, January 29
February
$5 Friday at Chabot Space and Science Center – Oakland, February 3
Free First Friday at San Mateo County History Museum (Free) – Redwood City, February 3
Community Free Day at Seymour Marine Discovery Center – Santa Cruz, February 3
Family Camp Weekends at Point Bonita – Sausalito, February 3-5
Budding Birders – Fremont, February 4
Lunar New Year Concert by SF Symphony – San Francisco, February 4
Very First Concerts by SF Chamber Orchestra (Free) – San Mateo, February 4
The Secret Lives of Newts – Sunol, February 4
Robinson Crusoe by California Theatre Center – Sunnyvale, February 4, 11
Free Family Programs at Forest Home Farms Historic Park (Free) – San Ramon, February 4, 11, 18, 25
Guide Dogs for the Blind Graduation – San Rafael, February 4 & 18
Farwell to the Monarchs – Fremont, February 5
Opera for Families – Palo Alto, February 5
Free First Sunday at the Asian Art Museum – San Francisco, February 5
Salamandering – Sunol, February 5
Chinese New Year Celebration – Albany, February 9
Lunar New Year Family Fun Celebration – San Francisco, February 10
Nature Ramble at Tilden – Berkeley, February 11
Charlotte Diamond Family Concert – Fremont, February 11
Parents Night Off at Oakland Zoo – Oakland, February 11
Very First Concerts by SF Chamber Orchestra (Free) – Oakland & San Francisco, February 11
History Playdate: Vintage Valentines – San Francisco, February 11
Family Night Hike & Campfire – Sausalito, February 11
Penguins & Pajamas Sleepover at Cal Academy – San Francisco, February 11, 24
Welcome to Wildlife at Peralta Hacienda – Oakland, February 11 – May 28
Curious Caterpillars at Ardenwood – Fremont, February 12
Lunar New Year Celebration at Oakland Museum of CA – Oakland, February 12
Super Fun Sunday at CJM with Hullabaloo – San Francisco, February 12
Rockridge Ice Cream Tour – Oakland, February 12 & 26
Marine Science Sunday at The Marine Mammal Center – Sausalito, February 12 & 26
Charlotte's Web by Theatreworks – Walnut Creek, February 16
The Talented Clementine by Peninsula Youth Theatre – Mountain View, February 17 & 18
Good Morning Farm at Ardenwood – Fremont, February 18
The Great Backyard Bird Count – Pleasanton, February 18
Noe Valley Chamber Music Classic Kids Concert – San Francisco, February 18
The Lizard Lady at Bay Area Discovery Museum – Sausalito, February 18
I Don't Want to Go to Bed by California Theatre Center – Sunnyvale, February 18, 25, March 4
Fireside Storytime at Tilden – Berkeley, February 19
Milkweed for Monarchs – Fremont, February 19
Chinese New Year Celebration at Bay Area Discovery Museum – Sausalito, February 20
Willie Wonka by Children's Musical Theatre – San Jose, February 24-28
Octopretzel at Freight & Salvage – Berkeley, February 25
Marsh Meander at Coyote Hills – Fremont, February 25
Nifty Newts – Hayward, February 25
SF Jazz Family Matinee – San Francisco, February 25
The Snow Queen by Palo Alto Children's Theatre – Palo Alto, February 25, 26
Hare & Tortoise by Marin Theatre Company – Mill Valley, February 25-March 5
Early Animal Tracks at Tilden – Berkeley, February 26
Free Admission Day at Cal Academy – San Francisco, February 26
Kanbar Kids Josh McIntosh – San Rafael, February 26
See next month's events…