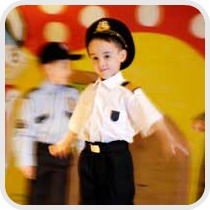 Below are fun upcoming events for kids and families in the San Francisco Bay Area. This list is updated weekly, so check back often.
Follow Bay Area Kid Fun on Facebook and Twitter for additional Bay Area highlights.
If you'd like to receive the Bay Area Kid Fun free Monthly Newsletter and Weekend Highlights, just send your email address to jamie@bayareakidfun.com.
Featured Events
Yo Gabba Gabba! Live! – San Jose, November 21
The coolest rock concert for kids (and parents!) is back. Yo Gabba Gabba! Live! is going on the road this fall with a new show, Music Is Awesome! Performances at 3 pm & 6 pm on November 21 at City National Civic in San Jose. Buy tickets early for best selection.
Five Little Monkeys 100 Days 'Til Christmas Sale – Albany, Burlingame, Novato & Walnut Creek, September 20
There are 100 Days 'Til Christmas! To celebrate, Five Little Monkeys is Offering you 25% off the entire store on Saturday, September 20, 2014! For ONE DAY ONLY! Offer good at all four store locations: Albany, Burlingame, Novato and Walnut Creek, and online with coupon code: 100DAYS14. Some restrictions apply. See website for more details: www.5littlemonkeys.com
Fujitsu Planetarium Shows – Cupertino, September 27
Saturday night planetarium shows begin on September 27 at the Fujitsu Planetarium on the De Anza College campus. Magic Treehouse: Space Mission is perfect for children grades K-2nd and Cosmic Collisions will appeal to older children (5th grade to adult).
Ivy + Bean performed by Bay Area Children's Theatre – Berkeley, September 28 – October 26
If you missed the fun on Pancake Court last year, the mischievous second-grade heroines of Annie Barrow's New York Times best-selling Ivy + Bean series are back again, with toe-tapping tunes and their special brand of witchcraft. Bay Area Children's Theatre created this original stage adaptation, with book, music and lyrics by Scott Elmegreen. Directed by Benjamin Hanna. Recommended for ages 4 and up.
Veterans' Day Camp at Bay Area Discovery Museum – Sausalito, November 11
Join us for our first ever one-day Fort Building camp. Children will take initiative as they work together for one day to conceptualize, design and execute their very own creative structures. Using various materials, campers will tap into their imagination, innovation and ingenuity to transform the classroom into their very own hide-away, and build smaller-scale structures using wood, hammers and nails to create take home projects. For ages 4 – 8. Extended care available.
Thanksgiving Break Camp at Bay Area Discovery Museum – Sausalito, November 24-26
Investigate local animals and search the shores for hidden treasures in our On the Bay camp. Take on the persona of bugs, fish, plants and birds, and explore the natural bay environments through hiking, experiments and hands-on discovery. For ages 4 – 8. Extended care available.
September 2014
James and the Giant Peach by Young Performers Theater – San Francisco, September 12-28
Movies on the Square (Free) – Redwood City, September 18, 25
Free 3rd Fridays at East Bay Parks (Free) – Several Locations, September 19
Junior Engineer Day at Golden Gate Model Railroaders (Free) – San Francisco, September 20
Market Days at the Exploratorium (Free) – San Francisco, September 20
California Coastal Cleanup Day (Free) – Bay Area Wide, September 20
Goldilocks and the Three Aliens – San Francisco, September 20-October 5
Family Campout at Slide Ranch – Muir Beach, September 20-21
Family Square Dance at Ashkenaz – Berkeley, September 21
Sunday Sampler at Berkeley Rep (Free) – Berkeley, September 21
Car Free Sunday on Telegraph – Berkeley, September 21
Sienna Ranch Family Day – Lafayette, September 21
Open Cockpit Day at Oakland Aviation Museum – Oakland, September 21
Family Drop-in Workshops at OMCA – Oakland, September 21
Storytime at SF Botanical Garden – San Francisco, September 21
Marine Science Sunday (Free) – Sausalito, September 21, 28
Family Sundays at Cantor Museum – Stanford, September 21, 28
Little Explorers Petting Zoo at U-Me – Menlo Park, September 24
Dr. Doolittle by Civic Arts Stage Company – September 26-October 5
Coyote Valley Family Harvest Feast (Free) – Morgan Hill, September 27
Oakland World Percussion Festival (Free) – Oakland, September 27
Autogiro Day at Hiller Aviation Museum – San Carlos, September 27
Redwood City Salsa Festival (Free) – Redwood City, September 27
Autumn at Filoli – Woodside, September 27
MakeArt Workshop – San Francisco, September 27
Family Campout at Slide Ranch – Muir Beach, September 27-28
80th Anniversary Celebration at Tilden Park (Free) – Berkeley, September 28
Your Song My Song at Ashkenaz – Berkeley, September 28
JAMBand Family Festival (Free) – San Francisco, September 28
Sunday Streets (Free) – San Francisco, September 28
Roadworks Steamroller Printing Festival (Free) – San Francisco, September 28
Tricycle Music Fest (Free) – San Francisco, September 28
Hike the Headlands – Sausalito, September 28
SF Jazz Family Matinee – San Francisco, September 29
Ivy + Bean The Musical – Berkeley, September 28-October 26
October 2014
Preschool Performance Series: EarthCapades – Danville, October 3
Plaza Palooza – Mountain View, October 3
Aladdin by Playful People Productions – San Jose, October 3-12
Toddler Days at Slide Ranch – Muir Beach, October 4
Family Art Day at Triton Museum – Santa Clara, October 4
Centennial Fireworks Spectacular – Santa Cruz, October 4
Home Depot Build a Truck Workshop (Free) – Bay Area Wide, October 4
Harry the Dirty Dog by CTC – Sunnyvale, October 4, 11
Family Program at UC Botanical Garden – Berkeley, October 5
Octopretzel at Ashkenaz – Berkeley, October 5
Community Day at Gamble Garden – Palo Alto, October 5
Nurturing Creative Kids at San Jose Museum of Art – San Jose, October 5
Bunnicula by PYT – Mountain View, October 10-11
Asheba at La Pena – Berkeley, October 11
Philharmonia Family Concert (Free) – Berkeley, October 11
Deer Hollow Farm's Ohlone Day – Cupertino, October 11
Harvest Celebration at Slide Ranch – Muir Beach, October 11
Forest Home Farm Free Activities Day – San Ramon, October 11
Concert for Kids – Sausalito, October 11
Day of the Horse – Woodside, October 11
Red vs. Wolf – Santa Rosa, October 11-19
Zoppe Italian Family Circus – Redwood City, October 11-20
Silly Sunday at Ashkenaz – Berkeley, October 12
Sunday Funday at Starmont Winery – St. Helena, October 12
Founder's Day at the Exploratorium (Free) – San Francisco, October 12
Marine Science Sunday (Free) – Sausalito, October 12, 26
Free 3rd Fridays at East Bay Parks (Free) – Several Locations, October 17
Beauty and The Beast by Young Performers Theater – San Francisco, October 17-November 2
Sleepy Hollow by Los Altos Youth Theatre – Los Altos, October 17-November 2
Wildlife Education Day – Cupertino, October 17
Fall Festival – Richmond, October 18
Market Days at the Exploratorium (Free) – San Francisco, October 18
Costumed Living History at SF Maritime Museum – San Francisco, October 18
Chemistry Day at King Library – San Jose, October 18
Venetia Valley Fall Carnival – San Rafael, October 18
Jack and the Beanstalk by Palo Alto Children's Theater – Palo Alto, October 18-19
Androcles and the Lion – Sunnyvale, October 18, November 8
Asheba at Ashkenaz – Berkeley, October 19
Sienna Ranch Family Day – Lafayette, October 19
East Bay Mini Maker Faire – Oakland, October 19
Sunday Streets (Free) – San Francisco, October 19
SF Jazz Family Matinee – San Francisco, October 20
The Witches by YPT – San Francisco, October 24-November 9
Bonnie Lockhart at La Pena – Berkeley, October 25
From Moo to You – Fremont, October 25
Wharf Fest (Free) – San Francisco, October 25
Get to Know WildCare – San Rafael, October 25
The Cay by CTC – Sunnyvale, October 25, November 1
The Bug Family Band at Ashkenaz – Berkeley, October 26
JAMBand Family Festival (Free) – San Francisco, October 26
Mary Poppins by Berkeley Playhouse – Berkeley, October 30-December 7
November 2014
The Adventures of Robin Hood at Montalvo – Saratoga, November 1
Model Train Show & Open House – Santa Clara, November 1 & 2
Fall Family Farm Day at Slide Ranch – Muir Beach, November 1, 15
Children's Musical Theater Workshop (Free) – San Jose, November 5, 12, 19
Lily's Purple Plastic Purse by Palo Alto Children's Theater – Palo Alto, November 6-16
James and the Giant Peach – Mill Valley, Berkeley, San Ramon, San Francisco, November 6-January 4
Preschool Performance Series: Cowgirl Tricks – Danville, November 7
Rumpelstiltskin's Daughter by PYT – Mountain View, November 7-8
Family Program at UC Botanical Garden – Berkeley, November 8
Toddler Days at Slide Ranch – Muir Beach, November 8
Costumed Living History at SF Maritime Museum – San Francisco, November 8
Forest Home Farm Free Activities Day – San Ramon, November 8
Oklahoma! by West Valley Light Opera – Saratoga, November 8-December 6
The Pop-Ups Concert – Palo Alto, November 9
Marine Science Sunday (Free) – Sausalito, November 9, 23
The Legend of Sleepy Hollow by San Carlos Children's Theater – San Carlos, November 14-23
The Sound of Music by Children's Musical Theater – San Jose, November 14-23
Willie Wonka by the Pied Piper Players – San Mateo, November 14-23
Junior Engineer Day at Golden Gate Model Railroaders (Free) – San Francisco, November 15
Puss 'n Boots by Palo Alto Children's Theater – Palo Alto, November 15-16
Oklahoma by PYT – Mountain View, November 15-23
Sienna Ranch Family Day – Lafayette, November 16
SF Jazz Family Matinee – San Francisco, November 17
Fall Harvest Carnival at U-Me – Menlo Park, November 20
Free 3rd Fridays at East Bay Parks (Free) – Several Locations, November 21
Wizard of Oz by Danville Children's Musical Theater – Danville, November 21-29
Your Song My Song at La Pena – Berkeley, November 29
December 2014
Preschool Performance Series: Dante the Magician – Danville, December 5
The Elves and the Shoemaker by CTC – Sunnyvale, December 5, 6, 12
Mary Poppins the Musical – San Jose, December 5-14
The Bug Family Band at La Pena – Berkeley, December 6
Family Gala at CJM – San Francisco, December 6
Family Art Day at Triton Museum – Santa Clara, December 6
Madeline's Christmas by CTC – Sunnyvale, December 6-21
Peter Pan by Young Performers Theater – San Francisco, December 6-22
A Year with Frog and Toad by Palo Alto Children's Theater – Palo Alto, December 11-21
Cinderella by Diablo Youth Theatre – Walnut Creek, December 12-14
Family Program at UC Botantical Garden – Berkeley, December 13
Costumed Living History at SF Maritime Museum – San Francisco, December 13
The Gingerbread Boy by Palo Alto Children's Theater – Palo Alto, December 13-14
Sunday Sampler at Berkeley Rep (Free) – Berkeley, December 14
Marine Science Sunday (Free) – Sausalito, December 14, 28
Free 3rd Fridays at East Bay Parks (Free)- Several Locations, December 19
January
Puss in Boots by CTC – Sunnyvale, January, 10 & 17, February 7
The Emperor's New Clothes by Palo Alto Children's Theater – Palo Alto, January 17-18
Junie B. Jones by Palo Alto Children's Theater – Palo Alto, January 22-February 8
Peking Acrobats – Berkeley, January 24-25
King of the Golden River by CTC – Sunnyvale, January 24 & 31, February 14
Three Little Birds by Bay Area Children's Theatre – Berkeley, San Francisco, Mill Valley & San Ramon, January 24-March 29
February
Somebody Loves You by PYT – Mountain View, February 13-14
Rumpelstiltskin by Palo Alto Children's Theater – Palo Alto, February 21-22
You're a Good Man Charlie Brown by Berkeley Playhouse – Berkeley, February 21-March 15
Edward Tulane by Bay Area Children's Theatre – Berkeley & San Francisco, February 21-April 22
School House Rock by Children's Musical Theater – San Jose, February 26-March 1
Brave Irene by CTC – Sunnyvale, February 28, March 14, 21
March
The Intergalactic Nemesis – Berkeley, March 6
Jekyll & Hyde by Children's Musical Theater – San Jose, March 6-15
The Emperor's New Clothes by CTC – Sunnyvale, March 7, April 4
Sienna Ranch Family Day – Lafayette, March 8
Sunday Sampler at Berkeley Rep (Free) – Berkeley, March 15
Pecos Bill by PYT – Mountain View, March 20-21
Hansel and Gretel by Palo Alto Children's Theater – Palo Alto, March 21-22
Banana Slug String Band – Saratoga, March 22
Charlotte's Web by CTC – Sunnyvale, March 28
April
Seussical the Musical by Diablo Youth Theatre – Walnut Creek, April 2-4
Fancy Nancy by Bay Area Children's Theatre – Berkeley, San Ramon, Mill Valley & San Francisco, April 11 – June 21
Sienna Ranch Family Day – Lafayette, April 12
Gruffalo's Child at Montalvo – Saratoga, April 12
Ragtime by Children's Musical Theater – San Jose, April 17-26
Goldilocks and the Three Bears by Palo Alto Children's Theater – Palo Alto, April 18-19
Mulan by Children's Musical Theater – San Jose, April 30-May 3
May
Charlotte's Web by CTC – Sunnyvale, May 2, 12
Into the Woods by Children's Musical Theater – San Jose, May 8-17
Peter and the Wolf – Saratoga, May 9
Once Upon a Mattress by PYT – Mountain View, May 9-17
Sienna Ranch Family Day – Lafayette, May 10
Alice in Wonderland by Palo Alto Children's Theater – Palo Alto, May 14-24
A Little Princess by PYT – Mountain View, May 15-16
Cinderella by Palo Alto Children's Theater – Palo Alto, May 16-17