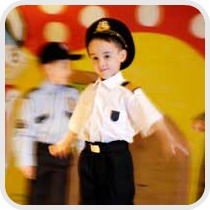 Below are fun upcoming events for kids and families in the San Francisco Bay Area. This list is updated weekly, so check back often.
Follow Bay Area Kid Fun on Facebook and Twitter for additional Bay Area highlights.
If you'd like to receive the Bay Area Kid Fun free Monthly Newsletter and Weekend Highlights, just send your email address to jamie@bayareakidfun.com.
Featured Events
Dreamgirls at the Fox Theatre ~ Redwood City, August 15-30
Broadway by the Bay performs the Tony Award winning musical Dreamgirls at the historic Fox Theater in Redwood City. Based upon the aspirations and successes of R&B acts such as The Supremes and The Shirelles, Dreamgirls follows a young trio of Motown singers from Chicago as they catch their big break.
Family Date Night at Bay Area Discovery Museum ~ Sausalito, August 22
Bring your family to enjoy later hours, live entertainment, special outdoor activities, and more. Each week features a family friendly musical performance.
Five Little Monkeys by Bay Area Children's Theater ~ San Francisco & Mill Valley, August 16-September 7
Those Five Little Monkeys will get into as much mischief on stage as they do in their namesake picture books by Eileen Christelow. Take cover when they make that birthday cake for Mama . . . meet up with a crocodile . . . and disappear in the store! Not to mention all that jumping! The play's all in rhyme/You'll have a great time!
Komodo Karnival at San Francisco Zoo ~ San Francisco, August 30-September 1
Join us for a Labor Day weekend extravaganza filled with classic carnival festivities… with a twist! Komodo Karnival will feature good ol' fashioned fun with a nod to Big Daddy Bahasa, our charismatic Komodo dragon. After you stop by and see him at Komodo Alley, try your luck at fun games like Crazy Ball, Ring The Bottle, Hoop Shot, Milk Can, Fat Cats, and Fish Are Jumping; you may even win a prize. After some cotton candy and a hot dog and soda, show us your strength on the Komodo High Striker. There's no better way to say farewell to summer than the Komodo Karnival!
August 2014 (also check-out Outdoor Movie Nights)
Free Movie Monday at Aquarium of the Bay – San Francisco, July 28-August 25
Create It! Make It! Take It! at Five Little Monkeys – Albany, August 19
Summer Fun Days at Lawrence Hall of Science – Oakland, August 20
Create It! Make It! Take It! at Five Little Monkeys – Novato, August 21
Movies on the Square (Free) – Redwood City, August 21
Family Night Swim – Pleasant Hill, August 22
Happy Kids Day (Free) – Cupertino, August 23
Outdoor Movie at Ardenwood: Babe – Fremont, August 23
Tri-Valley Health Fair (Free) – Livermore, August 23
Campfire Storytelling – Morgan Hill, August 23
WildCare Family Adventure (Free) – Novato, August 23
Teddy Bear Tea at Oakland Zoo – Oakland, August 23
MakeArt Workshop – San Francisco, August 23
Italian Family Festa – San Jose, August 23-24
Peter and the Wolf by Peninsula Ballet Theatre – San Mateo, August 23-24
Ice Cream Making at Ardenwood – Fremont, August 24
Sunday Streets (Free) – San Francisco, August 24
ODC Open House (Free) – San Francisco, August 24
Roxie Kids Movies – San Francisco, August 24
Fandango: Celebrating Life at the Adobe – San Jose, August 24
Marine Science Sunday (Free) – Sausalito, August 24
Muir Woods Free Admission Day (Free) – Mill Valley, August 25
Happy Birds at Hiller – San Carlos, August 27
Joannie Leeds Concert at CDM – San Jose, August 27
Capitola Begonia Festival (Free) – Capitola, August 29-September 1
Zoovie Night at Oakland Zoo – Oakland, August 30
Belmont Greek Festival – Belmont, August 30-September 1
Brazilian Day and Lavagem Festival (Free) – Berkeley, August 31
September 2014
Joanie Leeds and the Nightlights Concert – Foster City, September 1
Movies on the Square (Free) – Redwood City, September 4, 11, 18, 25
Preschool Performance Series: Magic Dan – Danville, September 5
Puppet Art Theater (Free) – Foster City, September 6
Community Day at Curiodyssey (Free) – San Mateo, September 6
Concert for Kids – Sausalito, September 6
Russian Fair – Palo Alto, September 7
Tri-Valley Kids Splash & Dash – Pleasanton, September 7
Storytime at SF Botanical Garden – San Francisco, September 7, 21
Santa Cruz County Fair – Watsonville, September 9-14
Film Night: Ghostbusters – Mill Valley, September 12
Cupertino Carnival – Cupertino, September 12-14
James and the Giant Peach by Young Peformers Theater – San Francisco, September 12-28
Family Program at UC Botantical Garden – Berkeley, September 13
Insect Blitz – Half Moon Bay, September 13
Costumed Living History at SF Maritime Museum – San Fransico, September 13
MakeArt Workshop – San Francisco, September 13
Sunday Funday at Starmont Winery – St. Helena, September 14
Teddy Bear Tea at Oakland Zoo – Oakland, September 14
Kidchella Concert (Free) – Redwood City, September 14
Super Fun Sunday with Octopretzel at CJM – San Francisco, September 14
Antique Autos in History Park – San Jose, September 14
Marine Science Sunday (Free) – Sausalito, September 14, 21, 28
Sunday Streets (Free) – San Francisco, September 14 & 28
Free 3rd Fridays at East Bay Parks (Free) – Several Locations, September 19
Living Ship Day on the USS Hornet – Alameda, July 26
Junior Engineer Day at Golden Gate Model Railroaders (Free) – San Francisco, September 20
Market Days at the Exploratorium (Free) – San Francisco, September 20
Redwood City Salsa Festival (Free) – Redwood City, September 27
Autumn at Filoli – Woodside, September 27
JAMBand Family Festival (Free) – San Francisco, September 28
Hike the Headlands – Sausalito, September 28
Ivy + Bean The Musical – Berkeley, September 28-October 26
October 2014
Preschool Performance Series: EarthCapades – Danville, October 3
Family Program at UC Botantical Garden – Berkeley, October 5
Concert for Kids – Sausalito, October 11
Day of the Horse – Woodside, October 11
Zoppe Italian Family Circus – Redwood City, October 11-20
Sunday Funday at Starmont Winery – St. Helena, October 12
Founder's Day at the Exploratorium (Free) – San Francisco, October 12
Marine Science Sunday (Free) – Sausalito, October 12, 26
Free 3rd Fridays at East Bay Parks (Free) – Several Locations, October 17
Beauty and The Beast by Young Performers Theater – San Francisco, October 17-November 2
Market Days at the Exploratorium (Free) – San Francisco, October 18
Costumed Living History at SF Maritime Museum – San Fransico, October 18
Venetia Valley Fall Carnival – San Rafael, October 18
Sunday Streets (Free) – San Francisco, October 19
From Moo to You – Fremont, October 25
Wharf Fest (Free) – San Francisco, October 25
JAMBand Family Festival (Free) – San Francisco, October 26
November 2014
James and the Giant Peach – Berkeley, Mill Valley, San Francisco, November 6-Jauuary 4
Preschool Performance Series: Cowgirl Tricks – Danville, November 7
Family Program at UC Botantical Garden – Berkeley, November 8
Costumed Living History at SF Maritime Museum – San Fransico, November 8
Marine Science Sunday (Free) – Sausalito, November 9, 23
Junior Engineer Day at Golden Gate Model Railroaders (Free) – San Francisco, November 15
Free 3rd Fridays at East Bay Parks (Free) – Several Locations, November 21
December 2014
Preschool Performance Series: Dante the Magician – Danville, December 5
Mary Poppins the Musical – San Jose, December 5-14
Family Gala at CJM – San Francisco, December 6
Peter Pan by Young Performers Theater – San Francisco, December 6-22
Family Program at UC Botantical Garden – Berkeley, December 13
Costumed Living History at SF Maritime Museum – San Fransico, December 13
Marine Science Sunday (Free) – Sausalito, December 14, 28
Free 3rd Fridays at East Bay Parks (Free)- Several Locations, December 19
On-Going
Family Fun Night at Aran's Art Studio – Castro Valley, most Saturdays
Astronomy Shows at Fujitsu Planetarium – Cupertino, most Saturdays
Hidden Villa Weekend Farm Tours – Los Altos Hills, most weekends
Booksmart Art (Free) – Morgan Hill, 4th Saturdays
Community Game Night at Booksmart (Free) – Morgan Hill, 1st Mondays
Peralta Hacienda Family Fun Days (Free) – Oakland, 2nd Saturdays
Drop-in Science at Randall Museum – San Francisco, most Saturdays
Drop-in Art Making and Family Adventures at Contemporary Jewish Museum – San Francisco, most Sundays
Friday Night Jiggle Jam at Carmel Blue – San Francisco, most Fridays
Pixie Hall Studios Family Art Open Studio – San Francisco, Saturdays
San Francisco Zoo Children's Programs – San Francisco
Tree Frog Treks Kids Play Nights – San Francisco, Saturdays
Family Funday at SF Botanical Garden – San Francisco, 1st and 3rd Sunday
Childrens Activities at King Library (Free) – San Jose, Most Saturdays
Family Fun at Intel Museum (Free ) – Santa Clara, most Saturdays, Tuesdays and Thursdays
Hands on Science Classes at Intel Museum (Free) – Santa Clara, days vary
Lakeshore Learning Store Free Art Workshops (Free) – San Jose, San Leandro, Walnut Creek, most Saturdays
Marine Science Sundays (Free) – Sausalito, 2nd and 4th Sundays
Family Sundays at Cantor Arts Center (Free) – Stanford, most Sundays
Home Depot Kids Workshops (Free) – throughout Bay Area, 1st Saturdays
Lowes Build and Grow Workshops (Free) – throughout Bay Area, select Saturdays
Stroller Hikes – Bay Area