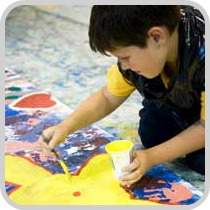 Below are fun upcoming events for kids and families in the San Francisco Bay Area. This list is updated daily so check back often.
Follow Bay Area Kid Fun on Facebook and Twitter for additional Bay Area highlights.
If you'd like to receive the Bay Area Kid Fun free Monthly Newsletter and Weekend Highlights, just enter your email address in the box below or send your request to jamie@bayareakidfun.com.

Ohlone Day Festival at Deer Hollow Farm ~ Cupertino, October 10
Step into the daily lives of the original Bay Area inhabitants, the Ohlone, who lived here for thousands of years. Our replica Ohlone village will be open to the public with demos and activities including archery, tool crafting and face painting. Recommended for ages 5-12 but all are welcome.
Global Cardboard Challenge at Children's Creativity Museum ~ San Francisco, October 10
Celebrate the imagination of kids around the world during the Global Cardboard Challenge at the Children's Creativity Museum in San Francisco. Be ready to think outside of the box with cardboard boxes! This annual day of play aims to foster creativity in kids. Saturday, October 10, 2015 | 10:00am to 4:00pm. Visit www.creativity.org/cardboardchallenge for more details. This event made possible thanks to the support of Lonely Planet Kids.
Chitty Chitty Bang Bang performed by Bay Area Children's Theatre ~ San Francisco & Berkeley, October 10-December 13
The beloved story about the adventures of the Potts family and their miraculous flying car comes to the stage in a special, musical version for young audiences. Sing along as Jeremy and Jemima take on the Vulgarians, who want Chitty Chitty Bang Bang for the Baron's birthday. Recommended for ages 4 and up.
Saturday Night Astronomy Shows at Fujitsu Planetarium ~ Cupertino, most Saturdays
Learn about space and science on Saturday evenings at the Fujitsu Planetarium on the De Anza College campus. Family shows include Secret of the Cardboard Rocket (K-1st), Magic Treehouse: Space Mission (K-2nd), This is Our Sky (K-3rd), The Moon (1st-3rd) and ExoPlanet Adventure (3rd-6th).
New South American Tropical Rainforest & Aviary ~ San Francisco, Ongoing
The new South American Tropical Rainforest and Aviary building at the San Francisco Zoo is now open. The renovated Aviary features a realistic rainforest ecosystem, full of colorful free-flight birds, exotic plants and trees, a charming two-toed sloth, and the Zoo's first significant herpetological collection—which will include a 15-foot long green anaconda as well as rare tree frogs, turtles, lizards, and snakes.
Goblin Jamboree at Bay Area Discovery Museum – Sausalito, October 17 & 18
You're in for a treat… and maybe a trick or two at the Bay Area Discovery Museum's Goblin Jamboree Family Fundraiser. Come in costume to the spooky-but-not-scary Halloween wonderland. Saturday and Sunday, October 17 and 18 from 10 a.m. to 4 p.m. Concoct potions, dissect jack-o-lanterns and get lost in a kid-sized hay maze. Don't miss the pony rides, petting zoo, games and live entertainment. Skip the lines and pre-buy your tickets at BayKidsMuseum.org/goblin.
Family Fun Day at the Asian Art Museum ~ San Francisco, October 18
Explore art and ideas through immersive storytelling, fun gallery activities, creative art making and more during the Asian Art Museum's Family Fun Day. Discover and play as a family! Themes and projects change regularly so visit www.asianart.org/family for more details.
October (also see Halloween Fun)
Ocean Play and Learn at Sea Lion Center (Free) – San Francisco, October 2 – November 13
Charlotte's Web by Masquers Playhouse – Point Richmond, October 2-11
Rock n' Roll Cinderella by New Conservatory Theatre – San Francisco, October 3-18
Family Concert at Recess Urban Recreation – San Francisco, October 6
USS Hornet Family Live Aboard Experience – Alameda, October 9
Sing-Along Cinema at Jack London Square: Hairspray – Oakland, October 9
Zoppe Italian Family Circus – Redwood City, October 9-23
Family Open House at Berkeley Freight & Salvage – Berkeley, October 10
Ohlone Day Festival at Deer Hollow Farm – Cupertino, October 10
Family Fiesta at Hacienda Peralta – Oakland, October 10
Movie in the Plaza (Free) – Oakley, October 10
Yerba Buena Night (Free) – San Francisco, October 10
BaySplash at Heron's Head Park (Free) – San Francisco, October 10
History for Half Pints (Free) – San Francisco, October 10
Lagunitas Fall Music Festival – San Geronimo, October 10
Feed the Animals at Emma Prusch Park – San Jose, October 10
National Chemistry Week Kick-Off (Free) – San Jose, October 10
Very First Concerts by SF Chamber Orchestra (Free) – San Mateo, October 10
Mom's Fit & Well – Sunnyvale, October 10
Woodside Day of the Horse – Woodside, October 10
Botanical Art for Children at Filoli – Woodside, October 10
Harvest Festival at Ardenwood – Fremont, October 10 & 11
Cinderella by Arizona Puppet Theater – Mill Valley, October 10 & 11
Peter Rabbit by CTC – Sunnyvale, October 10 & 17
Monte Foundation Fireworks (Free) – Capitola, October 11
Family Bird Walk – Fremont, October 11
Family Day at Sienna Ranch – Lafayette, October 11
Preschool Super Fun Sunday Musical Jamboree – San Francisco, October 11
Free Admission Day at the Exploratorium (Free) – San Francisco, October 11
Viva Calle Open Streets (Free) – San Jose, October 11
Community Open House at Lindsay Wildlife Experience (Free) – Walnut Creek, October 11
Family Sundays at Cantor Arts Center (Free) – Stanford, October 11, 18, 25
Marine Science Sunday (Free) – Sausalito, October 11 & 25
BrainVyne Fall Break LEGO Camps – Belmont, October 12-23
Nature for Kids at Mt. Burdell – Novato, October 14
The Magic of Merlin by Fantasy Forum – Walnut Creek, October 15-17
Movies in the Park: Wizard of Oz – Mill Valley, October 16
Zoovie Night at Oakland Zoo – Oakland, October 16
Movies in the Park (Free) – Oakland, October 16
Penguins & Pajamas Sleepover at Cal Academy – San Francisco, October 16
Flashlight Safari at Happy Hollow – San Jose, October 16
Walnut Creek Model Railroad Show – Walnut Creek, October 16
Pinocchio by Actors Theater for Children – Santa Rosa, October 16-25
The Lion, the Witch and the Wardrobe by Los Altos Youth Theater – Los Altos, October 16-November 1
Bay Area Diwali Festival – Cupertino, October 17
Apple Cider Pressing at Ardenwood – Fremont, October 17
Monster Goose by PYT – Mountain View, October 17
Harvest Celebration at Slide Ranch – Muir Beach, October 17
Very First Concerts by SF Chamber Orchestra (Free) – Oakland & San Francisco, October 17
Opera for Families – Palo Alto, October 17
Richmond Fall Fest (Free) – Richmond, October 17
MakeArt Workshop at Museum of Craft and Design – San Francisco, October 17
Birds of the Bay – San Francisco, October 17
Alum Rock Campfire – San Jose, October 17
Venetia Valley Fall Carnival – San Rafael, October 17
Octoberfest at Forest Home Farm – San Ramon, October 17
Family Fun with Flowers at Filoli – Woodside, October 17
Little Red Riding Hood by Palo Alto Children's Theater – Palo Alto, October 17-18
Climb Aboard Weekend at the Pacific Coast Air Museum – Santa Rosa, October 17-18
Sail the Bay on a Historic Schooner – San Francisco, October 17 & 24
Chitty Chitty Bang Bang – San Francisco & Berkeley, October 17-December 13
Very First Concerts by SF Chamber Orchestra (Free) – Berkeley, October 18
Shortest Triathlon Ever – Emeryville, October 18
East Bay Mini Maker Faire – Oakland, October 18
Ice Cream Tour – Oakland, October 18
Storytime and Garden Walk – San Francisco, October 18
Sunday Streets (Free) – San Francisco, October 18
Fairytale Princess Party – Pleasant Hill, October 21
Port of Oakland Harbor Tour (Free) – Oakland, October 23
Flashlight Safari at Happy Hollow – San Jose, October 23
Seals & Slippers Sleepover at The Marine Mammal Center – Sausalito, October 23
Hound of the Baskervilles by YPT – San Francisco, October 23-November 8
Harvest Festival (Free) – Cupertino, October 24
MakeArt Workshop (Free) – San Francisco, October 24
Wharf Fest – San Francisco, October 24
SF Jazz Family Matinee – San Francisco, October 24
Community Day at the San Jose Museum of Art – San Jose, October 24
Almaden Harvest Festival – San Jose, October 24
Family Night Hike & Campfire – Sausalito, October 24
Dia de los Muertos at CDM – San Jose, October 24-25
Cinderella by CTC – Sunnyvale, October 24, 31 & November 7
Old Timey Hootenanny – Sunol, October 24
Family Sleepover at The Tech – San Jose, October 24-25
The Hound of the Baskervilles by YPT – San Francisco, October 24-November 8
Turning Heritage Corn into Tortillas – Berkeley, October 25
Days of the Dead Celebration at OMCA – Oakland, October 25
Super Family Sunday at Junior Museum and Zoo (Free) – Palo Alto, October 25
Cartoon Jazz Family Concert – Palo Alto, October 25
JAMBand Family Festival – San Francisco, October 25
Banana Slug Parade & Expo (Free) – Santa Cruz, October 25
Mini Monday at Lindsay Wildlife Experience – Walnut Creek, October 26
Family Art Day at Triton Museum (Free) – Santa Clara, October 29
Peter Pan by Berkeley Playhouse – Berkeley, October 29-December 6
Flashlight Safari at Happy Hollow – San Jose, October 30
Celebration of Mind Math Day – Berkeley, October 31
Toddler Day at Slide Ranch – Muir Beach, October 31
See next month's events…