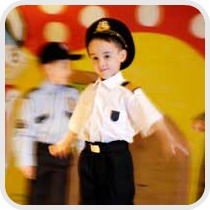 Below are fun upcoming events for kids and families in the San Francisco Bay Area. This list is updated daily so check back often.
Follow Bay Area Kid Fun on Facebook for additional Bay Area highlights.
If you'd like to receive the Bay Area Kid Fun free Monthly Newsletter and Weekend Highlights, just enter your email address in the box to the left or send your request to jamie@bayareakidfun.com.
Saturday Night Astronomy Shows at Fujitsu Planetarium ~ Cupertino, most Saturdays through April 29
Learn about space and science on Saturday evenings at the Fujitsu Planetarium on the De Anza College campus. Family shows include Secret of the Cardboard Rocket, The Little Star that Could, Magic Treehouse: Space Mission, We Are Stars, This is Our Sky, and Extreme Planets.
FREE Soccer Classes for ages 1 to 7 ~ San Francisco, March 22 & 25, April 4
For over 16 years Super Soccer Stars has offered classes & camps to improve soccer skills, develop self-confidence, improve gross motor skills, and hone socialization skills in a fun, non-competitive, educational environment. Come see what 16years of experience and the lowest child-to-coach ratios in CA can provide for your child's development at one of our FREE upcoming demo classes! Richmond District Neighborhood Center on Wednesday, March 22nd, Lycee Francais De San Francisco (Sunset District) on Saturday, March 25th, Sherith Israel (Pacific Heights) on Tuesday, April 4th and Mission Creek Park (Mission Bay) on Tuesday, April 4th. Register online or call 415-233-8277 to enroll!
Fly Guy by Bay Area Children's Theatre ~ Berkeley, San Ramon, San Francisco, April 8 – June 11
A fly for a pet? Flies are pests, not pets, right? Well, young Buzz and his new friend, Liz, know otherwise, and their adventures with their winged pets have the whole town, umm, buzzing! This rollicking musical will have you cheering for the bugs and delighting in their antics, as their caring friendships help them overcome all the challenges they face. A co-commission with Oregon Children's Theatre. Recommended for age 4 and up.
March
Madagascar Jr Family Theater – Pleasanton, March 17-26
Presidio Picnic – San Francisco, March 19 – October 8
Madagascar by Danville Children's Musical Theatre – Danville, March 23-April 1
Raggedy Ann & Andy by Peninsula Youth Theatre – Mountain View, March 24-25
Boardwalk Spring Overnight – Santa Cruz, March 24-25
Budding Birders at Coyote Hills – Fremont, March 25
Feast for the Beasts at Oakland Zoo – Oakland, March 25
HealthFest – San Francisco, March 25
Family+Lifestyle Expo – Vallejo, March 25
Rumpelstiltskin by Palo Alto Children's Theatre – Palo Alto, March 25, 26
Afternoon Art at Mission Art – San Francisco, March 25
Free Family Programs at Forest Home Farms Historic Park (Free) – San Ramon, March 25
The Ugly Duckling by California Theatre Center – Sunnyvale, March 25 & April 1
Sunday Sampler at Berkeley Rep (Free) – Berkeley, March 26
Farm Tours at Hidden Villa – Los Altos Hills, March 26
That's Our Snow White! by East Bay Children's Theatre – Pittsburg, March 26
Family Dance Class at ODC – San Francisco, March 26
Marine Science Sunday at The Marine Mammal Center – Sausalito, March 26
April
Family Fun Day at Peninsula Museum of Art – Burlingame, April 1
Coyote Hills Meander Hike – Fremont, April 1
Tartan Day Scottish Fair – Fremont, April 1
Cambodian New Year at Peralta Hacienda – Oakland, April 1
That's Our Snow White! by East Bay Children's Theatre – Pleasanton, April 1
Family Concert with SF Chamber Orchestra – San Francisco, April 1
Penguins & Pajamas Sleepover at Cal Academy – San Francisco, April 1
STEM Superheroes at BADM – Sausalito, April 1
Harry Potter and the Chamber of Secrets in Concert by Symphony Silicon Valley – San Jose, April 1 & 2
Free Family Programs at Forest Home Farms Historic Park (Free) – San Ramon, April 1, 8, 15, 22 & 29
Guide Dogs for the Blind Graduation – San Rafael, April 1, 15, 29
Little Farm Sing Along – Berkeley, April 2
Family Program at Green Gulch – Muir Beach, April 2
Family Concert with SF Chamber Orchestra – Oakland & San Mateo, April 2
Rainbow Fest – Pacifica, April 2
Kanbar Kids Colors of India – San Rafael, April 2
Public Safety Day at BADM – Sausalito, April 5
$5 Friday at Chabot Space and Science Center – Oakland, April 7
Free First Friday at Santa Cruz Museum of Art and History – Santa Cruz, April 7
Family Camp Weekends at Point Bonita – Sausalito, April 7-9
Spring Farm Tours at Deer Hollow – Cupertino, April 8
Family Bird Walk – Fremont, April 8
Sheep Shearing Day at Hidden Villa – Los Altos Hills, April 8
Opera in an Hour Family Movie Festival – San Francisco, April 8
San Jose Fantasy Faire – San Jose, April 8 & 9
Northern California Cherry Blossom Festival – San Francisco, April 8, 9, 16, 16
The Bremen Town Musicians by California Theatre Center – Sunnyvale, April 8, 15
Zoo Kids at Oakland Zoo – Oakland, April 8 & 22
Fly Guy by Bay Area Children's Theater – Berkeley & San Francisco, April 8 – June 11
Passover Celebration for Families – Albany, April 9
Leaping Lizards – Fremont, April 9
CJM Family Day – San Francisco, April 9
Spring Wildflower Festival – Sunol, April 9
Marine Science Sunday at The Marine Mammal Center – Sausalito, April 9 & 23
Preschool Performance Series – Danville, April 14
Zoovie Night at Oakland Zoo – Oakland, April 14
My Little Pony Fan Convention – Burlingame, April 14-16
Family Overnight on the USS Hornet – Alameda, April 14 & 28
The Itsy Bitsy Spider – Fremont, April 15
Family Fun Spring Day – Orinda, April 15
SF Jazz Family Matinee – San Francisco, April 15
Open Cockpit Day at Pacific Coast Air Museum – Santa Rosa, April 15
The Nature Puppet Show – Berkeley, April 16
Free Sprouts Family Day – Berkeley, April 16
Up in the Mountains by San Francisco Opera – San Francisco, April 19-23
Cal Day (Free) – Berkeley, April 22
Free Outdoor Movie Night at Lake Chabot – Castro Valley, April 22
Curious Caterpillars – Fremont, April 22
Earth Day Festival – San Francisco, April 22
Family Night Hike & Campfire – Sausalito, April 22
Little Red Riding Hood by Palo Alto Children's Theatre – Palo Alto, April 22, 23
The Princess and the Pea by California Theatre Center – Sunnyvale, April 22, 29
Paper Airplane Champion at the USS Hornet – Alameda, April 23
Little Farm Sing Along – Berkeley, April 23
Big Buzz About Bees – Los Alto Hills, April 23
Annual Wildlife Festival at Wagner Ranch – Orinda, April 23
Family Fun Day – Palo Alto, April 23
Full Spectrum Science at the Exploratorium – San Francisco, April 23
Junie B's Essential Survival Guide to School by Theatreworks – Walnut Creek, April 27
Animal Movie Night at SF SPCA – San Francisco, April 28
Paul Taylor Dance Company Family Matinee – San Francisco, April 29
Family Dance Class at ODC – San Francisco, April 30
See next month's events…