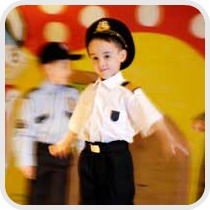 Below are fun upcoming events for kids and families in the San Francisco Bay Area. This list is updated daily so check back often.
Follow Bay Area Kid Fun on Facebook and Twitter for additional Bay Area highlights.
If you'd like to receive the Bay Area Kid Fun free Monthly Newsletter and Weekend Highlights, just enter your email address in the box to the left or send your request to jamie@bayareakidfun.com.
Fancy Nancy Splendiferous Christmas ~ Berkeley, November 26 – December 29
What could be fancier than Christmas? Presents with elegant wrapping paper, festive decorations, Christmas cookies with sprinkles – and who could forget the tree? This year, Nancy bought a brand-new sparkly tree topper with her own money and can't wait to decorate the Christmas tree. But when things don't turn out the way Nancy planned, will Christmas still be splendiferous? Recommended for age 4 and up.
Saturday Night Astronomy Shows at Fujitsu Planetarium ~ Cupertino, Saturdays, October 1 – December 17
Learn about space and science on Saturday evenings at the Fujitsu Planetarium on the De Anza College campus. Family shows include Secret of the Cardboard Rocket, The Little Star that Could, Magic Treehouse: Space Mission, We Are Stars, This is Our Sky, and Extreme Planets.
San Francisco Youth Ballet Presents The 16th Annual Performance of The Nutcracker ~ San Francisco, December 3 & 4
This magical, full-length version of The Nutcracker features Bay Area guest artists and the wonderful talents from the San Francisco Youth Ballet Academy. The dance tells the story of young Clara, who dreams that her gift of a toy nutcracker soldier comes to life. This 2-hour production is geared toward families and is a perfect opportunity to introduce young children to this holiday ballet tradition. As always, there will be photo opportunities with different characters after all performances. Tickets $24 in advance. Buy your tickets early!
The Art in Science ~ Fremont CA, New Session Starts December 6
New and unique 10-class series developed to enrich kids (ages 6-12) in science and art. Various science topics will be explained and a hands-on artistic experiment will be performed in each class. Fun and encouraging environment! No previous skills are required. Morning (for homeschoolers) and afternoon classes offered.
River Otter Snow Days at Aquarium of the Bay ~ San Francisco, Wednesdays, December 7–28
The otterly best holiday outing is to Aquarium of the Bay, where 20,000 aquatic animals are waiting to greet you with fishy festivities and underwater cheer. Each Wednesday throughout December we'll add over 1,000 pounds of snow to our river otter habitat. Experience the merriment as Shasta, Baxter, and Ryer play, eat, and dig around in this exciting addition of winter white. Plus, from December 21-28, they'll enjoy treat stuffed stockings, gift-wrapped toys, and more.
The Amazing Bubble Show at Rhythmix ~ Alameda, December 11
The Amazing Bubble Man has been thrilling audiences around the world with the art, magic, science and fun of bubbles. From square bubbles to fog-filled bubbles or people inside bubbles, the Amazing Bubble Man conjures shrieks of laughter and gasps of amazement from all ages. Live bubbly accordion music will double your pleasure. Two shows 11am & 1pm on Sunday, December 11. "Greatest bubble show on Earth." – SFGate.com
Holiday Basketball Camp ~ Mountain View, December 26-30
Learn valuable skills from MVHS basketball coaches and alumni in this half-day camp. Shooting, ball-handling, and defense will be among the skills covered in a high-energy, fast-paced environment. This is a great opportunity to tune-up prior to the winter youth basketball leagues. The camp takes place from December 26-30, 2016 from 9 am – 12 pm at Mountain View High School. Registration is open to girls and boys in grades 3 – 8. Sign up today!
Wheels on the Bus by Bay Area Children's Theatre ~ Oakland, January 27 – April 9
Bay Area Children's Theatre & Children's Fairyland present our newest Theatre for the Very Young production: WHEELS ON THE BUS! Climb aboard our imaginary bus for an exciting, interactive journey that examines all manner of things that go round and round. Look out the windows. What do you see? Pinwheels! Ferris wheels! Windmills! There's more to explore, as we go all around the town!
December (also see Holiday Fun)
Beauty and the Beast by Berkeley Playhouse – Berkeley, November 10 – December 23
The Lion, the Witch, and the Wardrobe by Palo Alto Children's Theater – Palo Alto, December 1-18
$5 Friday at Chabot Space and Science Center – Oakland, December 2
Free First Friday at San Mateo County History Museum (Free) – Redwood City, December 2
Family Happy Hour at Small Talk Café – Walnut Creek, December 2
Friday Nights at OMCA – Oakland, December 2, 9, 16
Enchanted Winter Faire – Berkeley, December 3
Family Gala at CJM – San Francisco, December 3
Family Day at Forest Home Farms – San Ramon, December 3
Kids Workshop at Home Depot (Free) – Bay Area-wide, December 3
The Snow Queen by Marin Theatre Company – Mill Valley, December 3-4
First Sunday at OMCA (Free) – Oakland, December 4
Bilingual Music Circle for Kids at La Pena – Berkeley, December 4, 11 & 18
Sunday Seaside Crafts at Seymour Marine Discovery Center – Santa Cruz, December 4, 11, 18
Family Sunday at Cantor Arts Center (Free) – Stanford, December 4, 11, 18
Family Happy Hour at Small Talk Café – Walnut Creek, December 9
Family Camp Weekends at Point Bonita – Sausalito, December 9-11
Your Song My Song at Freight & Salvage – Berkeley, December 10
Holiday Nature Crafts – Berkeley, December 10
Zoovie Night at Oakland Zoo – Oakland, December 10
Noe Valley Chamber Music Classic Kids Concert – San Francisco, December 10
Los Angeles Guitar Quartet Family Matinee – San Francisco, December 10
Guide Dogs for the Blind Graduation Ceremony (Free) – San Rafael, December 10
Family Night Hike and Campfire – Sausalito, December 10
San Leandro Historical Railroad Society Open House – San Leandro, December 10-11
The Amazing Bubble Show – Alameda, December 11
Super Fun Sunday at CJM – San Francisco, December 11
Marine Science Sunday at The Marine Mammal Center – Sausalito, December 11
SF Jazz Family Matinee – San Francisco, December 12
Barn Dance at Emma Prusch Farm – San Jose, December 14
Free Admission Day at Habitot (Free) – Berkeley, December 17
Parents Night Off at Oakland Zoo – Oakland, December 17
Family Night at the Museum – San Jose, December 17
Jelly Jam Time at Bay Area Discovery Museum – Sausalito, December 17
The Gingerbread Boy by Palo Alto Children's Theatre – Palo Alto, December 17-18
Community Free Day at CJM (Free) – San Francisco, December 25
Sound of Music Sing Along – San Francisco, December 26-January 1
See next month's events…