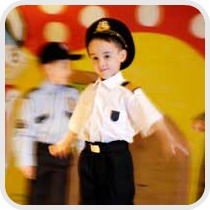 Below are fun upcoming events for kids and families in the San Francisco Bay Area. This list is updated daily so check back often.
Follow Bay Area Kid Fun on Facebook for additional Bay Area highlights.
If you'd like to receive the Bay Area Kid Fun free Monthly Newsletter and Weekend Highlights, just enter your email address in the box to the left or send your request to jamie@bayareakidfun.com.
Fly Guy by Bay Area Children's Theatre ~ Berkeley, San Ramon, San Francisco, April 8 – June 11
A fly for a pet? Flies are pests, not pets, right? Well, young Buzz and his new friend, Liz, know otherwise, and their adventures with their winged pets have the whole town, umm, buzzing! This rollicking musical will have you cheering for the bugs and delighting in their antics, as their caring friendships help them overcome all the challenges they face. A co-commission with Oregon Children's Theatre. Recommended for age 4 and up.
Saturday Night Astronomy Shows at Fujitsu Planetarium ~ Cupertino, most Saturdays through April 29
Learn about space and science on Saturday evenings at the Fujitsu Planetarium on the De Anza College campus. Family shows include Secret of the Cardboard Rocket, The Little Star that Could, Magic Treehouse: Space Mission, We Are Stars, This is Our Sky, and Extreme Planets.
The Little Mermaid by San Francisco Youth Ballet Academy ~ San Francisco, May 27 & 28
Story based on the Hans Christensen Anderson Fairy Tale. The Little Mermaid lives far out to sea with her older sisters. When the Little Mermaid becomes of age to visit the surface the whole sea kingdom has a party and the Mermaid sings with the most intoxicating voice in all of the oceans. After her grand party she swims to the surface where she sees the handsome Sailor Prince and saves him from a shipwreck. Love and loss ensue with a beautiful ending. Mercy High School Theater 3250 19th Ave., San Francisco on Saturday, May 27 and Sunday, May 28 at 1 pm.
April
Junie B's Essential Survival Guide to School by Theatreworks – Walnut Creek, April 27
Family Overnight on the USS Hornet – Alameda, April 28
Animal Movie Night at SF SPCA – San Francisco, April 28
Danville Livery Birthday Bash (Free) – Danville, April 29
Paul Taylor Dance Company Family Matinee – San Francisco, April 29
How Andy Found his Voice by SF Opera – San Francisco, April 29
Guide Dogs for the Blind Graduation – San Rafael, April 29
Free Family Programs at Forest Home Farms Historic Park (Free) – San Ramon, April 29
The Princess and the Pea by California Theatre Center – Sunnyvale, April 29
Pacific Coast Dream Machines – Half Moon Bay, April 30
Family Dance Class at ODC – San Francisco, April 30
Sunday Streets (Free) – San Francisco, April 30
Extraordinary Playscapes – San Francisco, April 8 – July 6
May
Once on this Island by Children's Musical Theatre – San Jose, May 4-7
Willie Wonka Jr by Palo Alto Children's Theater – Palo Alto, May 4-21
Preschool Performance Series – Danville, May 5
$5 Friday at Chabot Space and Science Center – Oakland, May 5
Officer Buckle and Gloria by Peninsula Youth Theatre – Mountain View, May 5-6
Beauty and the Beast by Playful People – San Jose, May 5-14
Penguins & Pajamas Sleepover at Cal Academy – San Francisco, May 5
Animal Movie Night at SF SPCA – San Francisco, May 5
Family Camp Weekends at Point Bonita – Sausalito, May 5-7
Family Fun Day at Peninsula Museum of Art – Burlingame, May 6
Spring Farm Tours at Deer Hollow – Cupertino, May 6
Family Bird Walk – Fremont, May 6
Children's Day Festival in Japantown – San Francisco, May 6
Aria Festival – San Francisco, May 6
Community Day at Curiodyssey (Free) – San Mateo, May 6
STEM Superheroes at BADM – Sausalito, May 6
Free Sprouts Family Day – Berkeley, May 7
Japanese Cultural Day at Hidden Villa – Los Altos Hills, May 7
Family Program at Green Gulch – Muir Beach, May 7
Italian Festival – Palo Alto, May 7
Silicon Valley Bikes Festival – San Jose, May 7
Straight Outta Oz – Berkeley, May 9
Snow White and the Seven Dwarfs by Fantasy Forum – Walnut Creek, May 11-14
Mothers Day at the Refuge – Alviso, May 13
Clown Snot Bombs at Freight & Salvage – Berkeley, May 13
Zoovie Night at Oakland Zoo – Oakland, May 13
Almost Mothers Day Kids Concert (Free) – Redwood City, May 13
Family Arts Day (Free) – San Francisco, May 13
Color Fun Fest – San Jose, May 13
Family Gala at Bay Area Discovery Museum – Sausalito, May 13
Family Night Hike & Campfire – Sausalito, May 13
Zoo Kids at Oakland Zoo – Oakland, May 13 & 20
Cinderella by Peninsula Youth Theatre – Mountain View, May 13-21
Mother's Day at the Exploratorium (Free) – May 14
Marine Science Sunday at The Marine Mammal Center – Sausalito, May 14 & 28
DLUX Puppets Alice in Wonderland – Walnut Creek, May 19
Touch A Truck – Castro Valley, May 20
Wing Ding Family Fest – Los Gatos, May 20
150th Anniversary Festival with Touch a Truck, Crafts and Pioneer Camp – Redwood City, May 20
Open Cockpit Day at Pacific Coast Air Museum – Santa Rosa, May 20
Sleeping Beauty by Palo Alto Children's Theatre – Palo Alto, May 20, 21
Model Railroad Show – Walnut Creek, May 20, 21
Full Spectrum Science at the Exploratorium – San Francisco, May 23
SF Jazz Family Matinee – San Francisco, May 27
Guide Dogs for the Blind Graduation – San Rafael, May 27
See next month's events…