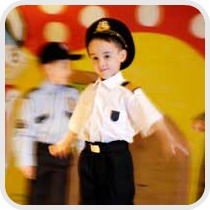 Below are fun upcoming events for kids and families in the San Francisco Bay Area. This list is updated daily so check back often.
Follow Bay Area Kid Fun on Facebook for additional Bay Area highlights.
If you'd like to receive the Bay Area Kid Fun free Monthly Newsletter and Weekend Highlights, just enter your email address in the box to the left or send your request to jamie@bayareakidfun.com.
SWOOP! Drone Racing and Raptors in Flight ~ San Mateo, February 9-19
See drones dodge and dart at dizzying speeds as they race through CuriOdyssey's cavernous Redwood Hall. Talk with experienced drone pilots about aeronautical exploits. Watch raptors soar through the sky and perform daring feats with Falconer, Kenny Elvin. Meet CuriOdyssey's raptors up close and learn the science of their flight. February 17–19, 10am-4pm. Info and tickets.
Beautiful Oops! performed by Bay Area Children's Theatre ~ Berkeley & San Francisco, January 19-March 31
"A torn piece of paper is just the beginning" in Beautiful Oops!, Bay Area Children's Theatre's original, immersive musical theatre experience in which audience members are invited to help the actors turn accidents into creative successes. Inspired by Barney Saltzberg's imaginative book. Join us starting January 19th at BACT Berkeley Center for the world premiere of this colorful and imaginative musical performed by professional adult actors. Recommended for ages 3 and up.
Alice in Wonderland performed by Children's Theatre Association of San Francisco ~ San Francisco, February 3 – March 3
Children's Theatre Association of San Francisco is pleased to present a child's version of Alice in Wonderland. This wonderful, whimsical musical tale of Alice falling down the rabbit hole is appropriate for kids of all ages—but aimed at 3 to 9 years old. The show runs under one hour on Saturdays — February 3, 10, 24 and March 3 at both 10:30am and 1:00pm at the Cowell Theatre in Fort Mason in San Francisco. Tickets are available at www.ctasf.org and are $15 for children and $18 for adults.
Children Discovery Museum's February Events ~ San Jose, February 17-23
Lunar New Year Celebration on February 17 and 18. Celebrate the year of the dog with lively music, colorful dances, culturally-rich art activities, and furry friends. The fun continues during the winter break February 19-23 with Kids Like to Move It! Enjoy a week full of fun activities that will get you moving, dancing and challenging yourself to learn new skills! www.cdm.org.
Celebrate Chinese New Year at the Bay Area Discovery Museum ~ Sausalito, February 19
Celebrate the vibrant traditions of the Chinese New Year with a full schedule of family-friendly programming and performances at the Bay Area Discovery Museum. Children can experience the magic of lion dancers, witness a martial arts demonstration, make their own lantern in BADM's high-tech Fab Lab, and much more! This annual event is presented in partnership with the Marin Chinese Cultural Association. For the full schedule of events, visit BayAreaDiscoveryMuseum.org/cny.
First Friday Family Nights at Curiodyssey ~ San Mateo, March 2
Swing into the weekend with music, science, food and fun! On the first Friday of every month, from 5 p.m. until 8 p.m., parents and kids celebrate together at CuriOdyssey. Dance to live music and enjoy a cash bar while the kids play with seriously fun science exhibits. Dinner can be purchased onsite. Come together as a family, meet here, or visit early and stay late. First Friday Family Night admission is free for members and included with admission to CuriOdyssey. First Friday of Every Month: Mar 2, May 4, Jun 1, Jul 6, Aug 3, Sep 7.
Two Day Youth Acting Workshop ~ San Jose, March 12-15
The South Bay Children's Musical Theater teach the basics of acting and theater in this fun and exciting two day workshop in San Jose! This course covers improvisation, projection, dialects, character creation and audition tips, and is meant to build confidence with public speaking and other performance skills. The workshop will conclude with a showcase performance for family members at the Hoover Theater in San Jose. Grades 1st-5th, March 12th & 13th. Grades 6th-8th, March 14th & 15th. Space is limited.
Judy Moody & Stink: The Mad, Mad, Mad, Mad Treasure Hunt ~ Berkeley & San Francisco, March 16 – May 27
Ahoy! Join the race as Judy and Stink follow clues in their quest for doubloons and a trip on a pirate ship. Your family will love this world-premiere play from Bay Area Children's Theatre based on the books by Megan McDonald and performed by a professional adult cast. Showing at the BACT Berkeley Center from March 16th through April 29th, and the San Francisco Children's Creativity Museum Theater from May 4th through May 27th.
February
Old MacDonald: Beyond the Farm – Berkeley, through March 18
Teddy Bear's Picnic – San Francisco, January 26 – March 11
Alice in Wonderland by Children's Theatre Association – San Francisco, February 3 – March 3
Lunar New Year Celebration – San Jose, February 17 & 18
Great Backyard Bird Count – Pleasanton, February 18
Lunar New Year Celebration at the Asian Art Museum – San Francisco, February 18
Storytime and Garden Walk – San Francisco, February 18
Quilt and Textile Museum Community Open House – San Jose, February 18
Slumber with the Stars – Oakland, February 18-19
Raptor Rally at Lindsay Wildlife Experience – Walnut Creek, February 19
Friday Nights at OMCA – Oakland, February 23
The Marshmallow Incident by Playful People – San Jose, February 23-25
We All Scream for Ice Cream – Fremont, February 24
Lunar New Year Celebration – San Mateo, February 24
Family Jazz Matinee – San Francisco, February 24
Give Kids a Smile Dental Fair – San Francisco, February 24
Movie Night at the Rabbit Hole – San Francisco, February 24
Stupendous Snakes – Sunol, February 24
Family Day at Forest Home Farm – San Ramon, February 24
Family Hike and Campfire – Sausalito, February 24
Playdate for the Imagination – Oakland, February 24 & 25
The Ugly Duckling by Palo Alto Children's Theatre – Palo Alto, February 24 & 25
Lunar New Year Celebration at SF Zoo – San Francisco, February 24 & 25
Lunar New Year Celebration at OMCA – Oakland, February 25
Bob Kann Juggling Magician – Mill Valley, February 25
Purim Palooza – San Rafael, February 25
Marine Science Sunday – Sausalito, February 25
Adventures in Music – Stanford, February 27
Anima Allegra – Palo Alto, February 28
March (also see Easter Fun)
Preschool Performance Series – Danville, March 2
$5 First Friday at Chabot Space and Science Center – Oakland, March 2
Friday Family Night at Curiodyssey – San Mateo, March 2
Salamander Saturday – Davenport, March 3
Catalyst Quartet Family Matinee – San Francisco, March 3
Family Lunada – San Jose, March 3
Science Saturday at Spring Lake Park – Santa Rosa, March 3
Family Day at Forest Home Farms – San Ramon, March 3, 10, 17, 24
Bay Area Quiz Club Annual Quiz Festival – Santa Clara, March 3 & 4
It Must Be Pinocchio by East Bay Children's Theatre – Pleasanton, March 4
Monkey See Monkey Do Family Friendly Improv – San Ramon, March 4
Purim Carnival – Saratoga, March 4
Family Day at Green Gulch – Sausalito, March 4
Storytime and Garden Walk – San Francisco, March 4 & 18
Sleeping Beauty by Fantasy Forum – Walnut Creek, March 8-11
Jangala by Oakland Ballet – Oakland, March 10
Summer Resource Fair – San Francisco, March 10
Mission Youth Arts Festival – San Francisco, March 10
Company Wayne McGregor Family Matinee – San Francisco, March 10
2nd Saturday on the Farm – Watsonville, March 10
Zoo Kids at Oakland Zoo – Oakland, March 10 & 17
Marine Science Sunday – Sausalito, March 11 & 25
Jangala by Oakland Ballet – Castro Valley, March 13
Pi Day at the Exploratorium – San Francisco, March 14
Zoovie Night at Oakland Zoo – Oakland, March 16
Jangala by Oakland Ballet – San Leandro, March 16
The Music Man – Pleasanton, March 16-25
Shamrock Day at Habitot – Berkeley, March 17
Magical Mini Moss Gardens – Berkeley, March 17
St. Patrick's Day Parade – San Francisco, March 17
Lift Every Voice – San Francisco, March 17
Family Hike and Campfire – Sausalito, March 17
Lift Every Voice – Oakland and Burlingame, March 18
It Must Be Pinocchio by East Bay Children's Theatre – Orinda, March 18
Family Cooking Class – Palo Alto, March 18
Family Art Bash Sunday at CJM – San Francisco, March 18
A Midsummer Night's Dream with Marin Shakespeare Company – San Rafael, March 18
Community Day at Curiodyssey – San Mateo, March 20
California Wildlife Day at Lindsay Wildlife Experience – Walnut Creek, March 20
Living with Wolves at Oakland Zoo – Oakland, March 22
Ganesha's Sweet Tooth by Peninsula Youth Theatre – Mountain View, March 22-23
Boardwalk Spring Overnight – Santa Cruz, March 23-24
St Patrick's Day Arts & Crafts – San Bruno, March 24
Family Jazz Matinee – San Francisco, March 24
Daniel Tiger's Neighborhood – San Francisco, March 24
Monkey Madness at Lindsay Wildlife Experience – Walnut Creek, March 24
The Three Little Pigs by Palo Alto Children's Theatre – Palo Alto, March 24 & 25
Sunday Sampler at Berkeley Rep – Berkeley, March 25
Timothy James Magician – Mill Valley, March 25
Daniel Tiger's Neighborhood – San Jose, March 25
Bring on the Birds at Lindsay Wildlife Experience – Walnut Creek, March 26
Feast for the Beasts – Oakland, March 31
Movie Night at the Rabbit Hole – San Francisco, March 31
It Must Be Pinocchio by East Bay Children's Theatre – Walnut Creek, March 31
See next month's events…