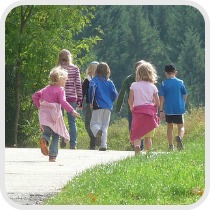 Below are fun upcoming events for kids and families in the San Francisco Bay Area. This list is updated daily so check back often.
Follow Bay Area Kid Fun on Facebook and Twitter for additional Bay Area highlights.
If you'd like to receive the Bay Area Kid Fun free Monthly Newsletter and Weekend Highlights, just enter your email address in the box to the left or send your request to jamie@bayareakidfun.com.
The Amazing Bubble Show ~ Alameda, May 29 & 30
Make this Memorial Day weekend one the whole family will remember! Head over to Rhythmix Cultural Works to catch the Amazing Bubble Man as he blends comedy and artistry with audience participation to astound your senses. With bubbly musical accompaniment by Jet Black Pearl on accordion. Recommended for ages 4 & up. Advance tickets strongly recommended as this show always sells out! Sunday & Monday, May 29 & 30, 11 am & 1 pm both days
San Francisco Youth Ballet Presents "Alice in Wonderland" and Act II from "Giselle" ~ San Francisco, May 28 & 29
Spend a delightful afternoon with the students of SFYBA as they present "Alice in Wonderland" and Act II from "Giselle". Meet, greet and photos with Alice, the Mad Hatter, Queen of Hearts and more, immediately following the shows. Then stay for the haunting interpretation and gorgeous dancing of Act II, "Giselle." Young children will be mesmerized by the ballerinas in white as they float through the mist. Tickets are $15 (Child & Adult). Mercy High School Theater (Across from Stonestown Galleria Mall).
Goodnight, Goodnight, Construction Site the Musical by Bay Area Children's Theatre ~ June 25 – August 28, Oakland & San Francisco
Bedtime is approaching, and this team of construction vehicles needs to get their rest. But Crane Truck is afraid of the dark, Cement Mixer takes too long with bath time, and Dump Truck just isn't sleepy! Excavator, their fearless – but tired – leader, finds that preparing for bed is a job in itself! Will they ever get some shut-eye before tomorrow's day of work? A world premiere musical based upon the best-selling book! Appropriate for all ages!
May
Treasure Island by Berkeley Rep – Berkeley, April 27-June 5
Nature Explores at the Gardens and Heather Farms – Walnut Creek, May 3-June 7
Penguins & Pajamas Sleepover at Cal Academy – San Francisco, May 27
Swan Lake by Los Gatos Ballet – Saratoga, May 27-29
See and Make Art Family Workshop (Free) – Richmond, May 28
Drop-In Science at Mission Art – San Francisco, May 28
Guide Dogs for the Blind Graduation Ceremony (Free) – San Rafael, May 28
Overnight at Hidden Villa – Los Altos Hills, May 28-29
Treasure Island Flea – San Francisco, May 28 & 29
KidFest – Concord, May 28-30
Pan for Gold at OMCA – Oakland, May 29
San Ramon Art & Wind Festival – San Ramon, May 29-30
June (plus Father's Day Fun)
Preschool Performance Series: The Hipwaders – Danville, June 3
Family Fun Hike – Mill Valley, June 3
Family Fun Hike – Felton, June 4
Buzz About Bees at Hidden Villa – Los Altos Hills, June 4
HeliFest – San Carlos, June 4
Soy and Tofu Fest – San Francisco, June 4
Headlands Treasure Hunt – Sausalito, June 4
Drop-In Science at Mission Art – San Francisco, June 4, 11, 18, 25
Free First Sunday at OMCA (Free) – Oakland, June 5
Day on the River – Petaluma, June 5
Children's Program at Green Gulch – Sausalito, June 5
Rockridge Ice Cream Tour – Oakland, June 5, 12, 19, 26
Storytime and Garden Walk at SF Botanical Garden – San Francisco, June 5 & 19
Family Fun Night – Corte Madera, June 10
Uncle Jer's Bee Show – Brisbane, June 11
Dia de Portugal – San Jose, June 11
Botanical Art for Children – Woodside, June 11
Guide Dogs for the Blind Graduation Ceremony (Free) – San Rafael, June 11 & 25
The Bug Family Band at Ashkenaz – Berkeley, June 12
Farm Tour at Hidden Villa – Los Altos Hills, June 12
Sunday Streets (Free) – San Francisco, June 12
Marine Science Sunday at The Marine Mammal Center – Sausalito, June 12, 19 & 26
Nature Explores at the Gardens and Heather Farms – Walnut Creek, June 14 – July 19
Walnut Creek Model Railroad Society Weekend Show – Walnut Creek, June 17
Penguins & Pajamas Sleepover at Cal Academy – San Francisco, June 18
Dia de San Juan – San Jose, June 18
Bug Day at UC Botanical Garden – Berkeley, June 19
Your Song My Song at Ashkenaz – Berkeley, June 19
Nature in the Garden at Filoli – Woodside, June 19
The Little Mermaid by Berkeley Playhouse – June 23 – July 31
USS Hornet Family Overnight – Alameda, June 24
Rebel Streetball Tournament – San Leandro, June 25
Treasure Island Flea – San Francisco, June 25-26
Dad & Me Puppet Art – Belmont, June 26
Family Square Dance at Ashkenaz – Berkeley, June 26
See next month's events…