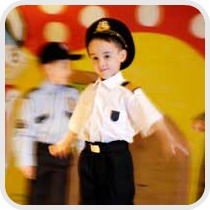 Below are fun upcoming events for kids and families in the San Francisco Bay Area. This list is updated daily so check back often.
Follow Bay Area Kid Fun on Facebook for additional Bay Area highlights.
If you'd like to receive the Bay Area Kid Fun free Monthly Newsletter and Weekend Highlights, just enter your email address in the box to the left or send your request to jamie@bayareakidfun.com.
The Rainbow Fish Musical ~ Oakland & San Francisco, June 30 – August 27
Come with us under the sea for The Rainbow Fish Musical, a world premiere based on the award-winning book by Marcus Pfister about the joy of finding friendship through sharing. Book, music and lyrics by Austin Zumbro. Playing at Children's Fairyland in Oakland and Children's Creativity Museum Theater San Francisco, July – August.
Daniel Tiger's Neighborhood: A Grr-ific Exhibit ~ Sausalito, May 20 – September 3
Daniel Tiger's coming to the Bay Area Discovery Museum! Based on the award-winning PBS Kids television series, this exhibit invites children to enter the world of Daniel Tiger and friends to explore the Neighborhood. The exhibit brings to life themes presented in the PBS series such as community, communication, and emotions, which enables young children to understand their feelings and those of their neighbors. Recommended for ages 2 to 6.
Animal Rescue! at Curiodyssey ~ San Mateo, July 8
Meet and touch all types of pets available to adopt from Andy's Adoption Center. Saturday, July 8, 10 AM – 1 PM. Free with admission.
The Amazing Bubble Show at Rhythmix ~ Alameda, July 23
The Amazing Bubble Man has been thrilling audiences around the world with the art, magic, science and fun of bubbles. From square bubbles to fog-filled bubbles or people inside bubbles, the Amazing Bubble Man conjures shrieks of laughter and gasps of amazement from all ages. Sunday, July 23rd 2 Shows @ 11am & 1pm. "Greatest bubble show on Earth." -SF Gate.com
June (also see Outdoor Movie Nights and County Fairs)
Drone Fest – San Carlos, June 28
Ka-Hon Concert – San Francisco, June 30
Sing Along at The Castro: Sound of Music – San Francisco, June 30-July 7
July (also see 4th of July Fun)
Jazz for Kids – Stanford, July 1
Family Overnight at San Francisco Zoo – San Francisco, July 1-2
Rockridge Ice Cream Tour – Oakland, July 1, 2, 8, 9, 15, 16, 22, 23, 29 & 30
Afternoon Art at Mission Art – San Francisco, July 1, 8, 15, 22, 29
Family Program at Green Gulch – Muir Beach, July 2
Chalk Full of Fun on the Square – Redwood City, July 3-4
Oakland A's Fireworks – Oakland, July 3 & 29
Tarzan by Berkeley Playhouse – Berkeley, July 6-August 13
Preschool Performance Series – Danville, July 7
$5 Friday at Chabot Space and Science Center – Oakland, July 7
Crosspulse Concert – San Francisco, July 7
Printing with Plants – San Francisco, July 8
Family Lunada – San Jose, July 8
Creepy Crawlies and Insect Safari at Martin Griffin Preserve – Stinson Beach, July 8
STEAM into Summer at Curiodyssey – San Mateo, July 8 & August 12
Guide Dogs for the Blind Graduation – San Rafael, July 8 & 22
Campfire Nights – Hayward, July 8 & 29
Sundown Safari Campout at Oakland Zoo – July 8, 15, 22, 29
Drone Fest – San Carlos, July 8 & 19
Free Sprouts Family Day – Berkeley, July 9
Kidchella – Redwood City, July 9
DIY Summer Sunday – San Jose, July 9
Marine Science Sunday at The Marine Mammal Center – Sausalito, July 9 & 23
Port of Oakland Free Harbor Tours – Oakland, July 14
Caterpillar Puppets – San Francisco, July 14
Reptiles and Amphibians of the Tropics – San Francisco, July 15
Kids Muddy Obstacle Challenge – San Mateo, July 15
Summer Sleepovers at Children's Fairyland – Oakland, July 15 & 29
Sunday Streets (Free) – San Francisco, July 16
The Lion King Experience by Peninsula Youth Theatre – Mountain View, July 20-23
Derby Day – Pleasant Hill, July 21
Birding the Hill – San Francisco, July 21
Pi Clowns – San Francisco, July 21
Around the World with Disney by the Redwood Symphony – Redwood City, July 22
Shark Day at the Marine Science Institute – Redwood City, July 22
Shiny Side Up Bicycle Show – San Jose, July 22
Family Campout – Moraga, July 22-23
Full Spectrum Science at the Exploratorium – San Francisco, July 23
Shiny Side Up Bicycle Show – San Jose, July 23
Community Day at Curiodyssey (Free) – San Mateo, July 25
Unique Derique – San Francisco, July 28
Cinema Nights at Curiodyssey – San Mateo, July 28, August 18
Childhood Safety Fair – Berkeley, July 28 & 29
Day Out with Thomas – Felton, July 28-August 6
The Hunchback of Notre Dame by Children's Musical Theatre – San Jose, July 28 – August 6
ARC Youthfest – Oakland, July 29
Rainbow Fish by Bay Area Children's Theatre – Oakland & San Francisco, July 30 – August 27
See next month's events…