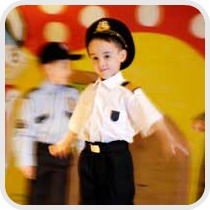 Below are fun upcoming events for kids and families in the San Francisco Bay Area. This list is updated weekly, so check back often.
Follow Bay Area Kid Fun on Facebook and Twitter for additional Bay Area highlights.
If you'd like to receive the Bay Area Kid Fun free Monthly Newsletter and Weekend Highlights, just send your email address to jamie@bayareakidfun.com.
Featured Events
Free Musical Theater Workshop – San Jose, November 19
South Bay Children's Musical Theater teaches the basics of musical theater in this fun and exciting free workshop! Through interactive group activities such as theater games, self-esteem exercises, and singing & dancing, attendees will take a hands on approach by exploring the basic concepts of musical theater. Ages 12-25: Wednesday, November 19th, 4:00-7:00pm. Sign up at www.southbaychildrensmusicaltheater.com
The Sound of Music performed by Children's Musical Theater – San Jose, November 14-23
Are your kids 16, going on 17? Does it seem like there's seven of them? Don't get " Von Trapped," head to the Montgomery Theater instead for CMT San Jose's The Sound of Music, November 14 to 23. Grab your tickets today by clicking www.cmtsj.org/tickets.
James and the Giant Peach performed by Bay Area Children's Theatre – Berkeley, San Ramon & San Francisco, November 14 – January 4
An exciting new musical, inspired by Roald Dahl's classic tale about the orphaned boy who escapes from his wicked aunts aboard an enormous enchanted peach inhabited by a bevy of very big bugs. Music and lyrics by the Tony Award-nominated team of Benj Pasek and Justin Paul. Adaptation by respected playwright and educator Timothy Allen McDonald. Directed by Nina Meehan. Recommended for 4 and up.
Nature Connects at the San Francisco Zoo – San Francisco, through January 4
Nature Connects at the San Francisco Zoo is the ideal blend of nature and wildlife. This remarkable art installation features artist Sean Kenney's giant nature-themed sculptures made entirely out of LEGO® bricks! From hummingbirds to snakes, flowers to farm equipment, there's something for everyone to see at Nature Connects. Nature Connects will run through January 4, 2015.
Fujitsu Planetarium Shows – Cupertino, most Saturdays
Learn about space and science on Saturday evenings at the Fujitsu Planetarium on the De Anza College campus. Family shows include Secret of the Cardboard Rocket (K-1st), Magic Treehouse: Space Mission (K-2nd), This is Our Sky (K-3rd), The Moon (1st-3rd) and ExoPlanet Adventure (3rd-6th).
Thanksgiving Break Camp at Bay Area Discovery Museum – Sausalito, November 24-26
Investigate local animals and search the shores for hidden treasures in our On the Bay camp. Take on the persona of bugs, fish, plants and birds, and explore the natural bay environments through hiking, experiments and hands-on discovery. For ages 4 – 8. Extended care available.
Gingerbread Architecture Extravaganza – Sausalito, November 29 & 30
Kick off your holiday season with Gingerbread Architecture at the Bay Area Discovery Museum. Our kits provide you and your family with everything you need to construct a creative holiday home, including gingerbread house pieces, icing and festive holiday candies. Cost per kit is $20 (Museum admission for non-members is not included).
Mary Poppins performed by Children's Musical Theater – San Jose, December 5-14
Oh that Mary! She's quite contrary! Even with a spoon full of sugar! Take the little ones to the CMT Marquee prevention of Disney's Mary Poppins, live on stage December 5 to 14 at the Montgomery Theater in downtown in San Jose. For tickets, click www.cmtsj.org/tickets. You can sweep that chimney later!
San Francisco Youth Ballet Presents The Nutcracker – San Francisco, December 13 & 14
This magical, full-length version of The Nutcracker features Bernadette Torres and Carlo DiDio, former Principals California Ballet Company, performing with amazing guest talent and students of the San Francisco Youth Ballet. This 2-hour production is geared toward families and is a perfect opportunity to introduce young children to this holiday ballet tradition. The first 200 children go home with a Nutcracker gift bag and there will be photo opportunities after performances. For more information visit http://www.sanfranciscoyouthballet.org
The Amazing Bubble Show at Rhythmix – Alameda, December 14
The Amazing Bubble Man has been thrilling audiences around the world with the art, magic, science and fun of bubbles. From square bubbles to fog-filled bubbles or people inside bubbles, the Amazing Bubble Man conjures shrieks of laughter and gasps of amazement from all ages. Live bubbly accordion music will double your pleasure. Alameda, December 14th, 2 Shows @ 11am & 1pm. "Greatest bubble show on Earth." – SFGate.com
Holiday Basketball Camp – Mountain View, December 29-31 & January 2-3
Learn valuable skills from MVHS basketball coaches and alumni in this half-day camp. Shooting, ball-handling, and defense will be among the skills covered in a high-energy, fast-paced environment. This is a great opportunity to tune-up prior to the winter youth basketball leagues. The camp takes place from December 29-31, 2014 & January 2-3, 2015 from 9am – 12pm at Mountain View High School. Registration is open to girls and boys in grades 3 – 8. Sign up today!
Holiday Tennis Camp – Mountain View, December 29-31 & January 2-3
This tennis camp provides the beginner and the intermediate with the fundamental tools for competitive tennis. Campers are matched accordingly with others to current skills development, while no experience is required for this camp. Emphasis is placed upon the skills for volleys, ground strokes, and service. This tennis camp is a guaranteed fun tennis tune up experience. The camp takes place from December 29-31, 2014 & January 2-3, 2015 from 9am – 12pm at Mountain View High School. Registration is open to girls and boys in grades 5 – 8. Sign up today!
November 2014 (also see Holiday Fun)
Mary Poppins by Berkeley Playhouse – Berkeley, October 30-December 7
Sprouts Holiday Cooking Series – Berkeley, Oakland, San Francisco, November 1-December 14
James and the Giant Peach – Mill Valley, Berkeley, San Ramon, San Francisco, November 6-January 4
Oklahoma! by West Valley Light Opera – Saratoga, November 8-December 6
The Legend of Sleepy Hollow by San Carlos Children's Theater – San Carlos, November 14-23
The Sound of Music by Children's Musical Theater – San Jose, November 14-23
Willie Wonka by the Pied Piper Players – San Mateo, November 14-23
Oklahoma by PYT – Mountain View, November 15-23
Children's Musical Theater Workshop (Free) – San Jose, November 19
Fall Harvest Carnival at U-Me – Menlo Park, November 20
USS Hornet Family Live Aboard Experience – Alameda, November 21
Parents Night Out at Habitot – Berkeley, November 21
Yo Gabba Gabba Live – San Jose, November 21
Seals & Slippers Sleepover at TMMC – Sausalito, November 21
Free 3rd Fridays at East Bay Parks (Free) – Several Locations, November 21
Wizard of Oz by Danville Children's Musical Theater – Danville, November 21-29
Creative Family Fun at the Presidio Officer's Club (Free) – San Francisco, November 22, 23
Little Women by South Valley Civic Theater – Morgan Hill, November 21 – December 13
Meet the Bunnies at Ardenwood – Fremont, November 22
Little Red Hen Holiday Baking Class at Hidden Villa – Los Altos Hills, November 22
Drop-In Science at Randall Museum – San Francisco, November 22, 29
Popcorn Palace at Balboa Theatre – San Francisco, November 22, 29
Family Fun Hour at Coyote Hills – Fremont, November 23, 30
Full Spectrum Science at the Exploratorium – San Francisco, November 23
Happy Birthday San Jose! – San Jose, November 23
Shir Hadash Holiday Bazaar – San Jose, November 23
Marine Science Sunday (Free) – Sausalito, November 23
Your Song My Song at La Pena – Berkeley, November 29
Home Depot Kids Workshop (Free) – Bay Area Wide, November 29
DIY Art: Festive Family Fun – San Jose, November 29 & December 6
Wake Up the Farm at Ardenwood – Fremont, November 30
December 2014 (also see Holiday Fun)
Silhouette Artist Karl Johnson at Sprout – San Francisco, December 4
The Fifth String: Ziryab's Passage to Cordoba – San Francisco, December 4-7
Preschool Performance Series: Dante the Magician – Danville, December 5
The Elves and the Shoemaker by CTC – Sunnyvale, December 5, 6, 12
Mary Poppins the Musical – San Jose, December 5-14
The Bug Family Band at La Pena – Berkeley, December 6
Enchanted Evening at Berkeley Rose School – Berkeley, December 6
Family Gala at CJM – San Francisco, December 6
Shadow Puppets Performance – San Francisco, December 6
Family Art Day at Triton Museum – Santa Clara, December 6
Drop-In Science at Randall Museum – San Francisco, December 6, 20, 27
Creative Family Fun at the Presidio Officer's Club (Free) – San Francisco, December 6-21
Madeline's Christmas by CTC – Sunnyvale, December 6-21
Peter Pan by Young Performers Theater – San Francisco, December 6-22
Free First Sunday at OMCA – Oakland, December 7
Science of Sharing Day at the Exploratorium (Free) – San Francisco, December 7
Lacrosse Classes for Ages 4-8 from LAX Runts (Free) – San Francisco, December 7, 14, 21, 28
Storytime at the Garden – San Francisco, December 7, 21
Family Fun Hour at Coyote Hills – Fremont, December 7, 20, 21, 28
A Year with Frog and Toad by Palo Alto Children's Theater – Palo Alto, December 11-21
Family Movie Night at Small Talk Café – Walnut Creek, December 12
Snow Days a Bay Area Discovery Museum – Sausalito, December 12-14
Cinderella by Diablo Youth Theatre – Walnut Creek, December 12-14
My Son Pinocchio – Pleasanton, December 12-21
Family Program at UC Botanical Garden – Berkeley, December 13
Costumed Living History at SF Maritime Museum – San Francisco, December 13
SF Jazz Family Matinee – San Francisco, December 13
Bay Model Tour – Sausalito, December 13
The Gingerbread Boy by Palo Alto Children's Theater – Palo Alto, December 13-14
Sunday Sampler at Berkeley Rep (Free) – Berkeley, December 14
Marine Science Sunday (Free) – Sausalito, December 14, 28
Cinderella: A Family Holiday Panto – San Francisco, December 18-28
USS Hornet Family Live Aboard Experience – Alameda, December 19
Free 3rd Fridays at East Bay Parks (Free)- Several Locations, December 19
Explorables Handmade Science at the Exploratorium – San Francisco, December 20
Puppet Show at CJM – San Francisco, December 21
CJM Community Free Day (Free) – San Francisco, December 25
Boswick the Clown's Variety Show – San Francisco, December 26-28
Full Spectrum Science at the Exploratorium – San Francisco, December 28
January
USS Hornet Family Live Aboard Experience – Alameda, January 2
Octopretzel at the Village Theatre – Danville, January 9
Puss in Boots by CTC – Sunnyvale, January, 10 & 17, February 7
Astronomy Sunday at Lindsay Wildlife Museum – Walnut Creek, January 11
Penguins & Pajamas Sleepover at Cal Academy – San Francisco, January 17
San Francisco Chamber Orchestra: Very First Concerts – San Francisco & San Mateo, January 17
The Emperor's New Clothes by Palo Alto Children's Theater – Palo Alto, January 17-18
San Francisco Chamber Orchestra: Very First Concerts – Berkeley, January 19
Junie B. Jones by Palo Alto Children's Theater – Palo Alto, January 22-February 8
Family Hike & Campfire – Sausalito, January 24
Peking Acrobats – Berkeley, January 24-25
King of the Golden River by CTC – Sunnyvale, January 24 & 31, February 14
Three Little Birds by Bay Area Children's Theatre – Berkeley, San Francisco, Mill Valley & San Ramon, January 24-March 29
February
The Brian Waite Band – Danville, February 6
Family Hike & Campfire – Sausalito, February 7
USS Hornet Family Live Aboard Experience – Alameda, February 13
Somebody Loves You by PYT – Mountain View, February 13-14
Great Backyard Bird Count – Sausalito, February 15
Penguins & Pajamas Sleepover at Cal Academy – San Francisco, February 20
Shrek the Musical by South Valley Civic Theater – Morgan Hill, February 20-March 15
Rumpelstiltskin by Palo Alto Children's Theater – Palo Alto, February 21-22
You're a Good Man Charlie Brown by Berkeley Playhouse – Berkeley, February 21-March 15
Edward Tulane by Bay Area Children's Theatre – Berkeley & San Francisco, February 21-April 22
School House Rock by Children's Musical Theater – San Jose, February 26-March 1
Brave Irene by CTC – Sunnyvale, February 28, March 14, 21
March
The Intergalactic Nemesis – Berkeley, March 6
Juggler Frisco Fred – Danville, March 6
The Lion, the Witch and the Wardrobe by Civic Arts – Pleasanton, March 6-15
Jekyll & Hyde by Children's Musical Theater – San Jose, March 6-15
Penguins & Pajamas Sleepover at Cal Academy – San Francisco, March 7
The Emperor's New Clothes by CTC – Sunnyvale, March 7, April 4
Sienna Ranch Family Day – Lafayette, March 8
Astronomy Sunday at Lindsay Wildlife Museum – Walnut Creek, March 8
Pinocchio by Fantasy Forum – Walnut Creek, March 12-15
USS Hornet Family Live Aboard Experience – Alameda, March 13
Sunday Sampler at Berkeley Rep (Free) – Berkeley, March 15
Pecos Bill by PYT – Mountain View, March 20-21
Hansel and Gretel by Palo Alto Children's Theater – Palo Alto, March 21-22
Banana Slug String Band – Saratoga, March 22
Peter Pan by Diablo Children's Musical Theater – Danville, March 27-April 4
Charlotte's Web by CTC – Sunnyvale, March 28
April
Seussical the Musical by Diablo Youth Theatre – Walnut Creek, April 2-4
Kenn Adams Adventure Theater – Danville, April 3
Penguins & Pajamas Sleepover at Cal Academy – San Francisco, April 10
Fancy Nancy by Bay Area Children's Theatre – Berkeley, San Ramon, Mill Valley & San Francisco, April 11 – June 21
Sienna Ranch Family Day – Lafayette, April 12
Gruffalo's Child at Montalvo – Saratoga, April 12
USS Hornet Family Live Aboard Experience – Alameda, April 17
Seals & Slippers Sleepover at TMMC – Sausalito, April 17
Ragtime by Children's Musical Theater – San Jose, April 17-26
Goldilocks and the Three Bears by Palo Alto Children's Theater – Palo Alto, April 18-19
Seussical by South Valley Civic Theater – Morgan Hill, April 24 – May 9
Mulan by Children's Musical Theater – San Jose, April 30-May 3
May
USS Hornet Family Live Aboard Experience – Alameda, May 1
The Greg Frisbee Show – Danville, May 1
Charlotte's Web by CTC – Sunnyvale, May 2, 12
Into the Woods by Children's Musical Theater – San Jose, May 8-17
Seals & Slippers Sleepover at TMMC – Sausalito, May 8, 22
Peter and the Wolf – Saratoga, May 9
Once Upon a Mattress by PYT – Mountain View, May 9-17
Sienna Ranch Family Day – Lafayette, May 10
Alice in Wonderland by Palo Alto Children's Theater – Palo Alto, May 14-24
Penguins & Pajamas Sleepover at Cal Academy – San Francisco, May 15
A Little Princess by PYT – Mountain View, May 15-16
Cinderella by Palo Alto Children's Theater – Palo Alto, May 16-17
June
Unique Derique – Danville, June 5
Penguins & Pajamas Sleepover at Cal Academy – San Francisco, June 5
Seals & Slippers Sleepover at TMMC – Sausalito, June 5
USS Hornet Family Live Aboard Experience – Alameda, June 26
July
USS Hornet Family Live Aboard Experience – Alameda, July 10
The Keith Show – Danville, July 10
August
USS Hornet Family Live Aboard Experience – Alameda, August 7
Zappo the Magician – Danville, August 7