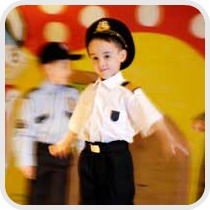 Below are fun upcoming events for kids and families in the San Francisco Bay Area. This list is updated daily so check back often.
Follow Bay Area Kid Fun on Facebook and Twitter for additional Bay Area highlights.
If you'd like to receive the Bay Area Kid Fun free Monthly Newsletter and Weekend Highlights, just enter your email address in the box to the left or send your request to jamie@bayareakidfun.com.
Ohlone Day Festival ~ Cupertino, October 1
Kids: here's your chance to step into the lives of the Ohlone, the original Bay Area inhabitants who lived here for thousands of years. You'll explore a replica Ohlone village (normally closed to the public!) while watching and participating in tool crafting, face painting, and fire starting. Recommended for ages 5-12 but all kids and families are welcome. Saturday, October 1, 12-3pm.
Saturday Night Astronomy Shows at Fujitsu Planetarium ~ Cupertino, Saturdays, October 1 – December 17
Learn about space and science on Saturday evenings at the Fujitsu Planetarium on the De Anza College campus. Family shows include Secret of the Cardboard Rocket, The Little Star that Could, Magic Treehouse: Space Mission, We Are Stars, This is Our Sky, and Extreme Planets.
Rhythmix 'Round the World Festival (Free) – Alameda, October 2
Join us Sunday, October 2nd for the first Rhythmix 'Round the World Festival featuring live performances of world music and dance traditions, an exhibition of world travel photography, demonstrations and hands-on mask-making activities. FREE — all ages welcome! Schedule: 11am – Capoeira Workshop & Demonstration with Sumido of Capoeira Mandinga, 12pm – Tezkatlipoka Aztec Drum & Dance, 12-2pm – Drop in mask-making, 1pm – Gamelan Sekar Jaya Indonesian Music & Dance, 2pm – Chinyakare Ensemble Zimbabwean Music & Dance.
Fall Basketball Camp ~ Mountain View, September 17 – October 29
Learn valuable skills from MVHS basketball coaches and alumni in this half-day camp. Shooting, ball-handling, and defense will be among the skills covered in a high-energy, fast-paced environment. This is a great opportunity to have fun, stay active, and work on your game. Open to boys & girls in grades 3-8, the camp will take place 9 am – 12 pm in the Mountain View High School gym on September 17 & 24 and October 1, 8, 22 & 29 (No Camp October 15). $275 for all 6 Saturdays includes a custom basketball, t-shirt, water bottle, and drawstring backpack. $55 daily rate also available. Sign up today at www.SpartansSportsCamp.com!
Seussical TYA by Bay Area Children's Theatre – October 8 – December 11, Berkeley & San Francisco
The wonderful world of Dr. Seuss springs to life in this imagination-infused musical! Horton the Elephant discovers a dust speck is actually an entire planet, Gertrude McFuzz wishes she had a flashier feathered tail, and Jojo the Who's elaborate thinks keep getting him into trouble! The Cat in the Hat is your magical master of ceremonies in this sensational smorgasbord of Seuss stories. Recommended for age 3 and up.
September
Shakespeare in the Park (Free) – San Francisco, September 3-October 2
Nature Explores at the Gardens and Heather Farms – Walnut Creek, September 6-October 11
Early Birdles Workshop at Children's Creativity Museum – San Francisco, September 28, 29
Seals and Slippers Sleepover at the Marine Mammal Center – Sausalito, September 30
October (also see Halloween Fun)
Ohlone Day at Deer Hollow – Cupertino, October 1
Campfire Night at Sulphur Creek Nature Center – Hayward, October 1
Super Hero Party – Pleasant Hill, October 1
Film in the Fog: Pinocchio (Free) – San Francisco, October 1
Aki Matsuri Fall Festival – San Jose, October 1
Harvest Festival at Martial Cottle Park – San Jose, October 1
150th Anniversary Beach Party and Fireworks – Santa Cruz, October 1
Kids Workshop at Home Depot (Free) – Bay Area-wide, October 1
The Frog Prince by California Theatre Center – Sunnyvale, October 1, 8, 15
Creative Family Fun at the Presidio – San Francisco, October 1, 7, 8, 14, 15, 21, 22, 28, 29
Guide Dogs for the Blind Graduation Ceremony (Free) – San Rafael, October 1, 15 & 29
Rhythmix 'Round the World Festival (Free) – Alameda, October 2
Cal Sailing Club Open House – Berkeley, October 2
Tarantula and Scorpion Hike – Clayton, October 2
Children's Program at Green Gulch – Muir Beach, October 2
El Dia de Los Muertos Opening Ceremony – Petaluma, October 2
Chinese American Historical Museum Anniversary Celebration – San Jose, October 2
Children's Program at Green Gulch – Sausalito, October 2
Rockridge Ice Cream Tour – Oakland, October 2, 9, 16, 23, 30
Family Sunday at Cantor Arts Center (Free) – Stanford, October 2, 9, 16, 23, 30
Farm Tour at Hidden Villa – Los Altos Hills, October 2, 15
Storytime and Family Walk at SF Botanical Gardens – San Francisco, October 2, 16
Fleet Week – San Francisco, October 3-10
Early Birdles Workshop at Children's Creativity Museum – San Francisco, October 5, 6, 12, 13, 19, 20, 26, 27
Presidio Stargazing Party (Free) – San Francisco, October 6
Preschool Performance: Unique Derique – Danville, October 7
Friday Night at Slide Ranch – Muir Beach, October 7
$5 Friday at Chabot Space and Science Center – Oakland, October 7
Free First Friday at San Mateo County History Museum – Redwood City, October 7
Zoppe Italian Family Circus – Redwood City, October 7-23
Family Science and Astronomy Festival (Free) – San Mateo, October 8
Day of the Horse – Woodside, October 8
Diwali Festival at Children's Discovery Museum – San Jose, October 8, 9
Seussical by Bay Area Children's Theater – Berkeley & San Francisco, October 8 – December 11
Rockridge Out & About – Oakland, October 9
Nature in the Garden at Filoli – Woodside, October 9 & 16
Marine Science Sunday at The Marine Mammal Center – Sausalito, October 9 & 23
Autumn Lights Festival at Lake Merritt – Oakland, October 12-15
The Princess and the Pauper by Fantasy Forum – Walnut Creek, October 13-15
Palo Alto Art Center Family Day – Palo Alto, October 14
Riding Freedom by Peninsula Youth Theatre – Mountain View, October 14, 15
Snow White and the Prince by Los Altos Youth Theater – Los Altos, October 14-30
Fire Department Open House – Benicia, October 15
Diwali Festival (Free) – Cupertino, October 15
Family Bike About at the Zoo – San Francisco, October 15
Sandcastle Classic – San Francisco, October 15
Two of a Kind Concert at Children's Discovery Museum – San Jose, October 15
Day of the Dead Community Celebration – Oakland, October 16
Sunday Streets (Free) – San Francisco, October 16
Family Night Hike and Campfire – Sausalito, October 18
Nature Explores at the Gardens and Heather Farms – Walnut Creek, October 18-November 22
Zoovie Night at Oakland Zoo – Oakland, October 21
Walnut Creek Model Railroad Society Weekend Show – Walnut Creek, October 21
Family Live Aboard the USS Hornet – Alameda, October 21-22
Harvest Festival at Blackberry Farm – Cupertino, October 22
SF Jazz Family Matinee – San Francisco, October 22
Almaden Harvest Festival – San Jose, October 22
Patricia Shih Concert at Children's Discovery Museum – San Jose, October 22
Hansel and Gretel by Palo Alto Children's Theatre – Palo Alto, October 22, 23
Sleeping Beauty by California Theatre Center – Sunnyvale, October 22, 29, November 5
Treasure Island Flea – San Francisco, October 29-30
The Jungle Book by Marin Theatre Company – Mill Valley, October 29-November 6
Edgar Meyer Family Matinee Concert – San Francisco, October 30
Mad Dash 5K Costume Run – San Francisco, October 30
See next month's events…