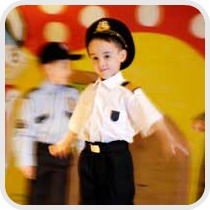 Below are fun upcoming events for kids and families in the San Francisco Bay Area. This list is updated daily so check back often.
Follow Bay Area Kid Fun on Facebook and Twitter for additional Bay Area highlights.
If you'd like to receive the Bay Area Kid Fun free Monthly Newsletter and Weekend Highlights, just enter your email address in the box to the left or send your request to jamie@bayareakidfun.com.
Seussical TYA by Bay Area Children's Theatre ~ Berkeley, San Ramon & San Francisco, October 8 – December 11
The wonderful world of Dr. Seuss springs to life in this imagination-infused musical! Horton the Elephant discovers a dust speck is actually an entire planet, Gertrude McFuzz wishes she had a flashier feathered tail, and Jojo the Who's elaborate thinks keep getting him into trouble! The Cat in the Hat is your magical master of ceremonies in this sensational smorgasbord of Seuss stories. Recommended for age 3 and up.
Saturday Night Astronomy Shows at Fujitsu Planetarium ~ Cupertino, Saturdays, October 1 – December 17
Learn about space and science on Saturday evenings at the Fujitsu Planetarium on the De Anza College campus. Family shows include Secret of the Cardboard Rocket, The Little Star that Could, Magic Treehouse: Space Mission, We Are Stars, This is Our Sky, and Extreme Planets.
FUZE Fit Open Gym ~ San Jose, October 22, 29 & November 5, 12
So you wanted to go for your weekend run on Saturday morning or catch up on your household chores? FUZE will help you and your kids get ready for an active and productive weekend. From 9:30 to 11:30 we run a selection of fast kids' classes and games at our San Jose club (1260 South Bascom Avenue). FUZE open gym on Saturday mornings – start your weekend with us and stay wide awake!
Boo-Camp: Jack-O-Lantern Lore and Pumpkin Carving ~ Half Moon Bay, October 29
Don't have your pumpkin for Halloween yet? Homeroom Education has got you covered with our family fun workshop! Join us at Bob's Pumpkin Farm in Half Moon Bay where students of all ages will learn about the history and lore of Jack-O-Lanterns before picking their own pumpkin, learning fun carving techniques, and carving their very own Jack-O-Lantern. Cost: $60 (all materials and activity book included). For more information and to enroll call (408) 915-5486.
Fall Basketball Camp ~ Mountain View, September 17 – October 29
Learn valuable skills from MVHS basketball coaches and alumni in this half-day camp. Shooting, ball-handling, and defense will be among the skills covered in a high-energy, fast-paced environment. This is a great opportunity to have fun, stay active, and work on your game. Open to boys & girls in grades 3-8, the camp will take place 9 am – 12 pm in the Mountain View High School gym on September 17 & 24 and October 1, 8, 22 & 29 (No Camp October 15). $275 for all 6 Saturdays includes a custom basketball, t-shirt, water bottle, and drawstring backpack. $55 daily rate also available. Sign up today at www.SpartansSportsCamp.com!
A Goat's Life at Harley Farms ~ Pescadero, November 5
Join Homeroom Education for a day of family fun at Harley Farms in Pescadero. Families will get up-close and personal with dairy goats in one of our most popular hands-on workshops for students of all ages. Pull on your boots and head out to Harley Farms to meet the goats and learn all about their biology and ecology. Cost $60 (all materials and workbook included) For more information and to enroll call (408) 915-5486.
LUZIA by Cirque du Soleil ~ San Francisco, November 17 – January 29 & San Jose, February 9 – March 19
Discover LUZIA, the latest Big Top show by Cirque du Soleil. LUZIA is a poetic and acrobatic ode to the rich and vibrant culture of Mexico. Like in a waking dream, LUZIA takes you to an imaginary Mexico, where light quenches the spirit and rain soothes the soul. Save up to 20% on tickets by purchasing a Family Pack, valid on packs of 3 to 8 tickets! Tickets are on sale now at cirquedusoleil.com.
Thanks-For-Giving to Education: Homeroom Education's Open House ~ San Jose, November 19
You're invited to Homeroom Education's Thanks-For-Giving to Education Open House! Come meet our faculty, view student projects and learn more about the workshops that we are thankful to put on every week. As a thank you for attending, Homeroom Education will be donating $1, per attendee, to our long-time learning partner Grail Family Services. Thank you for supporting educational resources in our area! Please RSVP by phone (408) 915-5486 or email Admin@HomeroomEducation.com. 4pm-7pm at 1777 Hamilton Ave. Suite 2000, San Jose.
San Francisco Youth Ballet Presents The 16th Annual Performance of The Nutcracker ~ San Francisco, December 3 & 4
This magical, full-length version of The Nutcracker features Bay Area guest artists and the wonderful talents from the San Francisco Youth Ballet Academy. The dance tells the story of young Clara, who dreams that her gift of a toy nutcracker soldier comes to life. This 2-hour production is geared toward families and is a perfect opportunity to introduce young children to this holiday ballet tradition. As always, there will be photo opportunities with different characters after all performances. Tickets $24 in advance. Buy your tickets early!
The Amazing Bubble Show at Rhythmix ~ Alameda, December 11
The Amazing Bubble Man has been thrilling audiences around the world with the art, magic, science and fun of bubbles. From square bubbles to fog-filled bubbles or people inside bubbles, the Amazing Bubble Man conjures shrieks of laughter and gasps of amazement from all ages. Live bubbly accordion music will double your pleasure. Two shows 11am & 1pm on Sunday, December 11. "Greatest bubble show on Earth." – SFGate.com
October (also see Halloween Fun)
Seussical by Bay Area Children's Theater – Berkeley & San Francisco, October 8 – December 11
Snow White and the Prince by Los Altos Youth Theater – Los Altos, October 14-30
Nature Explores at the Gardens and Heather Farms – Walnut Creek, October 18-November 22
Protect Your Hearing Hangout at UCSF (Free) – San Francisco, October 24
Early Birdles Workshop at Children's Creativity Museum – San Francisco, October 26, 27
St. Anne Festival – San Francisco, October 28-30
Bay Area Science Festival Discovery Day (Free) – Concord, October 29
Guide Dogs for the Blind Graduation Ceremony (Free) – San Rafael, October 29
North Bay Science Discovery Day (Free) – Santa Rosa, October 29
Treasure Island Flea – San Francisco, October 29-30
Creative Family Fun at the Presidio – San Francisco, October 29, 30
Harry Potter and the Sorcerer's Stone in Concert by Symphony Silicon Valley – San Jose, October 29-30
Sleeping Beauty by California Theatre Center – Sunnyvale, October 29, November 5
The Jungle Book by Marin Theatre Company – Mill Valley, October 29-November 6
Rockridge Ice Cream Tour – Oakland, October 30
Edgar Meyer Family Matinee Concert – San Francisco, October 30
Family Sunday at Cantor Arts Center (Free) – Stanford, October 30
November
Free Admission Day at Bay Area Discovery Museum – Sausalito, November 2
Early Birdles Workshop at Children's Creativity Museum – San Francisco, November 2, 3, 9, 10, 16, 17, 23, 24
The Ballad of Phineas McBoof by Palo Alto Children's Theater – Palo Alto, November 3-13
Preschool Performance: Octopretzel – Danville, November 4
$5 Friday at Chabot Space and Science Center – Oakland, November 4
Free First Friday at San Mateo County History Museum – Redwood City, November 4
Royal Princess Academy by Peninsula Youth Theatre – Mountain View, November 4, 5
Beauty and the Beast by Broadway by the Bay – Redwood City, November 4-20
Bay Area Science Festival Discovery Day (Free) – San Francisco, November 5
Kids Workshop at Home Depot (Free) – Bay Area-wide, November 5
Wild Wonders at UC Botanical Garden – Berkeley, November 6
Cal Sailing Club Open House – Berkeley, November 6
Children's Program at Green Gulch – Muir Beach, November 6
Family Sunday at Cantor Arts Center (Free) – Stanford, November 6, 13, 20, 27
Beauty and the Beast by Berkeley Playhouse – Berkeley, November 10 – December 23
Veterans' Day at Memorial Park – Cupertino, November 11
Into the Woods by Youth Musical Theatre – El Cerrito, November 11-19
Rumpelstiltskin Private Eye by San Carlos Children's Theatre – San Carlos, November 11-20
Community Day at the California Historical Society – San Francisco, November 12
Family Night Hike and Campfire – Sausalito, November 12
ZooKids at Oakland Zoo – Oakland, November 12 & 19
The Wizard of Oz by Peninsula Youth Theater – Mountain View, November 12-20
Guide Dogs for the Blind Graduation Ceremony (Free) – San Rafael, November 12 & 26
Sunday Streets (Free) – San Francisco, November 13
Marine Science Sunday at The Marine Mammal Center – Sausalito, November 13 & 27
Butterflies & Blooms at Conservatory of Flowers – San Francisco, November 17 – June 30
Zoovie Night at Oakland Zoo – Oakland, November 18
The Music Man by Diablo Children's Musical Theater – Danville, November 18-26
SF Jazz Family Matinee – San Francisco, November 19
Tot Rock Band at Bay Area Discovery Museum – Sausalito, November 19
The Princess and the Pea by Palo Alto Children's Theatre – Palo Alto, November 19, 20
Beauty & the Best Sing Along – San Francisco, November 25-29
Treasure Island Flea – San Francisco, November 26-27
The Snow Queen by Marin Theatre Company – Mill Valley, November 26-December 4
Fancy Nancy Splendiferous Christmas by Bay Area Children's Theater – Berkeley, November 26-December 29
See next month's events…