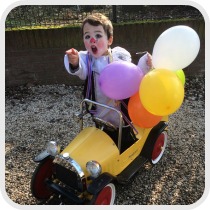 Below are fun upcoming events for kids and families in the San Francisco Bay Area. This list is updated daily so check back often.
Follow Bay Area Kid Fun on Facebook and Twitter for additional Bay Area highlights.
If you'd like to receive the Bay Area Kid Fun free Monthly Newsletter and Weekend Highlights, just enter your email address in the box below or send your request to jamie@bayareakidfun.com.

Curious George: Let's Get Curious! at Bay Area Discovery Museum ~ Sausalito, through September 6
Let curiosity and inquiry be your guides as you explore familiar buildings and locales from Curious George book series and television show. Key concepts in science, technology, engineering and math are woven and layered throughout the exhibit. Tinker with wheels and pulleys at a construction site, pilot your own space adventure and experiment with momentum playing a round of miniature golf.
Family Fun Day at the Asian Art Museum ~ San Francisco, September 6 & 20
Explore art and ideas through immersive storytelling, fun gallery activities, creative art making and more during the Asian Art Museum's Family Fun Day. Discover and play as a family! Themes and projects change regularly so visit www.asianart.org/family for more details.
New South American Tropical Rainforest & Aviary ~ San Francisco, Ongoing
The new South American Tropical Rainforest and Aviary building at the San Francisco Zoo is now open. The renovated Aviary features a realistic rainforest ecosystem, full of colorful free-flight birds, exotic plants and trees, a charming two-toed sloth, and the Zoo's first significant herpetological collection—which will include a 15-foot long green anaconda as well as rare tree frogs, turtles, lizards, and snakes.
Saturday Night Astronomy Shows at Fujitsu Planetarium ~ Cupertino, September 26
Saturday night planetarium shows begin on September 26 at the Fujitsu Planetarium on the De Anza College campus. Magic Treehouse: Space Mission is perfect for children grades K-2nd and Extreme Planets will engage older children (5th grade to adult).
Chitty Chitty Bang Bang performed by Bay Area Children's Theatre ~ San Francisco & Berkeley, October 10-December 13
The beloved story about the adventures of the Potts family and their miraculous flying car comes to the stage in a special, musical version for young audiences. Sing along as Jeremy and Jemima take on the Vulgarians, who want Chitty Chitty Bang Bang for the Baron's birthday. Recommended for ages 4 and up.
September
Nature for Kids at Lake Lagunitas – Fairfax, September 1
Afterschool Animation Workshop – Oakland, September 2, 9, 16, 23, 30
Circus Vargas – Newark, September 3-7
Preschool Performance Series: Phil Ackerly Magician – Danville, September 4
Menlo Movie Series (Free) – Menlo Park, September 4, 11, 18 & 25
Zoovie Night at Oakland Zoo – Oakland, September 4
Rotunda Dance Series (Free) – San Francisco, September 4
Oakland A's Fireworks Night – Oakland, September 5
Begonia Festival (Free) – Capitola, September 5-7
Drop-In Science at Mission Art – San Francisco, September 5, 12, 19, 26
Sail the Bay on a Historic Schooner – San Francisco, September 5, 12, 19, 16
Children's Program at Green Gulch – Muir Beach, September 6
San Jose Mini Maker Faire – San Jose, September 6
Family Sundays at Cantor Arts Center (Free) – Stanford, September 6, 13, 20, 27
Ice Cream Tour – Oakland, September 6 & 20
Labor Day Open House at Crab Cove (Free) – Alameda, September 7
Tinkergarten Trial Class (Free) – Santa Cruz, September 8 & 16
Movies on the Square – Redwood City, September 10
Starlight Movies in the Park – Alameda, September 11
Story Time with Audrey and Don Wood at Kepler's (Free) – Menlo Park, September 11
Movies in the Park (Free) – Oakland, September 11
Film Night in the Park (Free) – San Anselmo, September 11
Super Soccer Stars Demo Class (Free) – San Francisco, September 11
National Circus and Acrobats of the Peoples Republic of China – Berkeley, September 11, 12
Peter Rabbit by PYT – San Francisco, September 11-27
Alison Faith Levy at Berkeley Freight & Salvage – Berkeley, September 12
Silicon Valley Fall Festival – Cupertino, September 12
Garin Apple Festival – Hayward, September 12
Teddy Bear Tea at Oakland Zoo – Oakland, September 12
SF Children's Musical Theater Holiday Show Auditions – San Francisco, September 12
Family Day at Museum of Craft and Design – San Francisco, September 12
Play Your Way at CDM for Children with Autism – San Jose, September 12
Bill Walsh Legacy Kids Free Stanford Football Game – Stanford, September 12
Ghirardelli Chocolate Festival – San Francisco, September 12-13
Kidchella (Free) – Redwood City, September 13
Sunday Streets (Free) – San Francisco, September 13
Community Day at Curiodyssey (Free) – San Mateo, September 13
Hands on History Day – San Jose, September 13
Grandparents Day at the Schulz Museum – Santa Rosa, September 13
Marine Science Sunday (Free) – Sausalito, September 13, 20, 27
Nature Explorers at The Gardens at Heather Farm – Walnut Creek, September 15 – October 20
Puppy Movie Night at the SPCA – San Francisco, September 18
Campfire Nights – Hayward, September 19
Kepler's Anniversary Celebration & Block Party (Free) – Menlo Park, September 19
Toddler Day at Slide Ranch – Muir Beach, September 19
MakeArt Workshop at Museum of Craft and Design – San Francisco, September 19
Birds of the Bay – San Francisco, September 19
3D Printing for Beginners at The Tech – San Jose, September 19
Coastal Cleanup Day (Free) – Several Locations, September 19
Kids Night at the Schulz Museum – Santa Rosa, September 19
Rodeo Beach Coastal Cleanup – Sausalito, September 19
Walnut Festival Twilight Parade – Walnut Creek, September 19
Snow White by Palo Alto Children's Theater – Palo Alto, September 19-20
Harvest of Gems and Minerals Show – Redwood City, September 19-20
Walnut Creek Model Railroad Show – Walnut Creek, September 19-20
MOCHA Art Workshop (Free) – Alameda, September 20
The Little Farm's 60th Birthday Party – Berkeley, September 20
Kinderfest – Mill Valley, September 20
Nature for Kids at Indian Valley – Novato, September 20
Open Cockpit Day at Oakland Aviation Museum – Oakland, September 20
Hike the Headlands – Sausalito, September 20
USS Hornet Family Live Aboard Experience – Alameda, September 25
Port of Oakland Harbor Tour (Free) – Oakland, September 25
Summer Movie Night (Free) – San Lorenzo, September 25
Friday Nights on Main (Free) – Tiburon, September 25
Outdoor Movie at Tilden (Free) – Berkeley, September 26
Parents' Night Off at the Zoo – Oakland, September
Movie in the Plaza (Free) – Oakley, September 26
Family Campout at Slide Ranch – Muir Beach, September 26-27
Sonoma County Farm Trails – Sonoma County, September 26-27
Free Admission Day at the Exploratorium (Free) – San Francisco, September 27
Lemony Snicket Book Release Party at Booksmith – San Francisco, September 29
See next month's events…