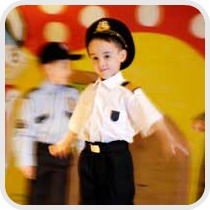 Below are fun upcoming events for kids and families in the San Francisco Bay Area. This list is updated daily, so check back often.
Follow Bay Area Kid Fun on Facebook and Twitter for additional Bay Area highlights.
If you'd like to receive the Bay Area Kid Fun free Monthly Newsletter and Weekend Highlights, just send your email address to jamie@bayareakidfun.com.
Featured Events
Three Little Birds performed by Bay Area Children's Theatre ~ San Ramon, March 21-29
The reggae music of Bob Marley evokes the spirit of Jamaica in this modern-day fairytale about the unexpected adventures of timid, 11-year-old Ziggy. Watch out for evil Duppy, but "don't worry about a thing, 'cause every little thing gonna be all right!" Based on the story by Cedella Marley. Adapted for the stage by Michael J. Bobbitt. Additional music and lyrics by John L. Cornelius, II. Directed by Michael Mohammed. Recommended for 4 and up.
Rompin' River at Aquarium of the Bay ~ San Francisco, March 21 – April 19
Play, engage, and make a splash with Aquarium of the Bay's rompin' river! This dynamic river has it all, including arts and crafts and fun hands-on opportunities. Make your own boat at the crafts table, then place your handiwork on the stream and watch it float down the river. This portable river engages and informs kids and adults alike. Learn about the importance of our waterways as you see how our rivers are connected to the ocean.
The Miraculous Journey of Edward Tulane performed by Bay Area Children's Theatre ~ Berkeley & San Francisco, February 21 – April 12
When Edward, an elegant china rabbit, is snatched from the arms of the little girl who adores him, his easy existence becomes an epic, sometimes painful journey that touches the lives of everyone he meets, from an old fisherman to a hobo to a little boy protecting his sister. A moving stage adaptation by Dwayne Hartford of Kate DiCamillo's award-winning tale about being loved and learning to love. Directed by Doyle Ott.
Predators of the Bay at Aquarium of the Bay ~ San Francisco, March 28 – April 12
The Bay's top predators come in all shapes and sizes. Find out which predators rule the food chain this spring break as Aquarium of the Bay celebrates Predators of the Bay. From the unassuming sea star to the clever river otter to the awe-inspiring shark, find out what makes these animals the top predators of their ecosystems.
Fancy Nancy, The Musical by Bay Area Children's Theatre – Berkeley, San Ramon, Mill Valley & San Francisco, April 11 – June 21
Does it glitter? She loves it! Does it sparkle? She's thrilled. In Nancy's play world, even words can be fancy as long as they are lonnnggg . . . or French! Nancy and her dance class friends will soon perform Deep Sea Dance, their first recital! She dreams of diving into the role of an elegant mythical ocean dweller, but will she get the part? Based on the New York Times bestselling Fancy Nancy series by Jane O'Connor.
Rockin' Ropes Adventure at SF Zoo ~ San Francisco, January 17 – June 14
Calling all kids! The Zoo invites all Bay Area youngsters (4-14 years old) to enjoy the Rockin' Ropes Adventure in the Pachyderm Building. To keep everyone active and healthy for the new year, this challenging ropes course will be open on weekends and school holidays. Young visitors can zip, swing, jump, step, and slide their way through all 30 feet of fun. This challenging elevated ropes obstacle course requires an additional fee of $7 for general admission guests. To check the Rockin' Ropes schedule each week, see our Calendar of Events.
Seals & Slippers Sleepover at TMMC ~ Sausalito, April 17
In this unique program, lucky families get to camp out under the stars and take part in a variety of educational programs. Parents and children even get to observe the night crew take care of the animals at the 8:00pm feeding! In the morning, breakfast is served, followed by an invigorating hike down to Rodeo Lagoon and Rodeo Beach.
Annual Creativity Day at Children's Creativity Museum (Free) ~ San Francisco, April 18
Families are invited for a FREE day of activities and programs designed to build creative confidence in all ages. This year's theme is STEAM-Powered Creativity, featuring hands-on activities that introduce concepts in the areas of science, technology, engineering, art and math.
Earth Day Celebration at BADM ~ Sausalito, April 18
Every day, the Museum seeks to inspire the next generation of environmental stewards by encouraging children to immerse themselves in our unique place by the Bay. Join us on Earth Day to celebrate the natural beauty of our environment with singing, dancing, storytelling, crafts and more.
Deer Hollow Farm Tours ~ Cupertino, April 18 & May 9
Deer Hollow Farm's is opening up the pens so you can get up close and personal with the Farm's new babies, just born this week! We've got bottle-fed lambs and kids (that's baby goats) that want to meet you. Get up close and personal with the Farm's resident sheep, goats, pigs, chickens, ducks, and rabbits. We've got a Nature Center too, and concession stands for treats and trinkets. Recommended for all ages.
March
Kinetic Arts Circus – Oakland, March 7-29
Music for Minors Recorder Workshop – Castro Valley, March 23
Nature Explorers at The Gardens at Heather Farm – Walnut Creek, March 24 – May 1
Zoovie Night at Oakland Zoo – Oakland, March 27
Peter Pan by Diablo Children's Musical Theater – Danville, March 27-April 4
The Singing Lizard at La Pena – Berkeley, March 28
There's Gold in Them Thar Hills – Fremont, March 28
Teddy Bear Tea at Oakland Zoo – Oakland, March 28
Prescott Circus Showcase (Free) – Oakland
Native American Hands-On History – Oakland, March 28
Museum of Craft and Design MakeArt Workshop – San Francisco, March 28
Doing and Viewing Art at the de Young – San Francisco, March 28
Music and Movement Family Concert (Free) – San Francisco, March 28
Charlotte's Web by CTC – Sunnyvale, March 28
Creative Family Fun at Presidio Officers' Club (Free) – San Francisco, March 28, 29
Family Jam at Athletic Playground – Emeryville, March 29
Music and Movement Family Concert (Free) – Oakland & San Bruno, March 29
Palo Alto Art Center Spring Family Day (Free) – Palo Alto, March 29
Community Passover Celebration – Palo Alto, March 29
Family Sundays at Cantor Arts Center (Free) – Stanford, March 29
Magic Flute for Families – Walnut Creek, March 30
April (also see Easter Fun and Earth Day events)
Seussical the Musical by Diablo Youth Theatre – Walnut Creek, April 2-4
Kenn Adams Adventure Theater – Danville, April 3
Rotunda Dance Series (Free) – San Francisco, April 3
Sheep Sheering Day at Hidden Villa – Los Altos Hills, April 4
Toddler Day at Slide Ranch – Muir Beach, April 4
Cambodian New Year at Peralta Hacienda – Oakland, April 4
Family Recess at Pt. Bonita YMCA (Free) – Sausalito, April 4
The Emperor's New Clothes by CTC – Sunnyvale, April 4
Spring Breakin' Dance Workshop (Free) – Union City, April 4
Rabbit Rendezvous at Ardenwood – Fremont, April 5
Family Sundays at Cantor Arts Center (Free) – Stanford, April 5, 12, 19, 26
Penguins & Pajamas Sleepover at Cal Academy – San Francisco, April 10
Carmen for Families (Free) – Antioch, April 11
Land Art for Kids – Berkeley, April 11
Fiesta Canada – Redwood City, April 11
Music for Families by SF Symphony – San Francisco, April 11
Native Plant Hike at Alum Rock – San Jose, April 11
Spring Gardens at Forest Home Farms (Free) – San Ramon, April 11
Family Hike & Campfire – Sausalito, April 11
Puppet Ruckus Variety Show – Vallejo, April 11
Model Railroad Exhibit at Roaring Camp – Felton, April 11-12
Crafting Techtorial – Berkeley, April 12
Teddy Bear Tea at Oakland Zoo – Oakland, April 12
Open House & Model Railroad Display – Santa Clara, April 12
Doing and Viewing Art at the de Young – San Francisco, April 11, 18, 25
Fancy Nancy by Bay Area Children's Theatre – Berkeley, San Ramon, Mill Valley & San Francisco, April 11 – June 21
Sienna Ranch Family Day – Lafayette, April 12
Gruffalo's Child at Montalvo – Saratoga, April 12
Museum of Craft and Design MakeArt Workshop – San Francisco, April 12, 25
Marine Science Sunday (Free) – Sausalito, April 12 & 26
STEM Career Showcase for Students with Disabilities (Free) – Berkeley, April 14
USS Hornet Family Live Aboard Experience – Alameda, April 17
Habitot's 17th Birthday Celebration – Berkeley, April 17
Seals & Slippers Sleepover at TMMC – Sausalito, April 17
Walnut Creek Model Railroad Show – Walnut Creek, April 17
The Wiz by Bay Area Educational Theater Company – San Carlos, April 17-26
Ragtime by Children's Musical Theater – San Jose, April 17-26
Cal Day – Berkeley, April 18
Deer Hollow Farm Tour – Cupertino, April 18
Laurie Berkner Concert – San Francisco, April 18
Sheep Shearing Day at Forest Hill Farm – San Ramon, April 18
Artsplash at Montalvo Arts Center – Saratoga, April 18
Goldilocks and the Three Bears by Palo Alto Children's Theater – Palo Alto, April 18-19
Children's Corner Musical Journeys – Palo Alto, April 19
Blossom Birth and Family Fair – Palo Alto, April 19
Family BikeAbout at SF Zoo – San Francisco, April 19
Peter Pan by Playful People Productions – San Jose, April 24 – May 2
Seussical by South Valley Civic Theater – Morgan Hill, April 24 – May 9
Upcycle Festival at Richmond Art Center – Richmond, April 25
Spring Fling at Slide Ranch – Muir Beach, April 25
Zoovie Night at Oakland Zoo – Oakland, April 25
SF Jazz Family Matinee – San Francisco, April 25
Sheep Shearing Day at Ardenwood – Fremont, April 26
OMCA Family Drop-In Performance – Oakland, April 26
Rainbow Fest – Pacifica, April 26
Glen Park Festival – San Francisco, April 26
Mulan by Children's Musical Theater – San Jose, April 30-May 3
See next month's events…