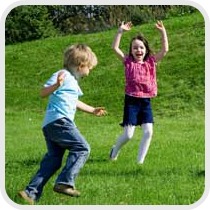 The Bay Area is fortunate to have a wealth of places to enjoy a fun day outdoors with your children.
Be sure to visit our Parks, Beaches, and Animals pages for more great ways to enjoy a great day in the Bay Area.

Biking and Hiking Trails
Iron Horse Regional Trail – Concord to San Ramon
Lafayette-Moraga Regional Trail – Lafayette, Moraga
Contra Costa Canal Bike Trail – Martinez, Pleasant Hill, Walnut Creek, Concord
Point Pinole Regional Shoreline – Richmond
Angel Island – San Francisco
Golden Gate Park – San Francisco
Lake Merced – San Francisco
Crystal Springs Trail – San Mateo
Mt. Diablo State Park – Walnut Creek
San Francisco Bay Trail – Bay Area
Boat Rentals
Lake Chabot – Castro Valley
Lake Elizabeth – Fremont
Outback Adventures – Larkspur, Fremont
Lafayette Reservoir – Lafayette
Lake Del Valle – Livermore
Vasona Park – Los Gatos
Monterey Bay Kayaks – Monterey
Shoreline Park – Mountain View
Lake Merritt – Oakland
Shadow Cliffs Recreation Area – Pleasanton
Almaden Lake Park – San Jose
San Pablo Reservoir – San Pablo
Sea Trek – Sausalito
Boat Rides
Alameda/Oakland Ferry – Alameda
Next Adventure Sailing – Berkeley
Elkhorn Slough Safari – Moss Landing
Alcatraz Cruises – San Francisco
Red and White Fleet – San Francisco
Blue & Gold Fleet – San Francisco, Alameda, Oakland, Vallejo, Tiburon, Sausalito
Hornblower Yachts – San Francisco, Berkeley
Golden Gate Ferry – San Francisco, Sausalito, Larkspur
Captain Kirk's Sailing Adventures – Sausalito
Angel Island Tiburon Ferry – Tiburon
Farms
Wolfe Ranch – Brentwood
U-Pick Farm Map – Brentwood
Swanton Berry Farm – Davenport
Joan's Farm & Pumpkin Patch – Livermore
Deer Hollow Farm – Los Altos
Hidden Villa – Los Altos Hills
Uesugi Farms – Morgan Hill
Slide Ranch – Muir Beach
CoastWays Ranch – Pescadero
Petaluma Pumpkin Patch – Petaluma
Tara Firma Farms – Petaluma
Evergreen Acres Petting Farm – San Jose
Prusch Park – San Jose
Rodoni Farms – Santa Cruz
Hollyhill Hummingbird Farm – Santa Rosa
Crystal Bay Farm – Watsonville
Gizdich Ranch – Watsonville
Mariquita Farm – Watsonville
Farmers Markets
Campbell Farmers' Market – Campbell
Daly City Farmers Market – Daly City
Danville Farmers Market – Danville
Emeryville Public Market – Emeryville
Pescadero Grown Farmers' Market – La Honda
Los Altos Farmers' Market – Los Altos
Moraga Farmers Market – Moraga
Morgan Hill Farmers Market – Morgan Hill
Mountain View Farmers' Market – Mountain View
Old Oakland Farmers' Market – Oakland
California Ave Farmers Market – Palo Alto
Palo Alto Farmers' Market – Palo Alto
Pescadero Grown Farmers' Market – Pescadero
Coastways Ranch – Pescadero
Pinole Farmers' Market – Pinole
Richmond Farmers Market – Richmond
Ferry Plaza Farmers' Market – San Francisco
Evergreen Farmers' Market – San Jose
San Jose Downtown – San Jose
Bayfair Farmers Market – San Leandro
Santa Clara Farmers' Market – Santa Clara
Rodoni Farms – Santa Cruz
UCSC Farm & Garden – Santa Cruz
Sunnyvale Farmers' Market – Sunnyvale
Diablo Valley Farmers Market – Walnut Creek
Gizdich Ranch – Watsonville
Gardens
Meyers House & Garden – Alameda
Bamboo Giant – Aptos
Berkeley Rose Garden – Berkeley
UC Berkeley Botantical Garden – Berkeley
Hayward Japanese Garden – Hayward
Allied Arts Guild – Menlo Park
Sunset Magazine Garden – Menlo Park
Dunsmuir House & Gardens – Oakland
Gamble Garden – Palo Alto
Strybing Aboretum & Botanical Gardens – San Francisco
Chinese Cultural Gardens – San Jose
Japanese Friendship Garden in Kelly Park – San Jose
Municipal Rose Garden – San Jose
Rosicrucian Park – San Jose
San Jose Heritage Rose Garden – San Jose
San Mateo Japanese Garden in Central Park – San Mateo
UC Santa Cruz Farm & Garden – Santa Cruz
Hakone Garden – Saratoga
Villa Montalvo Arboretum – Saratoga
Cornerstone Gardens – Sonoma
The Gardens at Heather Farm – Walnut Creek
Ruth Bancroft Garden – Walnut Creek
Filoli – Woodside
Horseback Riding
Mar Vista Stable – Daly City
Sugarloaf Farm – Gilroy
Friendly Pony Parties – Half Moon Bay
Horizons East Equestrian Center – Livermore
Rancho Saguaro – Martinez
California Riding Academy – Menlo Park
Miwok Livery Stables – Mill Valley
Skylark Ranch – Pescadero
Seven Oaks Farm – Portola Valley
Spring Down Equestrian Center – Portola Valley
Webb Ranch – Portola Valley
Monterey Bay Equestrian Center – Salinas
Cevalo Riding Academy – San Jose
North Gait Equestrian Center – Walnut Creek
Nature Centers & Outings (also see Parks)
Crab Cove Visitor Center – Alameda
Shorebird Nature Center – Berkeley
Tilden Nature Area and Little Farm – Berkeley
Terwilliger Nature Education Center – Corte Madre
Don Edwards San Francisco Bay National Wildlife Refuge – Fremont
Hayward Shoreline Interpretive Center – Hayward
Sulphur Creek Nature Center – Hayward
GreenPlay – Mill Valley, Ross
James Fitzgerald Marine Reserve – Moss Beach
Rotary Nature Center & Wildlife Bird Sanctuary – Oakland
Palo Alto Baylands Nature Center – Palo Alto
Ano Nuevo – Pescadero
Point Reyes Outdoors – Point Reyes Station
Marine Science Institute – Redwood City
Crissy Field Center – San Francisco
Randall Museum – San Francisco
Wildlife Center of Silicon Valley – San Jose
CuriOdyssey at Coyote Point – San Mateo
The Marine Mammal Center – Sausalito
Nature Bridge – Sausalito
Richardson Bay Audubon Center & Sanctuary – Tiburon
Lindsay Wildlife Museum – Walnut Creek
Elkhorn Slough National Estuary Research Preserve – Watsonville
Tiny Treks – Peninsula, South Bay
Playgrounds
Adventure Playground – Berkeley
Marin Playgrounds Directory – Marin County
Small World Park – Pittsburg
Yerba Buena Playground – San Francisco
McEnery Park – San Jose
Monopoly in the Park – San Jose
Many city parks have impressive playgrounds. Visit our Parks page for links to city parks near you.
Swimming Lakes
Contra Loma Reservior – Antioch
Lake Anza, Tilden Regional Park – Berkeley
Cull Canyon Reservoir – Castro Valley
Gull Park – Foster City
Quarry Lakes – Fremont
Don Castro Resevoir – Hayward
Shell Beach, Tomales Bay State Park – Inverness
Del Valle Reservoir– Livermore
Lake Temescal – Oakland
Shadow Cliffs Lake – Pleasanton
Almaden Lake Park – San Jose
Coyote Point Recreation Area – San Mateo
Parkside Aquatic Park – San Mateo
Swimming Pools
Antioch Water Park – Antioch
Berkeley Swimming Pools – Berkeley
City of Brentwood Aquatic Complex – Brentwood
Brisbane Swimming Pool – Brisbane
Burlingame Aquatics Center – Burlingame
Campbell Aquatics – Campbell
Concord Community Pool – Concord
Blackberry Farm – Cupertino
Hayward Plunge – Hayward
Hercules Swim Center – Hercules
El Cerrito Swim Center – El Cerrito
Los Gatos High – Los Gatos
Livermore Pools – Livermore
Martinez Community Pool – Martinez
Belle Haven Pool – Menlo Park
Monterey Sports Center – Monterey
Morgan Hill Aquatics Center – Morgan Hill
Mountain View Community Services – Mountain View
Silliman Family Aquatic Center – Newark
Oakland Pools – Oakland
Roberts Pool – Oakland
Oceana Swimming Pool – Pacifica
Rinconada Pool – Palo Alto
Pinole Swim Center – Pinole
Sullenberger Swim Center – Pittsburg
Pleasant Hill Pools – Pleasant Hill
Dolores Bengston Aquatic Center – Pleasanton
Redwood City Pools – Redwood City
Richmond Swim Center – Richmond
San Bruno Park Pool – San Bruno
Jewish Community Center of San Francisco – San Francisco
San Francisco Aquatics – San Francisco
San Jose Aquatics – San Jose
San Leandro Pools – San Leandro
San Mateo Swim Centers – San Mateo
Marinwood Pool – San Rafael
Doughtery Valley Aquatic Center – San Ramon
San Ramon Olympic Pool and Park – San Ramon
Santa Clara Pools – Santa Clara
Harvey West Pool – Santa Cruz
Siltanen Family Swim Center – Scotts Valley
Orange Memorial Pool – South San Francisco
Walnut Creek Aquatics – Walnut Creek