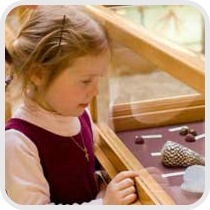 Times have certainly changed. Back in the "old days" there weren't any children's museums and most regular museums weren't very kid-friendly. Now nearly every major city has a children's museums and many "grown-up" museums have special exhibits and activities designed with children in mind.
Children's museums tend to offer a nice blend of science and art and nearly all the exhibits are "hands on". Children's museums also try to appeal to a wide variety of ages and interests, so parents can take the whole family and there will be something of interest everyone.
Regular museums often have exhibits that children enjoy. On a trip to the San Jose Museum of Art my son enjoyed exhibits of Chihuly glass, modern art furniture, photo collage, and cartoon drawings. A word of caution when attending "grown-up" museums – not all art is G or even PG rated. Ask for guidance at the information desk and be prepared to steer clear of exhibits that might be too mature or intense for your child.
Children's museums and other museums that have a lot to offer children are listed below. Click on the links to reach the museums' web pages where you'll find a summary of attractions, prices, hours, and directions.
Bay Area Discovery Museum ~ Sausalito
With its setting at the foot of the Golden Gate Bridge on 7.5 acres in the Golden Gate National Recreation Area, the Bay Area Discovery Museum is unique among children's museums. The research-based educational programming, including hands-on exhibitions, rich activities and risk-friendly challenges, is designed for kids 0 – 8 years to intentionally boost creativity, STEM skills and critical thinking. The daily schedule is packed with free facilitated programs like Math In Motion and Nature Lab.
Fujitsu Planetarium ~ Cupertino
Fly through the cosmos and observe the night sky with incredible clarity in the most exciting Planetarium on the Pacific Coast. Astronomy shows and Laser Light shows presented every Saturday evening.
Santa Cruz Children's Museum of Discovery ~ Capitola
Float a boat. Take a look at a bug. Make it rain. Build something with your imagination! The nonprofit Santa Cruz Children's Museum of Discovery has 8,000-plus square feet of exhibits, classrooms and store space. Its hands-on exhibits showcase the wonders of Santa Cruz County. Located at 1855 41st Avenue in Capitola, the Museum is open 7 days a week. Admission is $7 adults, $5 ages 2-17, and free for younger than 2. www.sccmod.org
The Asian Art Museum ~ San Francisco
The Asian Art Museum of San Francisco is the largest museum in the western world devoted to Asian art and culture. Covering cultures from Turkey to India and beyond, the collection consists of over 18,000 objects spanning through 6,000 years. Whether you're seeking immersive storytelling tours, hands-on activities, seasonal festivites or a more self-guided approach, we've got you covered. Join us for kid tours, Art Cards and Explorer Packs that will jumpstart your child's lifelong love for art and culture.
Children's Museums
Habitot Children's Museum – Berkeley
Santa Cruz Children's Museum of Discovery – Capitola
Children's Natural History Museum – Fremont
Junior Center of Art and Science – Oakland
Palo Alto Junior Museum & Zoo – Palo Alto
Children's Creativity Museum – San Francisco
Children's Discovery Museum – San Jose
Children's Museum of Sonoma County – Santa Rosa
Bay Area Discovery Museum – Sausalito
Art Museums
Peninsula Museum of Art – Belmont
Berkeley Art Museum Pacific Film Archive – Berkeley
Junior Center of Art and Science – Oakland
Museum of Children's Art (MOCHA) – Oakland
Oakland Museum of California – Oakland
Palo Alto Art Center – Palo Alto
Richmond Art Center – Richmond
Asian Art Museum – San Francisco
Cartoon Art Museum – San Francisco
de Young Museum – San Francisco
International Art Museum of America – San Francisco
Museum of Craft and Design – San Francisco
Palace of the Legion of Honor – San Francisco
San Francisco Center for the Book – San Francisco
San Francisco Children's Art Center – San Francisco
San Francisco Museum of Modern Art – San Francisco
De Saisset Museum – Santa Clara
Triton Museum of Art – Santa Clara
Museum of Art & History – Santa Cruz
Santa Cruz Museum of Art and History – Santa Cruz
Quilt Museum – San Jose
San Jose Museum of Art – San Jose
Cantor Center for Visual Arts – Stanford
Bedford Gallery at Lesher Center – Walnut Creek
Cultural Museums
Judah L. Magnes Museum – Berkeley
Phoebe A. Hearst Museum of Anthropology – Berkeley
Hayward Japanese Garden – Hayward
Center for African & African American Art and Culture – Oakland
China Town – San Francisco
The Contemporary Jewish Museum – San Francisco
Museum of African Diaspora – San Francisco
Japanese American Museum of San Jose – San Jose
Japanese Friendship Garden in Kelly Park – San Jose
Rosecrutian Egyptian Museum – San Jose
San Mateo Japanese Garden in Central Park – San Mateo
Hakone Garden – Saratoga
Science & Technology Museums
Lawrence Hall of Science – Berkeley
UC Berkeley Museum of Paleontology – Berkeley
Fujitsu Planetarium – Cupertino
Youth Science Institute Science and Nature Center – Los Gatos
NASA Ames Visitor Center – Mountain View
Moffett Field Museum – Mountain View
Oakland Aviation Museum – Oakland
Chabot Observatory & Science Center – Oakland
Junior Center of Art and Science – Oakland
Hiller Aviation Museum – San Carlos
California Academy of Sciences – San Francisco
Exploratorium – San Francisco
Morrison Planetarium – San Francisco
Lick Observatory – San Jose
The Tech Museum – San Jose
Intel Museum – Santa Clara
Santa Cruz City Museum of Natural History – Santa Cruz
Pacific Coast Air Museum – Santa Rosa
Historical Museums (see Historical Fun)
Nature Museums (see Animals)
Natural History Museums (Dinosaurs!)
UC Berkeley Museum of Paleontology – Berkeley
Children's Natural History Museum – Fremont
Pacific Grove Museum of Natural History – Pacific Grove
California Academy Natural History Museum – San Francisco
Santa Cruz City Museum of Natural History – Santa Cruz
Train Models & Museums
Niles Depot Model Railroads & Museum – Fremont
West Bay Model Train Association – Menlo Park
Barron Park Garden Railway – Palo Alto
Golden State Model Railroad Museum – Point Richmond
California State Railroad Museum – Sacramento
Golden Gate Model Railroad Club at Randall Museum – San Francisco
Cable Car Museum – San Francisco
Golden Gate Railroad Museum – San Francisco
Market Street Railway – San Francisco
San Francisco Cable Cars – San Francisco
South Bay Historical Railroad Society – Santa Clara
Western Railway Museum – Solano
Niles Canyon Railway Museum – Sunol
Railroad-Ferry Depot – Tiburon
Walnut Creek Model Railroad Society – Walnut Creek
Specialty Museums
Pacific Pinball Museum – Alameda
Blackhawk Museum – Danville
Burlingame Museum of Pez Memorabilia – Burlingame
Museum of American Heritage – Palo Alto
Ripley's Believe-It-Or-Not – San Francisco
San Francisco Fire Department Museum – San Francisco
Wells Fargo Museum – San Francisco
Rosecrutian Museum – San Jose
Winchester Mystery House – San Jose
Charles M. Schulz Museum – Santa Rosa