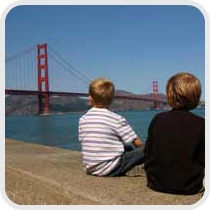 Enjoy these favorite destinations for family fun in San Francisco.
Aquariums
The Steinhart Aquarium at Cal Academy in San Francisco houses 900 species of marine life, including sharks, rays, piranhas, eels and anemones. Admission also includes access to the planetarium, natural history museum and four story tall rainforest. Buy lunch or a snack at the Academy Cafe and enjoy dining on the outside patio.
Aquarium of the Bay is home to approximately 20,000 animals, from octopuses to eight-foot sevengill sharks. Watch mesmerizing jelly fish and touch bat rays, skates and "splash zone" animals.
Art Center
San Francisco Children's Art Center offers a a full range of classes in their Fort Mason studio, for children ages 22 months to 10 years old.
Art Museums
The Asian Art Museum of San Francisco offers Family Fun Days with storytelling, gallery activities and art making. First Sunday of each month is free!
Facilited family tours of the de Young Museum in San Francisco are followed by studio workshops taught by professional artist-teachers on most Saturdays.
Beaches
Ocean Beach is fun for strolling, watching waves and flying kites.
Biking Trails
Sunday is a great day for biking in Golden Gate Park when John F. Kennedy Drive is closed to auto traffic.
Children's Museums
Children's Creativity Museum at Yerba Buena Gardens in San Francisco provides fun, hands-on activities for all ages. Learn and create in the museum's design, animation, music and movie studios and explore the imagination and innovation labs. When you're finished at the museum ride the carousel and enjoy the colorful playground area. Bowling and iceskating are also available nearby.
Children's Theaters
The Young Performer's Theatre performs fun and witty shows and San Francisco Children's Musical Theater stages several shows each year at The Palace of Fine Arts Theater.
Culture
The Contemporary Jewish Museum in San Francisco provides new perspectives on Jewish culture, history and art through exhibits, workshops and performances. Drop-in Art Making sessions are offered most Sundays.
Japantown in San Francisco offers unique dining and entertainment options. Explore Japanes pop culture through art, fashion and film at New People.
The San Francisco Chinese New Year Parade is held each January or February and features elaborate floats, costumes, and a 250 foot dragon carried by 100 martial artists.
Gardens
The Conservatory of Flowers in Golden Gate Arboretum is home to 2000 speices of tropical plants. Visit one of six outdoor gardens in the park.
Historical Museums & Parks
Learn about San Francisco's maritime history and view historic ship at San Francisco Maritime National Historic Park or revisit gold rush days at the Wells Fargo Museum.
Music
The San Francisco Symphony and San Francisco Chamber Orchestra offer family concerts on a regular basis. The Jam Band Family Festival offers family concerts each month from April through October on the Park Chalet lawn in San Francisco.
Natural History Museums
California Academy in San Francisco has dinosaurs and much more, including insects, minerals, and an african experience. An aquarium, planetarium and rainforest are all included in the price of admission.
Nature/Wildlife Centers
Randall Museum in San Francisco houses over 100 animals that can no longer live in the wild. Drop-in Science and Art activities are held on most Saturdays and special events include Bug Day, Halloween Fest, and Holiday Crafts Day.
Parks
Golden Gate Park in San Francisco has art museums, aquarium, planetarium, arboretum, tea garden, play grounds, boat rentals, and even buffaloes! Main roads closed to auto traffic on Sundays to accomodate bicycling and skating.
Science & Technology
The Exploratorium in San Francisco has hundreds of hands-on "experiments" your children can perform.
Specialty Museum
The Walt Disney Family Museum features exhibits, workshops, and movie screenings to celebrate Walt Disney and foster creative exploration.
Sports
The San Francisco 49'ers NFL football team and the San Francisco Giants major league baseball team provide two great opportunities to watch professional football in San Francisco.
Transportation
Explore the city by cable car and visit the cable car barn to view the actual cable winding mechanism and antique cable cars.
Zoos
The San Francisco Zoo has modern entrance area, pretty landscaping, expanded petting zoo, and several new animal habitat areas. Especially fun in summer when zoo camp teens display small animals for viewing and petting.