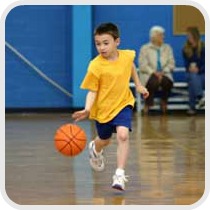 February Break Camps are a great way to keep your child engaged and entertained during the school break. Choices include art, sports, outdoor adventures and more.
Check with your local community center, library or YMCA for additional February break activities.
Featured February Break Camps
Winter Break Basketball Camp ~ Mountain View
Learn valuable skills from MVHS basketball coaches and alumni in this half-day camp. Shooting, ball-handling, and defense will be among the skills covered in a high-energy, fast-paced environment. This is a great opportunity to have fun, stay active, and work on your game during winter break. The camp takes place February 20-24, 9 am – 12 pm at Mountain View High School. Registration is open to girls and boys in grades 3 – 8. Sign up today!
TechSmart Academy ~ Campbell
Inviting all kids to a place where coding is fun… and the learning just happens! We offer coding camps for 9-14 year olds and use a fun, engaging and unique methodology that appeals to children and makes them yearn for learning. Your child can explore and tweak the magical world of Minecraft while learning how to code in the powerful programming language of Python, and understand programming workflow and object oriented concepts! Check out our offerings here!
Gymnastics Camp Ski Week ~ San Rafael
Just like our famous Summer Camps! Feb 20 – 24 from 9:30am – 12:30pm. Ages 4 and up. Our focus is on having fun while we teach gymnastics on floor, beam, bars, trampoline, and vault. We also have a tumble-trak, foam pit, climbing wall, ropes and rings. We welcome beginning gymnasts. $75 Drop in, $350 – week. 10% sibling discounts. Sign Up Now! GymWorld Gymnastics 3040 Kerner Blvd. San Rafael, 415-482-8580 www.gymworldmarin.com
Bald Eagle Winter Recess Basketball Camp ~ Los Altos
Come on out and see what a dose of fantastic coaching, quality skill development and new-found confidence can do for your child. Camps open to co-ed players: Grades 3-8.
GrowFit Sports Camp ~ Redwood City
GrowFit has camp year-long, during school breaks! At GrowFit Sports Camp, PE teachers build a supportive community inspiring kids to be active for life. Kids will play sports all day with the purpose of having fun & building confidence. Ages 4-13 welcome! Space is limited. Sign up today: www.growfitpe.com/camps/! Call/text (650) 394-6176 or email info@growfitpe.com with questions.
More February Break Camps
TrackersBay – Berkeley\
Day Camp at NUMU – Los Gatos
Legarza Basketball Camp – San Carlos
Caring Creatives Art and Nature Camp – San Francisco
Adventure Camps – San Francisco
San Francisco Gymnastics – San Francisco
The Rabbit Hole Theater – San Francisco
February Break Camp at Bay Area Discovery Museum – Sausalito