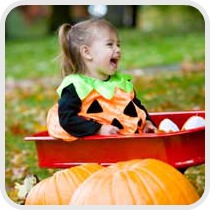 Celebrate Halloween with a visit to a local pumpkin patch, haunted house, or other fun Halloween destination in the Bay Area.
Find ideas for clever costumes, easy crafts, spooky decorations and tasty treats at our sister site Halloween Kid Fun.
Featured Events
Goblin Jamboree at Bay Area Discovery Museum – Sausalito, October 15 & 16
You're in for a treat… and maybe a trick or two at the Bay Area Discovery Museum's Goblin Jamboree Family Fundraiser. Come in costume to the spooky-but-not-scary Halloween wonderland. Saturday and Sunday, October 15 and 16 from 10 a.m. to 4 p.m. Concoct potions, dissect jack-o-lanterns and get lost in a kid-sized hay maze. Don't miss the pony rides, petting zoo, games and live entertainment. Skip the lines and pre-buy your tickets at BayKidsMuseum.org/goblin.
Spooktacular Halloween Laser Light Show – Cupertino, October 22 & 29
Celebrate Halloween with a fantastic display of laser lights and music under the planetarium sky.
Spooky Times at Deer Hollow Farm – Cupertino, October 22
Explore haunted barns and a 'dark forest' while joining our children's activities and crafts such as making "sweet" spiders and chocolate bats! We're opening up the pens so you can meet our spooktacular farm animals. Treats and beverages will be available for purchase. 10am-3pm. $7 per person, $5 in costume! 1 and under are free. Cash, checks and credit cards accepted.
Halloween Festivals & Parties
Pumpkin Train at Oak Meadow – Los Gatos, October 7-23
Pumpkins in the Park (Free) – San Jose, October 8
Thomas and Percy's Halloween Party at Roaring Camp – Felton, October 8-30
Half Moon Bay Pumpkin Festival – Half Moon Bay, October 15 & 16
Halloween Fun at the Merry Go Round at Tilden Park – Berkeley, October 22-30
Halloween Treasure Hunt at Gamble Garden – Palo Alto, October 23
Halloween Family Fun Fest at Santana Row (Free) – San Jose, October 25
Halloween Spooky Carnival (Free) – Menlo Park, October 26
Scare on the Square (Free) – Redwood City, October 27
Community Halloween Celebration at Triton Museum (Free) – Santa Clara, October 27
Monster Bash (Free) – Mountain View, October 28
SF Japantown Halloween Carnival – San Francisco, October 28
Pumpkins on Pikes at Tara Firma Farm – Petaluma, October 29
BalBOOa Fright Fest – San Francisco, October 29
Jackolantern Jamboree at Fairyland – Oakland, October 29-30
WOW Halloween Faire – Mill Valley, October 30
Halloween on Cal Ave (Free) – Palo Alto, October 30
Halloween Hoopla at Yerba Buena Gardens (Free) – San Francisco, October 30
Haunt History Park – San Jose, October 30
Concerts & Performances
All Hallows' Eve Ballet by Company C – San Francisco, October 21-30
Halloween Concert – Stanford, October 28
Family Halloween Concert – Redwood City, October 30
Jamband Halloween Concert and Festival (Free) – San Francisco, October 30
Costume Parades
Halloween Costume Contest (Free) – Benicia, October 22
Mad Dash 5K Costume Run – San Francisco, October 30
Breakfast & Munchkin Masquerade at Jelly Belly – Fairfield, October 29
Halloween Hoopla Parade and Carnival (Free) – Menlo Park, October 29
Capitola Village Halloween Parade (Free) – Capitola, October 30
Halloween Parade – Sausalito, October 31
Trick or Treating
Downtown Trick or Treat (Free) – Walnut Creek, October 21
Trunk or Treat (Free) – Pleasant Hill, October 28
Halloween Trunk or Treat – Martinez, October 30
Bewitching Fun at Alamo Plaza Shopping Center (Free) – Alamo, October 31
Halloween on Solano (Free) – Albany & Berkeley, October 31
Trick or Treat on the Avenue (Free) – San Jose, October 31
Trunk or Treat (Free) – San Jose, October 31
Zoos, Animals & Nature
Pumpkins and Ponies in the Pasture – Moraga, October 16
Halloween Haunts at Hidden Villa – Los Altos Hills, October 21, 22
Little Pumpkin Party at Hidden Villa – Los Altos Hills, October 23
Howl-ooo-ween at Lindsay Wildlife Experience – Walnut Creek, October 27
SuperNatural Halloween at California Academy of Sciences – San Francisco, October 28
Boo at the Zoo – San Francisco, October 29, 30
Boo at the Zoo – Oakland, October 29, 30
Arts & Crafts
Halloween Mask Making Festival (Free) – Santa Cruz, October 29
Amusement Parks
Halloween Haunt at Great America – Santa Clara, September 23-October 30
Fright Fest at Discovery Kingdom – Vallejo, September 24-October 30
Haunted Houses & Other Scary Places
Pirates of Emerson Haunted House – Fremont, September 30-October 31
Winchester Mystery House Fright Nights – San Jose, October 7-31
Sulphur Creek Unhaunted House – Hayward, October 21, 22
Scaregrove at Stern Grove – San Francisco, October 28
Terrifying Halloween Tour at Dunsmuir-Hellman Estate – Oakland, October 28-30
Halloween Hangar Haunt at Hiller – San Carlos, October 29
Haunted Depot – Benicia, October 21-31
Pumpkin Patches
Clayton Valley Pumpkin Farm – Clayton
Cool Patch Pumpkins – Dixon
J.E. Perry Farms – Fremont
Arata Pumpkin Farm – Half Moon Bay
Farmer John's Pumpkins – Half Moon Bay
Lemo's Farm Pumpkin Patch – Half Moon Bay
Pastorino's Farm – Half Moon Bay
Pumpkin Junction at Casa de Fruita – Hollister
Swank Farms – Hollister
Pumpkin Maze – Lathrop
Joan's Farm & Pumpkin Patch – Livermore
G&M Farms – Livermore
Uesugi Farms Pumpkin Park – Morgan Hill
Pumpkin Patch at Shoreline Lake – Mountain View
Piedmont Avenue Pumpkin Patch – Oakland
Fantozzi Farms – Patterson
Petaluma Pumpkin Patch and Amazing Corn Maze – Petaluma
Webb Ranch – Portola Valley
MEF Pumpkin Patch – San Jose
Rodoni Farms – Santa Cruz
Muelrath Ranches – Santa Rosa
Western Railway Museum Pumpkin Patch – Suisun City