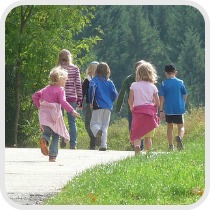 Spring Break Camps are a great way to keep your child engaged and entertained during the school break. Choices include art, sports, science, language and more!
Check with your community center, local schools, library or YMCA for additional Spring Break activities.
iD Tech Spring Break Camp ~ Santa Clara
This spring, explore a top campus, make friends as you master new tech skills, and join a community of more than 275,000 alumni. At iD Tech Camps, students ages 7-17 can learn to code, build websites, design video games, experience virtual reality, mod Minecraft, engineer robots, model and print 3D characters, and more! Get started today at www.iDTech.com or call (888) 709-8324 and join iD Tech as they inspire the makers of tomorrow.
Yoga + Jewelry Making & Art or Textiles & Fiber Arts With Dragonfly Designs ~ Locations in San Francisco, SSF, Redwood City, Burlingame and the Peninsula
Winter * Spring * Summer Camps + Language Immersion through Art taught in Mandarin or Spanish. Programs for Ages 5-14. Art & jewelry making camps teach techniques such as beading, resin, painting, candle & soap making, clay, stamping & dapping, patina, etching & more. Textiles Camps teach students how to design, plan, and execute an abstract idea into a tangle piece of art. Plus daily Yoga & Outdoor Play. Camps in English, Spanish or Mandarin-Immersion. Call 650-303-1900 or Register HERE.
Euro School of Tennis ~ Los Altos
We create a safe and entertaining atmosphere where sportsmanship and teamwork is emphasized. Our highly-trained staff strives to improve and motivate every participant. Campers will meet new friends and have a blast playing tennis. All tennis levels welcomed.
Spring Break Basketball Camp ~ Mountain View
Learn valuable skills from MVHS basketball coaches and alumni in this half-day camp. Shooting, ball-handling, and defense will be among the topics covered in a high-energy, fast-paced environment. This is a great opportunity to stay active, have fun, and work on your game during spring break. The camp takes place April 10-14 from 9 am-12 pm and is open to boys and girls in grades 3-8. Sign up today!
Spring Break Tennis Camp ~ Mountain View
This tennis camp provides the beginner and the intermediate with the fundamental tools for competitive tennis. Campers are matched accordingly with others to current skills development, while no experience is required for this camp. Emphasis is placed upon the skills for volleys, ground strokes, and service. This tennis camp is a guaranteed fun tennis tune up experience. The camp takes place April 10-14 from 9 am – 12 pm at Mountain View High School. Registration is open to girls and boys in grades 4 – 8. Sign up today!
BrainVyne Spring Break LEGO® Camp ~ San Francisco, Palo Alto, Menlo Park, Santa Clara, Fremont, Evergreen-San Jose
Spring Break LEGO® Exploration Camp. During this 5-day camp students will create battery-powered LEGO® creations within a variety of themes – Space, Vehicles, Pokemon, Animals and Cities. They will learn how gears and wheels work together to create movement. Students will use battery packs and motors to give life to creations like a helicopter, a walking camel and even a bubble machine. Students will also have the opportunity to use their imagination to work on creative projects with loose LEGO®. Parents will receive a newsletter with photos and updates from camp. Pack a snack, lunch and water. Register by the day or for the full week. www.brainvyne.com Questions? info@brainvyne.com
"Around The World in 5 Days" Spring Break Camp ~ San Carlos
Spend a week with us traveling exotic destinations around the World! Our journey will be filled with music, dance and crafts of countries we will visit. Students will master Chinese watercolor techniques, create Northern American jewelry, participate in Indian shadow theater, make traditional Russian clay toys and colorful Mexican Year paintings, listen to music, sing and dance! Flexible per-session enrollment, before-and-after care available.
TechSmart Academy ~ San Francisco, Los Altos, San Jose
Inviting all kids to a place where coding is fun… and the learning just happens! We offer coding camps for 9-14 year olds and use a fun, engaging and unique methodology that appeals to children and makes them yearn for learning. Your child can explore and tweak the magical world of Minecraft while learning how to code in the powerful programming language of Python, and understand programming workflow and object oriented concepts! Check out our offerings here!
Wildcare Spring Wildlife Camp ~ San Rafael
WildCare's Wildlife Camp provides campers with an unforgettable wildlife experience, including live animal visits from our rescued wildlife ambassadors, animal-themed games, nature crafts, hikes and much more! Feed fish to a pelican, prepare meals for an opossum, and make toys for a turkey vulture! Learn how our medical staff examine our wildlife patients and take a sneak peak at some orphaned baby animals during a tour of our wildlife hospital. April 10th-14th from 9:00am to 3:00pm. Available for campers in Grades 1-3. For more information, please visit our website.
Spring Break Camp at SF SPCA ~ San Francisco
The San Francisco SPCA offers school break and holiday animal camps for youth in 1st-5th grades. At animal camp, students learn how to train and care for animals, be responsible pet guardians and make their community a safer place for all animals. Animal camps are fun for students and our shelter animals love the attention and TLC!
Gymnastics Camp Spring Break ~ San Rafael
Just like our famous Summer Camps! April 10 – 14 from 9:30am – 12:30pm. Ages 4 and up. Our focus is on having fun while we teach gymnastics on floor, beam, bars, trampoline, and vault. We also have a tumble-trak, foam pit, climbing wall, ropes and rings. We welcome beginning gymnasts. $75 Drop in, $350 – week. 10% sibling discounts. Sign Up Now! GymWorld Gymnastics 3040 Kerner Blvd. San Rafael, 415-482-8580 www.gymworldmarin.com
Miyazaki Days Spring Break Camp ~ San Francisco
Manga & Anime fans! Join us this spring for the exploration of incredible worlds of Hayao Miyazaki! Enjoy movies, draw your favorite characters, make new friends and get your Manga-drawing skills to the next level!
Fuze Fit for a Kid! Spring Break Camp ~ Los Gatos & San Jose
Since 2008 Fuze Fit For a Kid! has offered camps that allow kids to try out a diverse mix of fitness classes: rock wall climbing, yoga, sports conditioning, martial arts, swimming, dance and interactive sports games. We say Go! Play! Achieve! We wholeheartedly believe in teaching kids to stay active and we strive to make fitness fun. Coordinated by our certified instructors. Our clubs are located in Los Gatos and San Jose.
Bald Eagle Multi-Sport Spring Break Camp ~ Los Altos
Make sure your kiddo stays active this break by registering them for Spring Break Multi-Sport Camp! Our "Go Zone" Multi-Sports camp is a unique program based on campers choosing which activity they would like to play. Our campers experience Positive Coaching Alliance coaching, motivational messaging, opportunities to try new things, and tons of fun! Bald Eagle Sports Camps is the first-ever certified camp through the Positive Coaching Alliance and we are determined to boost self-esteem and create safe playing environments for the "every-kid".
GrowFit Sports Camp ~ Redwood City
GrowFit has camp year-long, during school breaks! At GrowFit Sports Camp, PE teachers build a supportive community inspiring kids to be active for life. Kids will play sports all day with the purpose of having fun & building confidence. Ages 4-13 welcome! Space is limited. Sign up today: www.growfitpe.com/camps! Call/text (650) 394-6176 or email info@growfitpe.com with questions.