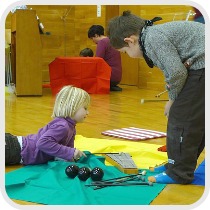 Winter Break Camps are a great way to keep your child entertained and engaged during the December school break. Offerings include art, sports, science and more.
Check with your local community center, library, church or YMCA for additional winter break activities.
Holiday Basketball Camp ~ Mountain View
Learn valuable skills, stay active, and have fun in this half-day basketball camp. Shooting, ball-handling, and defense will be among the skills covered in a high-energy, fast-paced environment. Fun games will be used to teach the skills to keep campers focused throughout the day. This is a great opportunity to stay active, have fun, and work on your game during the holiday break. The camp takes place Dec 19-23 and Dec 26-30, 2017 from 9 am – 12 pm at Mountain View High School. Registration is open to girls and boys in grades 3 – 8. Sign up today!
The Culinary Dude Thanksgiving & Winter Break Camps ~ San Francisco & Tiburon
Our hands-on cooking camps will enable kids to find their inner chef. The Culinary Dude has created a wonderful collection of daily menus that the kids will cook and eat their own lunch. Thanksgiving Break-Nov. 20-22 & Winter Break Camp, Jan. 2-5, 2018 in Tiburon. Winter Break Camp in San Francisco, Dec. 26-28. Visit www.TheCulinaryDude.com or call 415-242-4192
Fan Art and Manga Art Camps at Art School of San Francisco Bay ~ San Francisco, Mountain View & San Jose
This winter we offer two of our all-time favorites: Fan Art and Manga art camps. While drawing their favorite characters from movies, books and cartoons students learn important artistic skills and create outstanding works of art. December 18-22 & December 26-29, 2016. Half day ($250): 9 am-12 pm or 12:30 pm-3:30 pm . Full day($450): 9 am-3:30 pm. Offered in San Francisco at 2424 Clement St, Mountain View at 2105 Old Middlefield Way #D, San Jose at 996 Saratoga Ave.
Camp ARF ~ Walnut Creek
Looking for a fun, meaningful winter break experience for your 1st to 5th grader? ARF's winter camp is perfect for young animal lovers eager to learn more about animal care, health, grooming, and behavior as well as responsible pet guardianship. Campers will explore ARF's shelter, spend time with ARF's therapy cats and dogs, meet our shelter animal guests, play animal-themed games and get creative with "critter crafts."
Bald Eagle Winter Camps ~ Mountain View
Our Basketball Holiday Camp is an incredible venue for players to grow in their skills, be inspired to be the best they can be in all that life has to offer, and to have FUN to a degree that no other camp offers.
Jewelry Making & Design With Dragonfly Designs ~ Locations in San Francisco and the Peninsula
Winter * Spring * Summer Camps + Mandarin Immersion Art + Spanish Immersion Art Camps + Creative Explorers Art Camp. Programs for Ages 5-17. Our camps teach real jewelry making techniques such as beading, wire work, resin, enameling, wool felting, polymer clay, stamping & dapping, patina, copper etching & more. Plus daily Yoga & Outdoor Play. Camps in English, Spanish or Mandarin-Immersion. Call 650-303-1900.
Communication Academy ~ Cupertino, Peninsula & East Bay locations
Grade K-8 students can join our school break and Summer camps in Public Speaking, Debate, Common Core Writing, Common Core Reading, Math Olympiad , AMC 8, and Competitive Speech & Debate. These activity-based half and full-day camps keep students engaged while learning in a fun and cooperative environment. Students develop into confident speakers and thinkers, build strong written and verbal communication, and enhance their critical thinking skills. Our instructors are accomplished college professors, speech & debate coaches, teachers, published authors, and competitive math coaches. December camps and Winter classes are currently available for registration.
Winter Break Camps – Trackers Earth ~ Berkeley
Spend winter break with Trackers Dec. 18-22 and Dec. 27-29. Our award-winning camps get into the spirit of the holidays. Campers ages 4-14 learn fun wilderness and folk crafts; take part in role-playing epic; Deck the Halls with holiday bling and make waffles; or practice archery and stealth in the frosty woods. We are conveniently located near Ashby BART for drop-off and pick-up, while your children spend the bulk of their days outside in nature. There's no limit to the adventures you can have!
TechSmart Academy ~ Campbell and San Mateo
Inviting all kids to a place where coding is fun… and the learning just happens! We offer coding camps, afterschool enrichment programs and programming workshops for children of all ages. We use a fun, engaging and unique methodology that appeals to children and makes them yearn for learning. The curriculum, along with our enthusiastic instructors, makes for a great experience for your child. Check out our winter break camp offerings here!
Fuze Fit Winter Break Camps ~ Los Gatos & San Jose
Since 2008 Fuze Fit For a Kid! has offered classes, parties and camps that mix fitness and fun! Our camps consist of a diverse mix of fitness classes: rock wall climbing, sports conditioning, martial arts, dance and interactive sports games. We say Go! Play! Achieve! We wholeheartedly believe in teaching kids to stay active and we strive to make fitness fun. Coordinated by our certified instructors. Our clubs are located in Los Gatos and San Jose.
GrowFit Sports Camp ~ Redwood City
GrowFit has camp year-long, during school breaks! At GrowFit Sports Camp, PE teachers build a supportive community inspiring kids to be active for life. Kids will play sports all day with the purpose of having fun & building confidence. Ages 4-13 welcome! Space is limited. Sign up today: www.growfitpe.com/camps/! Call/text (650) 394-6176 or email info@growfitpe.com with questions.
Winter Camps at MOCHA ~ Oakland
Join MOCHA for innovative, hands-on arts activities for children, ages 6 – 12. MOCHA campers work on a variety of engaging projects based on daily topics.
Art Trek (Dec 18–22): Space, the final frontier. Take a tour of the cosmos during this camp week. GameCraft (Dec 27-29): Wander into the world of making your own games. Fantastical, Magical Heroes (Jan 2-5). Bring your imagination to explore the genre of fantasy–from fairies and dragons to superheroes.
Go Girls! Winter Camp ~ Oakland
Go Girls! Camp is hosting Winter Break day camps this December. Girls currently enrolled in K – 5th grade are invited to join us as we create, give back, and celebrate! You may attend one day, all 5 days, or anything in between. Each day has it's own special theme with plenty of chances to make art and make friends. Aftercare is available until 6pm.
SF Spanish Winter Camp ~ San Francisco
Have your children learn and practice Spanish over school winter break. This two-week program provides energetic speaking, reading, and writing opportunities in basic Spanish. Classes involve reading activities, games, and time in a nearby park (on Steiner and O'Farrell). Week 1: Tuesday, December 26th to Saturday, December 30th. Week 2: Tuesday January 2nd to Saturday January 6th. 9am to 1pm. Five days for $400. Sibling discount to $365. Enroll at SF Spanish Online or call (415) 735-4184, email sfspanish@ymail.com, or visit sfspanish.ning.com for more information.
Crowden Winter Strings and Piano Camp ~ Berkeley
This holiday break, join us for a fun week of music-making at Crowden's new winter camp for ages 7-16! Complete beginners through intermediate-level violin, viola, cello, or piano players are welcome. Enjoy all-camp chorus, instrument technique and ensemble classes, music games, guest artist visits, and more. Ages 7–16. December 19–22, 9am–3pm. Before- and after-care available.